2017-2018 ITH Season Preview: Michigan Wolverines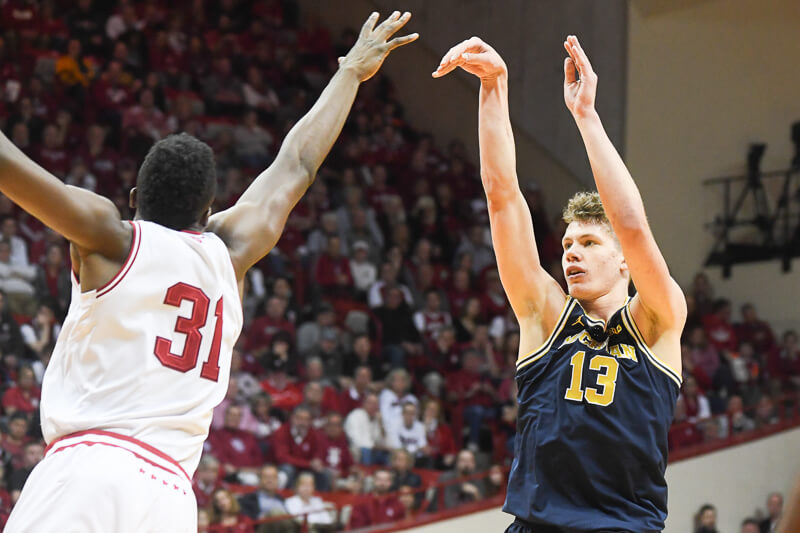 With the start of college basketball season on the horizon, we'll be taking a long look at the conference at large as well as Indiana's roster over the next month. Today, our Big Ten team previews continue with a look at Michigan.
After a magical run through last spring's Big Ten tournament and a trip to the Sweet Sixteen, Michigan enters the 2017-2018 season with plenty of questions.
The expectations for the Wolverines, however, are still for a top half Big Ten finish and another NCAA tournament berth. As one of the top five programs in the league since John Beilein's arrival in 2007, it would be foolish to expect anything less in Ann Arbor.
The questions for Michigan start at point guard as the Wolverines must replace Derrick Walton Jr., who was brilliant last season. Michigan also graduated Zak Irvin and Mark Donnal and lost D.J. Wilson, who came out of nowhere last season, to the NBA.
The key returnee for Beilein is junior center Moritz Wagner, a versatile big man who tested the NBA draft waters last spring. The 6-foot-11 Wagner made 40 percent of his 3s in Big Ten play and 62.6 percent of his 2s, the fourth best mark in the league. He was also ninth in steal percentage. After averaging 12.1 points and 4.2 rebounds last season, Wagner should be ready to carry an even bigger load offensively as a junior.
Redshirt freshman Austin Davis and sophomore Jon Teske will backup Wagner, but both are unproven. Teske played spot minutes last season while Davis, who is 6-foot-10 and 245 pounds, is a back to the basket big man.
Senior Duncan Robinson, a 6-foot-8 shooter, is likely to start at the four with freshman Isaiah Livers serving as his backup. Robinson made 45 percent of his 3s in Big Ten games last season and averaged 7.7 points in 20.1 minutes per game. He's limited defensively, but doesn't turn it over and is a tremendous asset because he allows the Wolverines to space the floor. Livers, who was Mr. Basketball in Michigan, is a 6-foot-7 forward who can play multiple positions.
Beilein has always coveted versatility on the wing and Kentucky transfer Charles Matthews, who sat out last season, should provide a much needed boost of athleticism to the rotation. The 6-foot-6 Matthews struggled in his only season at Kentucky, but is a former four-star recruit looking to get his career back on track and prove himself.
Sophomore Ibi Watson and freshman Jordan Poole, a top 100 recruit, should provide backup minutes on the wing or at the off guard spot.
Michigan will rely heavily on graduate senior Jaaron Simmons to take over for Walton at the point. Simmons excels in the pick-and-roll and pick-and-pop, which is vital for a Michigan point guard. He averaged 15.9 points and 6.5 assists last season at Ohio and was brought in by Beilein because he excels in ball screen offense.
Sophomore Zavier Simpson will backup Simmons and freshman Eli Brooks could also see spot minutes. Senior Muhammad-Ali Abdur-Rahkman is Michigan's second leading returning scorer and started 37 of the team's 38 games last season. Abdur-Rahkman shot a ridiculous 48.9 percent on 3s last season in league play.
Bottom Line: Michigan's roster has the talent to finish in the top five of the Big Ten, but it could take some time for the pieces to fit together. Simmons was a crucial pickup and allows Beilein to bring some of the younger talent on the roster at a slower pace. Wagner made the right decision to return for his junior season after flirting with the NBA and is one of the league's five best players entering the season. Wagner and Simmons will be a solid 1-2 punch, but Michigan's place in the Big Ten pecking order will be largely dependent on the production it receives from Matthews, Robinson and Abdur-Rahkman.
Quotable: "If people are breaking laws, if people are committing felony crimes in our business, then get them the heck out our business, if that's what's happening. Do I feel good about it? No. You hate to see … it affects their families, their coaching staffs, their university, the players that are there. That doesn't make me happy. At the same time, this game is such a great game and college basketball is my life, and it should be clean. This element should not be a part of it." – Beilein on the recent FBI scandal in college basketball.
Filed to: 2017-2018 Big Ten preview, Michigan Wolverines