2017-2018 ITH Season Preview: Ohio State Buckeyes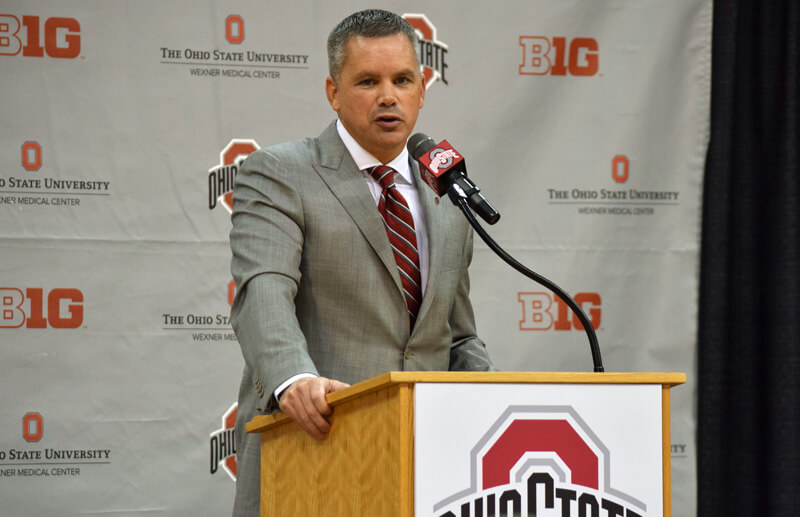 With the start of college basketball season on the horizon, we'll be taking a long look at the conference at large as well as Indiana's roster over the next month. Today, our Big Ten team previews continue with a look at Ohio State.
After 13 seasons, 337 wins, a national championship game appearance and multiple Final Fours and Big Ten titles, Thad Matta was fired by Ohio State in June.
It was an odd ending for a coach who stumbled his last few seasons in Columbus because of several recruiting missteps. The most notable of those missteps was the 2015 recruiting class, which was ranked in the top five nationally and had four players transfer after their first season. The fifth player, JaQuan Lyle, left the program this offseason.
As far as the timing of Matta's firing, it was bizarre. Not only did Ohio State wait more than two months after the end of the season to dismiss Matta, he also appeared at a press conference with athletic director Gene Smith to announce the move.
Rather than moving on in March or April at a time when the field of potential candidates was much larger, Smith took a major risk by making his move in June. Fortunately for Smith, it worked out as Ohio State lured Chris Holtmann from Butler.
The task for Holtmann to make Ohio State a Big Ten power again has many layers.
First, the program needs to get back to attracting top in-state talent back to Columbus, which won't be easy. In the class of 2018, five of the top prospects from Ohio are going to Syracuse (Darius Bazley), Indiana (Jerome Hunter), Northwestern (Pete Nance), Notre Dame (Dane Goodwin) and Dayton (Dwayne Cohill). The Buckeyes were able to get a four-star prospect, Justin Ahrens, to re-commit to the program recently.
In the short term, Holtmann's immediate focus is putting together a competitive team for his first season. And it won't be easy given the talent he has. Marc Loving, who averaged 12.3 points last season, graduated. Lyle, as already mentioned, is gone as is Trevor Thompson, who declared for the NBA draft in a head scratching move. Ohio State also dismissed a promising frontcourt player in Derek Funderburk, who redshirted last season, for failing to meet team expectations. Point guard Braxton Beverly also received his release and transferred to NC State.
So what's left for Holtmann to work with?
The headliners are clearly senior Jae'Sean Tate and redshirt junior Keita Bates-Diop, who appeared in just nine games last season. The 6-foot-4 Tate is an undersized forward who can handle the ball and play multiple positions. He could get plenty of opportunities to handle the ball as C.J. Jackson and Michigan graduate transfer Andrew Dakich are the only two point guards on the roster.
Tate shot close to 59 percent last season on 2s, but made just 22.2 percent of his 3s. Bates-Diop is a long forward filled with potential, but will need to become much more assertive. Like Tate, he was efficient on 2s last season (57.6 percent), but hit just 3-of-15 of his 3-point attempts over nine games.
The rest of the frontcourt is sophomore center Micah Potter, sophomore forward Andre Wesson and freshmen Kaleb Wesson and Kyle Young.
Potter and Kaleb Wesson are likely to split the duties in the post while Andre Wesson and Young, who followed Holtmann from Butler, should be backups at the four spot. Freshman Musa Jallow, a Bloomington North product, should also get an opportunity to earn minutes on the wing and has a Big Ten ready body.
In the backcourt, Jackson and Dakich are the only point guards on the roster and senior Kam Williams is the clearcut option at the two. Jackson isn't much of an offensive threat, but posted a solid 27.4 percent assist rate last season. Williams is a career 39 percent 3-point shooter and should have the green light to take on a bigger offensive role.
Dakich will be the third Michigan player to transfer within the conference over the last three seasons, joining Max Bielfeldt (Indiana) and Spike Albrecht (Purdue).
Bottom Line: Holtmann has some talent to work with in Tate, Bates-Diop and Williams, but depth is going to be a major issue in Columbus. The Buckeyes can't afford any injuries and are going to be very short on experience coming off the bench. The program looks to be in good shape for the long term with Holtmann at the helm and the Buckeyes already having four players committed for the 2018 class, including two top 150 prospects. A postseason appearance of any kind would be a significant accomplishment in year one.
Quotable: "We will be selective in our pursuit of Ohio State guys. It is not going to be for everyone. Tough, talented, unselfish and committed student-athletes who value this place, who come here and say, 'Wow. What an incredible place.' This region is a tremendous area for talented, smart and tough players. I have recruited Ohio for over 20 years and it has outstanding players and coaches. Some of the very best in the country. It will be paramount to our success." – Holtmann on his vision for recruiting at Ohio State.
Filed to: 2017-2018 Big Ten preview, Ohio State Buckeyes