Keith Smart headlines IU Athletics 2017 Hall of Fame class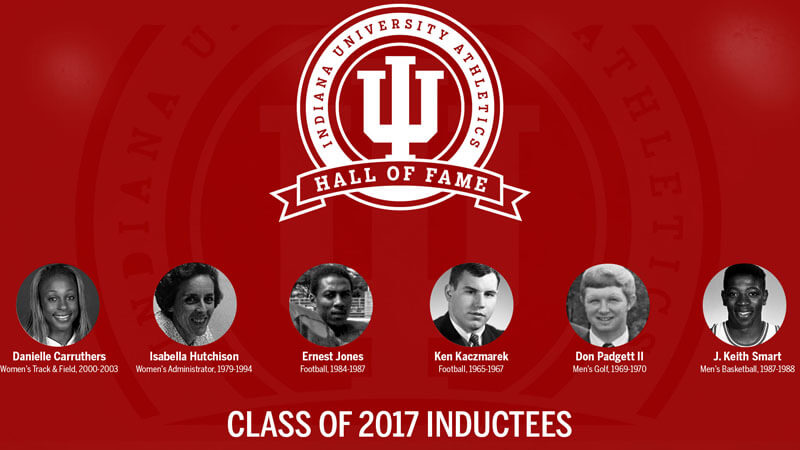 IU Athletics announced six inductees for the 2017 Hall of Fame class on Wednesday, highlighted by former basketball standout Keith Smart.
Joining Smart in the 2017 Hall of Fame class are Danielle Carruthers (Women's Track & Field, 2000-2003), Isabella Hutchison (Women's Administrator, 1979-1994), Ernest Jones (Football 1984-1987), Ken Kaczmarek (Football, 1965-1967) and Don Padgett II (Men's Golf, 1969-1971).
The class will be inducted on Friday, Nov. 3 and also honored at halftime of the Indiana-Wisconsin football game at Memorial Stadium on Saturday, Nov. 4.
"We are thrilled to welcome these legends into the IU Athletics Hall of Fame," IU Athletics Director Fred Glass said in a release. "This is a tremendous class of inductees whose contributions to IU Athletics represent the best of our championship heritage. Congratulations to each of these Hoosier legends who left an indelible mark on IU Athletics."
Smart, who played at IU from 1986-88, hit the game winning shot in IU's 74-73 national championship win over Syracuse in 1987.
The 53-year old native of Baton Rouge, Louisiana, is currently on the Memphis Grizzlies coaching staff. He previously served as the head coach of the Cleveland Cavaliers, Golden State Warriors and the Sacramento Kings.
Filed to: Keith Smart