2017-2018 ITH Season Preview: Rutgers Scarlet Knights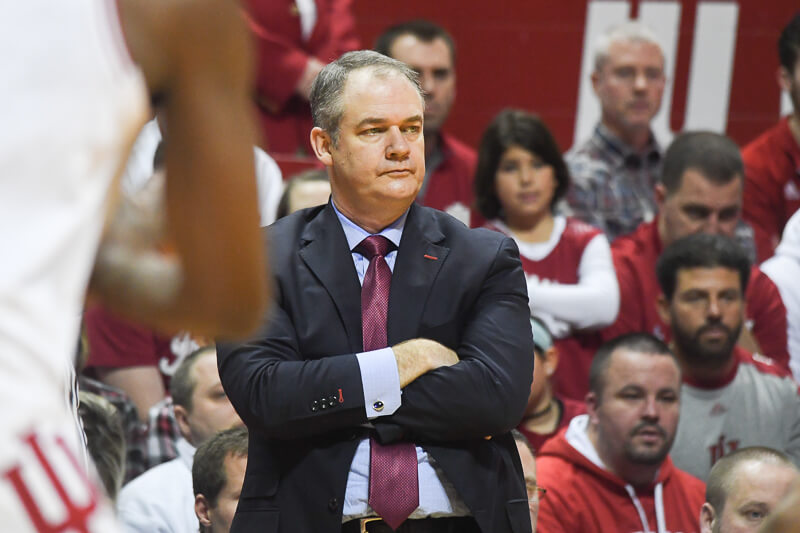 With the start of college basketball season on the horizon, we'll be taking a long look at the conference at large as well as Indiana's roster over the next month. Today, we begin our look at the Big Ten with the Rutgers Scarlet Knights.
After three seasons under Eddie Jordan, Rutgers basketball was a complete mess.
The Scarlet Knights won a total of three conference games in their first two season in the Big Ten, prompting a coaching change in the spring of 2016. And while Rutgers still finished in the conference cellar last season under Steve Pikiell, the program seems to be trending upward.
Rutgers won 15 games last season, including three conference games. The Scarlet Knights also won a game in the Big Ten tournament for the first time as they knocked off Ohio State 66-57 at the Verizon Center in Washington D.C.
The next challenges for Pikiell will be escaping the league cellar, improving the offense and continuing to attract better talent. Rutgers ranked 69th nationally last season in KenPom's adjusted defensive efficiency, but just 231st in adjusted offensive efficiency. The 2017 recruiting class for Rutgers ranked just 84th nationally, according to the 247Composite, but the Scarlet Knights are off to a solid start in 2018 with a top 100 player already committed.
This year's Rutgers team is unlikely to escape the bottom tier of the Big Ten, but the potential is there to improve upon last season's 3-15 conference mark.
Junior point guard Corey Sanders once again decided to test the NBA draft waters, but opted to return to Piscataway. His efficiency numbers were down across the board as a sophomore, but the Florida native is clearly the most talented player on the roster. The key numbers to watch for Sanders as a junior: assist rate, 2-point field goal percentage and 3-point field goal percentage. His assist rate dropped by more than six percent last season, his 2-point field goal percentage dropped by nearly eight percent and his 3-point field goal percentage fell from 31.5 to 26.9. If Rutgers is going to improve offensively, it must start with Sanders.
Senior guard Mike Williams will join Sanders in the backcourt after Nigel Johnson opted to transfer to Virginia for his final season. The 6-foot-2 Williams averaged 9.4 points last season and shot 31.9 percent on 3s.
Two others to watch in the backcourt are newcomers Souf Mensah and Geo Baker. Mensah, a junior point guard, is a native of France who played at Marshalltown Community College in Iowa last season. The 247Composite ranked him as one of the top 60 junior college players last season. Baker, a 6-foot-4 freshman, chose Rutgers over 15 other offers and Pikiell called him the program's No. 1 priority in the 2017 recruiting cycle.
Up front, senior forward Deshawn Freeman returns after averaging 11.1 points and 7.8 rebounds last season. The 6-foot-7 forward ranked in the top 20 of the Big Ten in both offensive and defensive rebounding percentage and made close to 50 percent of his 2s last season.
With the exception of Freeman, there are more questions than answers in the Rutgers frontcourt. The Scarlet Knights return four guys who played rotation minutes a season ago in Shaq Doorson, Candido Sa, Euguene Omoruyi and Issa Thiam.
Thiam was the biggest contributor of the group from a statistical standpoint as he averaged 3.9 points in 18.4 minutes per game. However, Pikiell has been very complimentary of Omoruyi, who averaged 2.4 points and 2.2 rebounds, in the preseason. Doorson, who underwent offseason surgery, is still working his way back to 100 percent health.
Two freshman newcomers, Myles Johnson and Mamadou Doucoure, should both have a chance to crack the rotation.
Johnson, a 6-foot-9, 245 pound forward from California, could challenge Doorson for minutes. And Doucore, a top 150 recruit who was originally scheduled to arrive in the 2018 class, enrolled early and will try to play this season. Doucore chose the Scarlet Knights over offers from Pittsburgh, Creighton, St. John's, Oregon, Seton Hall, Georgia Tech and UConn. If he's cleared to play, expect him to get a chance to play early and often.
Bottom Line: When a program bottoms out like Rutgers did under Eddie Jordan, a full rebuild takes time. The Scarlet Knights are still the Big Ten's worst program, but seem to be moving in the right direction under Pikiell. The early recruiting success in 2018 should be viewed as a positive for the program and after winning three Big Ten games last season, it wouldn't be a surprise to see Rutgers win five or six league games this season.
Quotable: "We've set a little bit of a foundation on how we're looking to build it. We have some new pieces this year and a lot of our (returning) guys have gotten better. That's a big part of what we want to do — self-development. When you see our guys, you're going to say 'They're better." – Pikiell to Jerry Carino.
Filed to: 2017-2018 Big Ten preview, Rutgers Scarlet Knights