Tip times, television info released for 2017-2018 schedule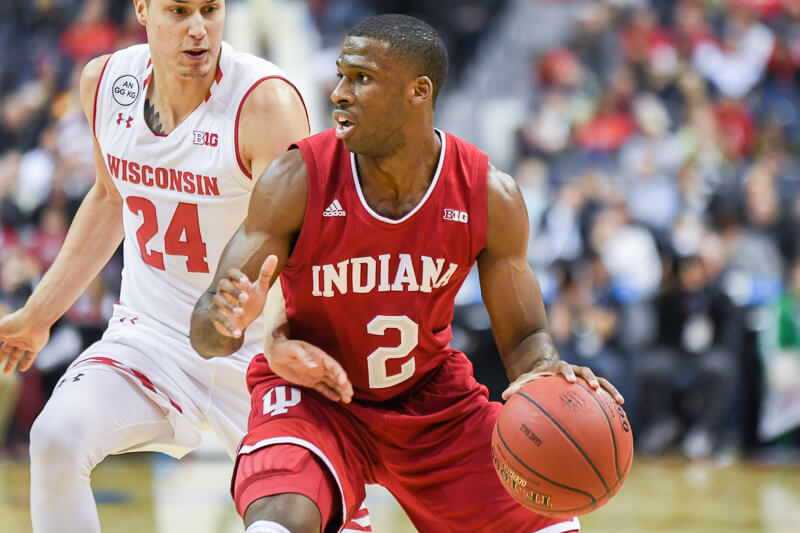 The Big Ten announced time and television information for much of the 2017-18 schedule this afternoon.
Indiana will play two conference games on CBS (at Michigan, Northwestern), a game on FOX (Purdue), four games on ESPN networks, four games on FS1 and seven on BTN.
In total, IU will play twice on CBS, once on Fox, six times on ESPN or ESPN2, 13 times on BTN and five times on FS1.
Broadcast information and tip times for IU's games against Duke and Notre Dame have yet to be announced. Although not confirmed, IU at Seton Hall is expected to be a FS1 broadcast.
Here's a full listing of the TV designations and tip times announced today. You can access the complete schedule over on our schedule page.
BTN Plus (Subscription Required)
10/21—Hoosier Hysteria, Time TBA
10/28—Marian (Exhibition), 8 p.m.
11/5—Uindy (Exhibition), 2 p.m.
11/10—Indiana State, 7 p.m.
BTN
11/12—Howard, 8 p.m.
11/19—South Florida, 6 p.m.
11/22—Arkansas State, 7 p.m.
11/24—Eastern Michigan, 4:30 p.m.
12/4—Iowa, 8 p.m.
12/18—Fort Wayne, 8 p.m.
12/21—Tennessee Tech, 8 p.m.
12/29—Youngstown State, 8 p.m.
1/9—Penn State, 6:30 p.m.
1/24-–at Illinois, 9 p.m.
2/5—Rutgers, 7 p.m.
2/14—Illinois, 8:30 p.m.
2/20—at Nebraska, 9 p.m.
CBS
12/2—at Michigan, 12:30 p.m.
1/14—Northwestern, 1:30 or 4:30 p.m.
ESPN/ESPN2
12/9—at Louisville, 2 p.m. (ESPN)
1/2—at Wisconsin, 7 p.m.
1/6—at Minnesota, 5:15 p.m. (ESPN2)
1/30—at Ohio State, 7 p.m.
2/3—Michigan State, 6 p.m. or 8 p.m.
2/17—at Iowa, 2:30 p.m.
FOX
1/28—Purdue, 3:30 p.m.
FS1
1/19—at Michigan State, 7 p.m.
1/22—Maryland, 7 p.m.
2/9—Minnesota, 7:30 p.m.
2/23—Ohio State, 8 p.m.
Filed to: 2017-18 schedule