Five takeaways from Indiana's 2017-2018 schedule release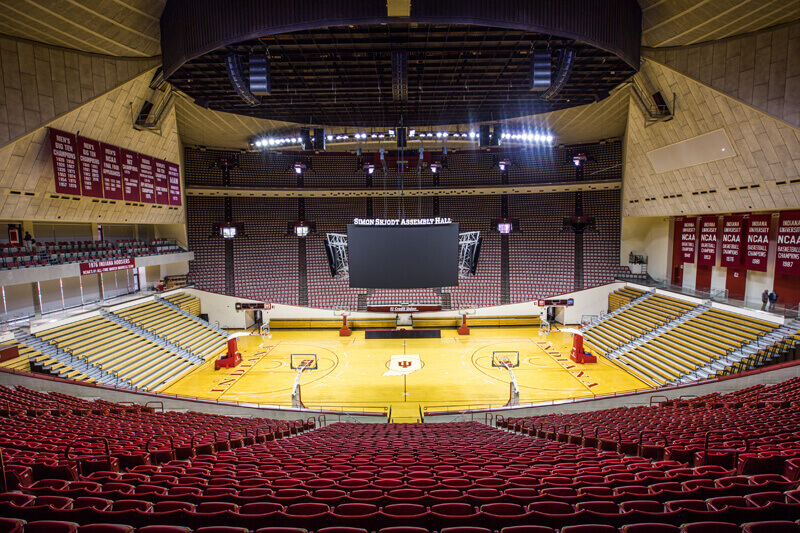 Following an announcement from the Big Ten, Indiana released its complete 2017-2018 schedule on Wednesday afternoon. The Hoosiers will play 30 regular season games, which is one fewer than usual.
Here's a look at five takeaways from this year's schedule:
· Moving the Big Ten tournament impacts the schedule significantly: In order to secure Madison Square Garden, the conference had to move the Big Ten tournament up one week. That wasn't news to anyone.
What was of interest from Wednesday's announcement, however, is how the league would put together the league schedule with one less week to work with. One change that was announced in advance was the addition of two conference games in early December.
The other changes for this season? The addition of conference games on Monday and Friday and teams playing multiple league games on a one-day turnaround. The Hoosiers will play three conference games on Monday and three on Friday (it should be noted that the Monday/Friday schedule addition appears to be TV driven). They'll also have four league games on a one-day turnaround (there are 34 such instances around the league, according to Brian Rosenthal). Indiana will also play 12 non-conference games instead of the regular 13.
As much as the Big Ten will try to spin the move to MSG as a positive, there's no debating that it comes with a total schedule disruption around the conference.
· Ranked opponents highlight non-conference slate : Of Indiana's 12 non-conference opponents, four are expected to be ranked in the preseason: Seton Hall, Duke, Louisville and Notre Dame.
Two of those games will be on the road with one at Simon Skjodt Assembly Hall and one at Bankers Life Fieldhouse. By December 16, the Hoosiers will already have games with Seton Hall, Duke, Michigan, Iowa, Louisville and Notre Dame under their belt.
Without taking all exempt tournament games into account, one metric projects the Hoosiers will have the toughest non-conference slate of any Big Ten team:
With most non-conference games now scheduled (other than later-round tourney games), here's how the Big Ten non-con SOS looks: pic.twitter.com/nxUp0LdHxr

— Bart T?rvik (@totally_t_bomb) August 17, 2017
· Quality of guarantee games beefed up: As pointed out by Mike Miller of The Herald-Times, the Hoosiers will play just one team that finished sub-300 in last year's final Ken Pomeroy ratings.
Here's a complete look at the final KenPom ratings from last season for all 12 non-conference opponents:
Indiana State – 199
Howard – 338
Seton Hall – 51
South Florida – 292
Arkansas State – 124
Eastern Michigan – 148
Duke – 14
Louisville – 9
Notre Dame – 27
Fort Wayne – 153
Tennessee Tech – 257
Youngstown State – 282
Last season, Indiana played three sub-300 KenPom teams and five others ranked between 200 and 299.
· Things that stand out on the Big Ten schedule: We've already mentioned the addition of Monday and Friday games, the one-day turnarounds and the two early December games as major changes to the Big Ten schedule.
But there are some other oddities in IU's conference schedule worth mentioning.
First, the Hoosiers will play just one Saturday conference game at home. That's down from three last season.
In each instance in which the Hoosiers will play a league game on a one-day turnaround, the second opponent is, on paper, weaker than the first. In early December, IU will play Michigan and then Iowa in a three-day stretch. The other three scenarios are: Maryland/at Illinois, Purdue/at Ohio State, Michigan State/at Rutgers.
· From January 2 to February 25, there will be just four days without a Big Ten game: If you're a fan of watching as many Big Ten games as possible, there won't be many days this season without a game.
As Mark Rudner of the Big Ten pointed out to Scott Dochterman, there will be just four days from January 2 through February without a Big Ten game.
"Only the NFL has more media rights agreements than the Big Ten does," Rudner said. "The good news is with FOX came a lot more exposure. We'll be playing every day of the week: Monday through Friday, Saturday and Sunday. From Tuesday, January 2, through Sunday, February 25, those 55 days, we will have Big Ten basketball played on 51 of those days.

"Nationally televised games. Because of this media rights agreement, no conference has as much if not more national exposure than Big Ten basketball has this year."
The open dates are Monday, January 8; Friday, February 2; Monday, February 12 and Friday, February 16.
Filed to: