The Inside the Hall Mailbag: August 10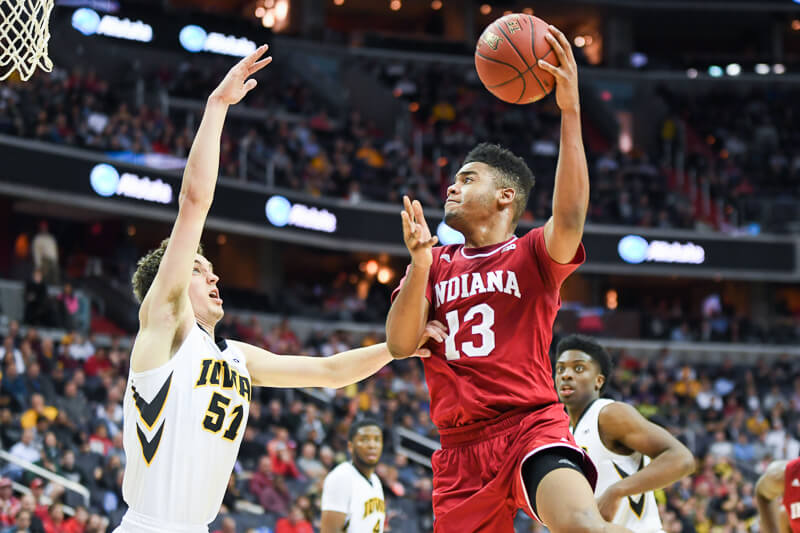 The Inside the Hall Mailbag is a collection of questions tweeted to us via Twitter (@insidethehall), via email, submitted on our premium forum and sent to us via our Facebook page. Submit your questions and we'll answer as many as we can.
Nate Bresler on Facebook writes: What are your predictions for team leader this season in points, rebounds, assist, 3 pointers made, and minutes played?
Nate, you cut right to the chase as the leadoff man in this edition of the mailbag.
Team leader in points, I'll go with Robert Johnson, but I can also see De'Ron Davis figuring into the conversation. The big question with Davis is: Can he cut down on fouling enough to stay on the floor? If he can play 25-28 minutes per game, I can definitely see him challenging Johnson.
Rebounding, give me Juwan Morgan in what some may consider a mild upset. I think Morgan is a better defensive rebounder than anyone else on the roster, at least going into the season.
Assists, I'll go with Josh Newkirk. I see him being less focused on scoring this season and more on distributing.
Give me Johnson in both 3-pointers made and minutes played, as well.
twoturntables on the premium forum writes: Who are your picks for most overrated and most underrated team(s) in the B1G league this year based on pre-season rankings and projections? Will anyone really contend with Michigan State for the regular season championship?
There's not enough projections out there to form a true consensus on where each program will be picked, but Northwestern could potentially be overrated. Their schedule in the league is going to be tough and they also will have to deal with playing their home games at All State Arena due to renovations at Welsh-Ryan Arena.
On the underrated side, I'll go with Maryland. Some may project them to fall off with Melo Trimble moving on, but I like their sophomore trio of Anthony Cowan, Justin Jackson and Kevin Huerter. College Park is also a difficult place to play and Mark Turgeon has done a really solid job in recent seasons. Maryland probably won't contend for the league title, but I think they'll probably be underrated coming into the season.
Alex Greulich on Facebook writes: When will the schedule come out?
It could be any day now. I know with the coaching change things were a little behind, but the expectation is that things will be finalized soon.
We already know Big Ten opponents and ten of the 13 non-conference games. All that's really left to reveal are three additional non-conference games, the exhibition schedule and dates for the Big Ten games.
As always, you can keep up with future schedules over on our future schedules page. We keep it updated any time a new game is confirmed for a future season.
RoscoD73 on the premium forum writes: When will be the first opportunity for us to watch this year's team play?
I'd expect that to be at Hoosier Hysteria, as is typically the case.
At this point, I'm not sure of any other planned events that will allow fans to watch the team play prior to that, but we'll certainly keep everyone updated if there is an opportunity prior to that.
Aaron Atz on Facebook writes: Is it just me or is the world overlooking the raw talent and overall potential of Devonte Green? Last year we saw flashes of greatness from Green, a player who was adjusting to a diminished role for the first time in his life and I suspect was greatly under-utilized. My question: "What is the unrealized potential of Devonte Green?"
Interesting question. The world outside of IU fans probably isn't talking much about Devonte Green. He's probably not on the radar of many folks nationally or even around the Big Ten.
I'm not sure that Green was under-utilized as a freshman. Indiana had a solid stable of returning guards and he played the most total minutes of any freshman on the roster (482 minutes, 15.3 per game). That's a healthy amount of minutes. Were there times that he should have played more? Absolutely. But he was also a freshman who was making the adjustment to a higher level of basketball. Unless someone comes in as sure-fire starter, part of earning your keep at this level is proving you belong on the floor.
I believe Green is entering his second season with an opportunity to grow into a much larger role. James Blackmon Jr.'s departure opens up close to 31 minutes per game. That's enough time to move both Green and Curtis Jones over 20 minutes per game. The main thing Green has to improve upon is his decision making. He has a lot of potential as a shooter and a scorer, but a turnover percentage of 28.8 has to come down substantially. If he's going to have the ball in his hands often, he has to make better decisions.
@ItSjEnKiNs on Twitter writes: How do you see the Arizona series playing out if it does happen? Does Arch beat him?
I wouldn't put this series happening in the "if" category. I'd put it in the "when" category. And I think it will be terrific for both programs and college basketball.
The setup, according to reports, will be games in Tucson, Bloomington and New York, in that order.
Sean Miller has built one of the nation's top programs at Arizona, so the Hoosiers are going to have their hands full. Fortunately for Archie, he'll have a few years to improve the roster before the series begins in 2019.
TroutyB on the premium forum writes: Which player (other than the obvious pick of DeRon Davis) do you see as poised to take a major leap forward this year?
There are a couple of guys who come to mind. First, I think there's going to be a major opportunity for Curtis Jones to take a major step forward. He has to get stronger and improve defensively, but he's a capable scorer and there's plenty of lost production to replace. He hasn't been talked about too much, but I think the potential is there for Jones to emerge as a sophomore.
Juwan Morgan is another name that bears watching. He's had a problem staying healthy, but played very well recently at adidas Nations in Houston. Over three games against other college players, he made 8-of-13 from behind the 3-point line. He averaged 10.3 points, eight rebounds and also had five assists with just one turnover.
Banner Up Get Six on Facebook writes: How concerned should we be with (Chris) Holtmann at OSU being able to recruit the state?
Perhaps Holtmann and Ohio State fans should be more concerned with Archie Miller recruiting in Ohio than vice versa. Indiana already landed a commitment from Jerome Hunter, who is from just outside of Columbus and is probably the No. 2 player in Ohio for 2018 behind Darius Bazley.
I absolutely think Holtmann will have a chance to reel in some players from the state of Indiana, but as Miller said in his introductory press conference, you simply can't get every player in the state to come to Bloomington.
Indiana needs to do a good job in future years of recruiting the state, but they're already off to a solid start with the commitment of Damezi Anderson. When Anderson signs, he'll be the first top 100 player from the state to ink with the Hoosiers from the state since James Blackmon Jr., a member of the 2014 class. Things seem to be trending in the right direction.
archie1 on the premium forum writes: Best guess on the rotation? And what do you see Justin Smith's role being this year?
Guys I'd expect to clearly be in the rotation: Robert Johnson, Juwan Morgan, De'Ron Davis, Collin Hartman, Josh Newkirk, Curtis Jones, Justin Smith, Devonte Green, Clifton Moore.
Guys who could crack the rotation: Al Durham, Freddie McSwain Jr., Zach McRoberts, Tim Priller.
As for Smith, he's going to play as a freshman, I believe. His body is college ready, he's athletic and he's a very capable finisher around the basket. If I had to characterize his role, I'd probably call him an energy guy off of the bench to start the season, but I think he could potentially grow his role as the season goes along.
Alex Bantz, via email, writes: I am curious your opinion on whether IU fans constantly hitting up recruits on twitter is a benefit or a deterrent to those recruits? Feels like some go overboard and mention them in every tweet, conversation, etc.
I wouldn't call it a deterrent, but it should never get to the point where a recruit is bombarded or harassed, either. A lot of recruits enjoy the attention, but I've never talked to a recruit who said, "I committed because all of the fans tweeted at me constantly."
This also isn't an IU-specific thing, it's happening everywhere. If a recruit tweets out a decision, an update or a school list, there are typically a large number of fans responding with GIFs and comments. This is the social media world we live in.
Filed to: Inside the Hall Mailbag