Around the Hall: Miller off to hot start on recruiting trail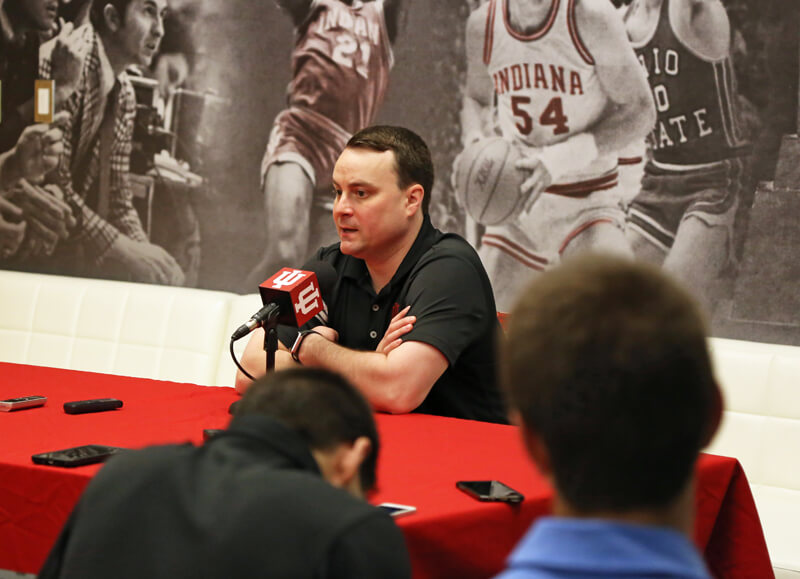 Around the Hall is recommended reading from the Inside the Hall staff.
Gary Parrish of CBSSports.com listed Archie Miller as one of five coaches at new schools who are off to a hot start in recruiting:
Miller left Dayton for Indiana on March 25 and was able to keep all three recruits signed by former coach Tom Crean — Justin Smith (No. 94 in 2017), Clifton Moore (No. 152 in 2017) and Aljami Durham (No. 228 in 2017) — and also add four-star forward Race Thompson (No. 96 in 2017) to complete a class that ranks second in the Big Ten. And Miller is already killing it with the Class of 2018. Jerome Hunter (No. 51 in 2018) and Damezi Anderson (No. 87 in 2018) both committed on July 17. So, right now, Indiana's 2018 class is ranked 12th nationally. And it'll move into the top 10 if Miller is able to secure a commitment from five-star in-state product Romeo Langford.
In a college basketball notebook, Rick Bozich of WDRB.com details some of the stops Miller made during the second July evaluation period:
Doesn't matter that Miller and his staff have earned three commitments from Top 100 prospects in the last week. Miller needs to add two, and perhaps three, more players to his 2018 class because the Hoosiers have five seniors — Robert Johnson, Josh Newkirk, Collin Hartman, Freddie McSwain and Tim Priller.

Miller must land a point guard and wants to add another inside player. A sixth commitment (if it happens) would be a shooting guard (wonder who he has in mind?).

Miller flew to California Friday to watch a string of players, likely including point guard Robert Phinisee of McCutcheon (Ind.) High School and then took on a red-eye from L.A. Friday night so he could be in Louisville to watch IU commit Jerome Hunter Saturday. He was there in his baseline seat for every Hunter jumper.

On Sunday Miller might be in Kansas City. Or back in Louisville. Or somewhere else. He does not sit still.
Eric Bossi of Rivals.com caught up with 2019 guard Jeremiah Francis, who Miller watched on Wednesday in Las Vegas:
Indiana: "Coach Archie Miller is a good guy. When he was at Dayton I didn't really talk to him a lot but knew of him and talked to his assistants a lot. He's a great guy, very organized and I really like coach Miller.
Drew Davis of Indiana Sports Coverage caught up with 2019 five-star Keion Brooks Jr.:
"Archie was kind of later than some other coaches, but he has been working hard to catch up. We talk a lot and his pitch is you're an Indiana kid, why would you want to go somewhere else when you can do it at Indiana. Also, Indiana has a great fan base and if you go to Indiana and you're successful, then the fans in the state of Indiana will love you forever.

"The thing with Archie Miller and his staff is they're recruiting my family as well, and not just recruiting me as a basketball player. I can really tell with Archie Miller that it's genuine, and everything isn't always about basketball. You know sometimes we just have normal conversations where basketball isn't brought up, and that's the thing I really like about IU."
Filed to: Archie Miller, Keion Brooks Jr.