Four-star guard Jalen Carey talks recruiting, Indiana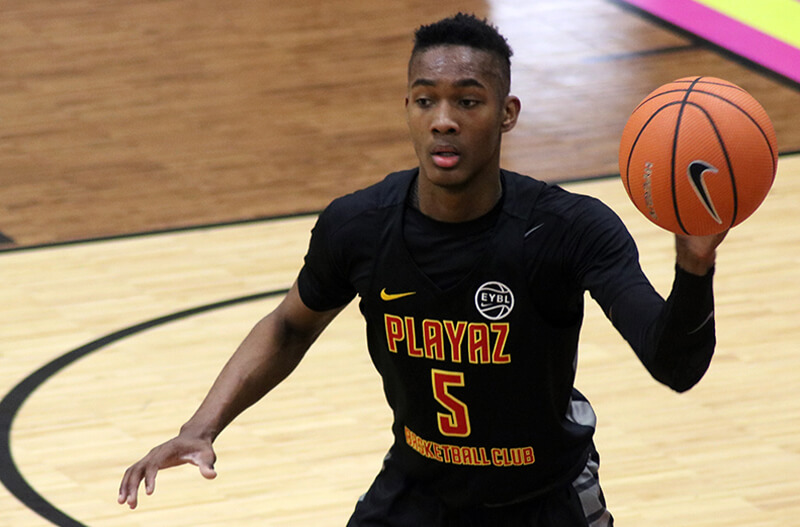 One of the nation's top combo guards continues to hear from Indiana.
Jalen Carey, who plays at Immaculate Conception in New York and for the NJ Playaz on the Nike Elite Youth Basketball League (EYBL) circuit, was one of the country's fastest rising players this spring.
Carey, a 6-foot-3 guard, added offers from IU, Kansas, Syracuse and several others due to his strong play in the two April evaluation periods.
After wrapping up EYBL last week, Carey is playing this week at the Oladipo Skills Academy at DeMatha High School in Hyattsville, Maryland.
It's the latest stop on what's been a busy spring and summer for Carey, who also played in the prestigious NBPA Top 100 Camp last month at the University of Virginia.
"I just learned I've got to be able to play with other people," Carey told Inside the Hall's Jacob Savage last week at the Peach Jam. "There's always going to be people as good as me, so learn not to be selfish and be an all-around player. I learned so much from that camp (NBPA top 100). It has helped me throughout this (EYBL) session."
The next step in the recruiting process for Carey will be setting up visits next month and into the fall. Carey told Inside the Hall that he plans to begin those trips in late August.
According to Carey, Indiana has remained in contact since extending a scholarship offer on April 24.
"Coach Bruiser (Flint) hits me up a lot and I've already spoken with Archie Miller," he said. "They offered me as well. Hopefully, I'll probably try to get out there as it gets closer and try to build a relationship."
The talented combo guard said he wants to make a decision before his high school season and he's already got a good idea of what he'll be looking for when it comes time to make a decision.
"I'm looking for a brotherhood and my main goal is to play at the NBA level," Carey explained. "So a team that's going to help me develop my game and get me ready for that level."
In addition to IU, Carey mentioned Syracuse, UConn, Miami, Kansas, Seton Hall and Rutgers as the schools coming hardest in his recruitment. Carey said he definitely wants to visit Kansas and "probably" Indiana.
The Indiana recruiting pitch appears to be focused on Carey fitting into the new staff's style of play.
"They think I'll be able to come in right away (and play)," he said. "The feel like I play their system great. They play with guards, play with a lot of ball screens and stuff like that, so they feel as if I'll be able to come in and fit that system."
Filed to: Jalen Carey