Five-star point guard Darius Garland updates recruitment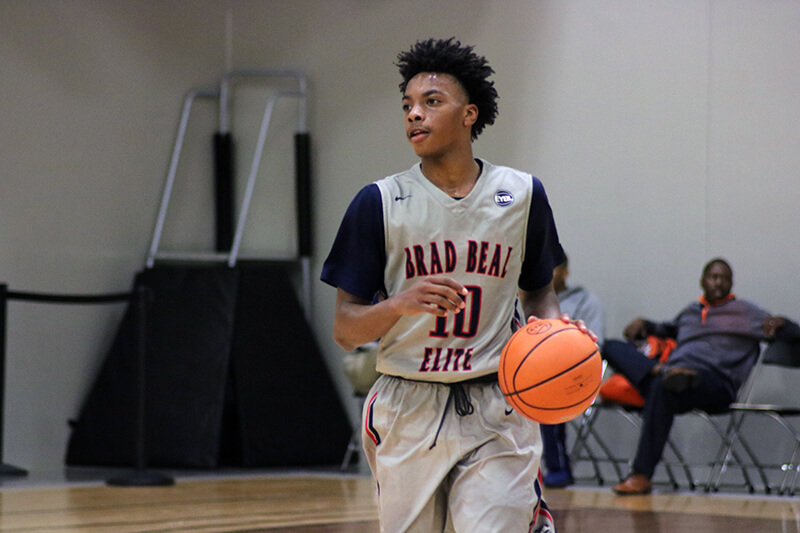 NORTH AUGUSTA, S.C. – One of the summer's most intriguing recruitments is continuing to heat up.
Darius Garland, the all-everything point guard that led Bradley Beal Elite to a 6-1 record in the Nike Elite Youth Basketball League (EYBL) Finals at the Peach Jam, rattled off a who's who of college basketball's elite still involved in his recruitment following a 78-66 pool play win over Oakland Soldiers.
Duke. Kansas. Indiana. UCLA. The list goes on.
Don't forget Vanderbilt, the local favorite in Garland's current hometown of Nashville, which many believe has a real shot to win the battle for one of the nation's top point guards.
And if all that weren't enough, on Sunday afternoon, Kentucky entered the fray per a tweet from Garland. A bunch of schools, just as many pitches.
For Vanderbilt, it's playing hometown hero.
"They say I can make my own legacy," Garland said of the Commodores. "I'm from Nashville – Nashville school. And they've never had that big name come to Vanderbilt. That's what they're pitching to me."
For Duke, it's the amount of playing time likely available and the idea the Blue Devils may be able to accommodate a package deal, which Garland says he is strongly considering. He specifically mentioned Marvin Bagley, the No. 1 overall player in the country, who he says has been his "best friend since sixth grade" and fellow guard Tre Jones, ranked No. 12, as possible ingredients in a package deal.
"Coach K wants to get both of us because he thinks that a lot of the guys will be gone next year," he said of himself and Jones. "So he needs an intelligent 2018 class. That's his pitch right now. Me and Tre have been talking about it a lot. We all talk about it a lot. Every time we see each other, we ask 'what school are you going to? It's a big deal right now. Everyone's on the clock, but most of us are taking our time with it."
As for Indiana, the message has been based on playing time and the Hoosiers' need at point guard, as well as his roots in the state. Garland was born and raised in Gary prior to his family moving to Nashville.
"Come in and have the ball right away," Garland said of Indiana's pitch to him. "Lead the team and the show and make plays for others."
It's a lot to think about for a teenager, which is why Garland says he is just trying to focus on playing well and helping his team win – and he has been doing just that. In six games at the Peach Jam (excluding a DNP), the 6-foot-1 floor general averaged 15.5 points, 4.2 assists, and 3.7 rebounds per game and shot an efficient 19 of 20 from the free throw line.
One of the tournament's highlights for Garland was having Washington Wizards guard Bradley Beal, the team's namesake, on the bench throughout Peach Jam. Garland said Beal provided him plenty of advice and encouragement.
"Just to keep my head in the game and stay with my shot," he said of Beal's message. "Just little things. But he's always a good support and always on the bench clapping and cheering for us when we do something good and he's on us when we do something bad."
Despite going 5-0 in pool play, Garland and Bradley Beal Elite fell 64-63 to Team Takeover in the Peach Jam Quarterfinals, ending the team's championship and concluding the latest stop in a whirlwind summer for the Brentwood Academy (TN) product. Garland recently competed in the adidas Eurocamp in Treviso, Italy, where he was the event's leading scorer.
"It's been crazy," Garland said. "I've been everywhere – adidas, Nike – it's been really great."
As for the remainder of what will no doubt be a hotly contested recruitmen, Garland says he isn't ready to start scheduling any visits quite yet, but that Indiana is still in a good position when the time comes.
"I'd love to visit Indiana," he said. "I'm from Indiana, so it would be great."
Filed to: Darius Garland