Indiana prioritizing Race Thompson as July recruiting heats up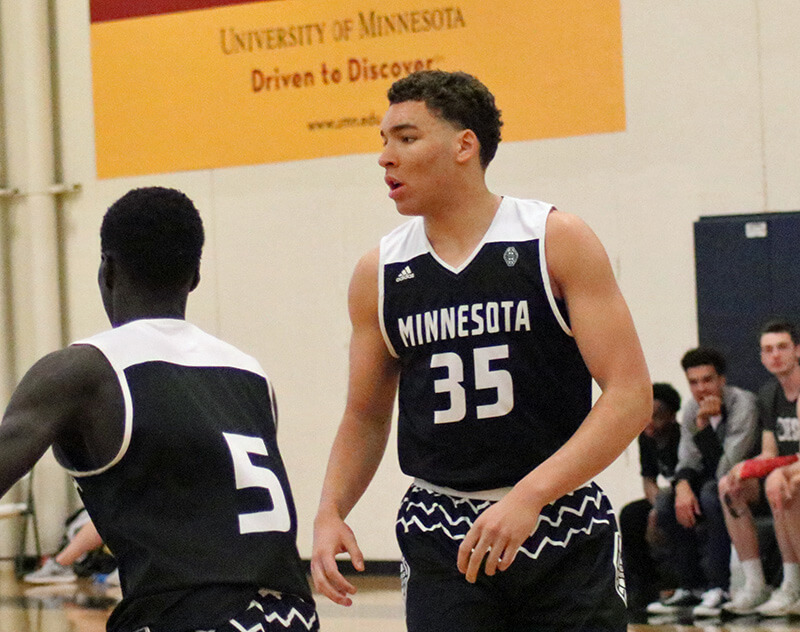 SPARTANBURG, S.C. – For college coaches, especially those trying to make up ground with recruits like the Indiana staff, the July evaluation period can be both a blessing and a curse.
On one hand, the three periods provide an opportunity to see targets in depth, in person, and in competitive environments against some of the best talent in the country.
On the other, there are so many games, so many players to see, so many important decisions to make – and yet so little time to figure it all out.
For Archie Miller and the new Indiana staff, though, the answer to at least one decision is abundantly clear – Minnesota D1 power forward Race Thompson is a top priority.
With multiple targets playing in multiple events during the first July evaluation period, the Indiana coaching staff was a consistent presence for Thompson's games, something that doesn't go unnoticed for the bruising 6-foot-8, 220-pound forward from Robbinsdale Armstrong High School in Plymouth, Minnesota.
"It just shows how much of a priority I am for them and how much they want me to come play for Indiana," Thompson told Inside the Hall on Saturday. "It builds the relationship even more."
One such Indiana showing was for Minnesota D1's 59-54 win over 1 Family on Saturday at the adidas Gauntlet Finale in Spartanburg, S.C. Thompson didn't suit up in the game to rest some minor injuries and yet there was Indiana associate head coach Tom Ostrom, front and center.
Ostrom, a graduate of the University of Minnesota, has been very involved in the Thompson recruitment.
"I talk to Coach O probably once a week sometimes two times," Thompson said. "I talk to Archie probably every other week. The relationship is still building. I haven't known them that long, but it's getting better as it goes on. I get along with both of the coaches really well. They have good personalities overall, so it wasn't hard for me to talk to them. It was natural as soon as they called the first time."
In three games at the adidas Gauntlet Finale, Thompson averaged nine points and 3.7 rebounds per game. For the entire adidas Gauntlet season, he averaged 12.9 points and six rebounds per game and shot an efficient 52 percent from the field. He is currently the No. 86 overall prospect in the 247 Composite.
Thompson, who plays alongside fellow Indiana recruit and 2019 five-star forward Matthew Hurt, is part of a well-known, well-respected family in the Minneapolis area. His father, Darrell, is the all-time leading rusher for the University of Minnesota football program and played five seasons for the Green Bay Packers in the NFL. His mother, Stephanie, played volleyball for the Iowa Hawkeyes.
Darrell currently serves as President of a non-profit organization called Bolder Options, which pairs 10-14 year olds with positive adult role models.
Race credits a large part of his success to his upbringing and says it's a contributor to his hard-nosed persona on the court.
"I'm tough and I don't take anything from anybody," he said. "That's how my parents raised me. That's just me."
As for the future, Thompson will have a decision of his own coming up soon. He recently completed a "really good" official visit to Indiana, his only official visit to date and says he would like to make a decision on where he'll be attending college prior to the start of his senior season.
Thompson holds offers from a list of schools, but it appears Indiana, Iowa State, and Minnesota all will figure heavily into the decision.
Filed to: Race Thompson