IU to host Howard, South Florida, Arkansas State and Eastern Michigan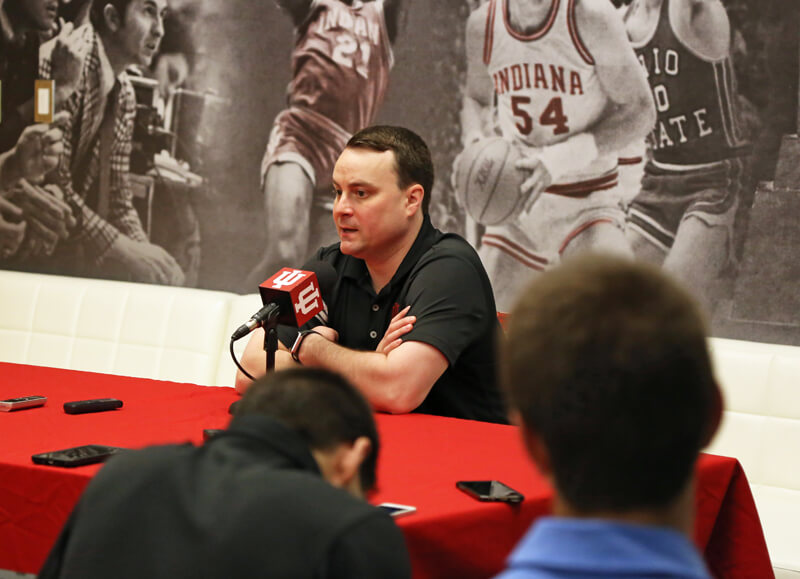 Indiana's 2017-18 non-conference schedule is beginning to take shape as the program announced four opponents for the upcoming season who will come to Assembly Hall in the 2017 Hoosier Tip-Off Classic.
The Hoosiers will host Howard (Nov. 12), South Florida (Nov. 19), Arkansas State (Nov. 22) and Eastern Michigan (Nov. 24) in the four-game event.
Other known non-conference games for next season include Seton Hall (Nov. 15), Duke (Nov. 29), Louisville (Dec. 9) and Notre Dame (Dec. 16).
Here's the full release from IU on the Hoosier Tip-Off Classic:
Bloomington, Indiana—The Indiana University men's basketball program, entering its first year under head coach Archie Miller, will host four games as part of the 2017 Hoosier Tip-Off Classic. The event features Indiana University, the University of South Florida, Eastern Michigan University, Arkansas State University and Howard University. The event will take place between Nov. 12-26, 2017.

"When it comes to giving teams the opportunity to play in Assembly Hall, everybody that we bring in here has to have great purpose, whether that's a national opponent or a game we're preparing to play a specific style of a team coming from a different league that we'll see later down the road," noted Miller. "As we look toward the future, we want to put ourselves on a marquis stage as much as you can, but also schedule with great intelligence to fit all of our needs that put us in the best possible position for post season play."

IU will host Howard (Nov.12), South Florida (Nov. 19), Arkansas State (Nov. 22), and Eastern Michigan (Nov. 24). Arkansas State played in the 2017 NCAA Tournament.

During the non-conference portion of the schedule, IU will also travel to Seton Hall as part of this year's Gavitt Cup and to Louisville in the second game of a three-game series. The Hoosiers will host Duke as part of Big Ten/ACC Challenge and will take on Notre Dame at this year's Crossroads Classic in Indianapolis. All four of those teams also played in last year's NCAA Tournament.

With the addition of two Big Ten games the first week of December due to the league playing this year's Big Ten Tournament a week earlier than normal in Madison Square Garden in New York, IU is looking at its most unique pre-Christmas schedules in recent memory.

Generally, a final schedule for the men's basketball program will not be released until early September. The Hoosier Tip-Off Classic is designated as a Multi-Team Event (MTE) which counts as only one game against a team's limit of games that it is allowed to play in a season. IU will play 31 regular season games as it has in the past.

2017 Hoosier Tip-Off Classic Schedule
Sunday, Nov. 12 — Howard at Indiana
Thursday, Nov. 16 — Arkansas State at Eastern Michigan
Saturday, Nov. 18 — Howard at Eastern Michigan
Sunday, Nov. 19 — South Florida at Indiana
Monday, Nov. 20 — Howard at Arkansas State
Wednesday, Nov. 22 — Arkansas State at Indiana, Howard at South Florida
Friday, Nov. 24 — Eastern Michigan at Indiana, Arkansas State at South Florida
Sunday, Nov. 26 — Eastern Michigan at South Florida

bd Global will partner with IU Athletics to administer the tournament.
Filed to: 2017-18 schedule