Five takeaways from Archie Miller's team camp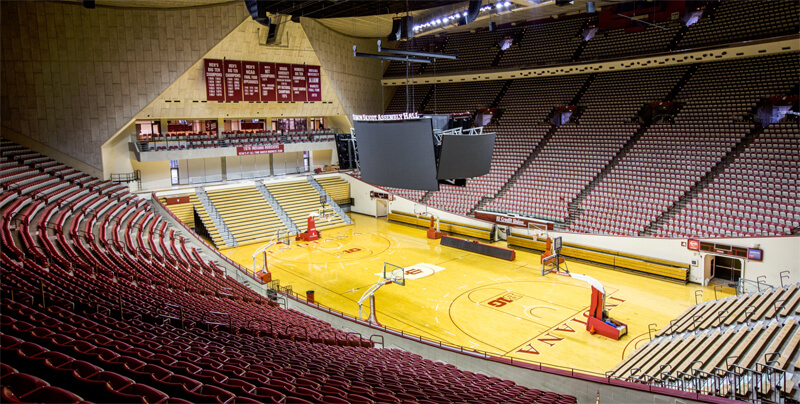 Archie Miller and the IU coaching staff held their first team camp over the weekend in Bloomington and Inside the Hall was there on Saturday observing the camp and the action.
Here's a look at five takeaways from the camp:
· Camp draws some of the best programs from around the state: Miller talked at length during his introductory press conference about the importance of connecting with high school programs around the state. This camp was another example of putting that vision into action.
Early in his tenure, Miller and the coaching staff have made it a priority to engage high school programs and coaches around the state. Among the programs represented at team camp: Center Grove, Cathedral, Warren Central, Lawrence North, Crispus Attucks, Marion, Hamilton Southeastern, McCutcheon, Bloomington North, Bloomington South, Floyd Central, Fort Wayne North, Culver Academy, Southport and Carmel. There were also programs from Ohio represented with both Pickerington North and Central in attendance as well as Dublin Coffman.
Indiana's connection with high school programs in the state wasn't a strong suit in the back half of Tom Crean's tenure in Bloomington. Miller and the new coaching staff are making it a priority to change that quickly.
· Three new offers to report: Three players in camp received scholarship offers while on campus. In the 2018 class, four-star forward Jerome Hunter of Pickerington North added an offer on Saturday.
Congrats to OH-NOVA/Pick North's @j_hunter35 on offer from Indiana University! @NINAZ_

— Andreas James (@AndreasJames7) June 24, 2017
And in 2019, Pickerington Central's Jeremiah Francis and Center Grove's Trayce Jackson-Davis both received offers.
Blessed To Say I've Received An Offer From Indiana University ! #IUBB ??? pic.twitter.com/FyodezVsrU

— Jeremiah Francis? (@JFrancis30_) June 25, 2017
Blessed and honored to receive an offer from Indiana University! Thanks Coach Miller and staff for a great team camp! #GOHOOSIERS ??? pic.twitter.com/rDnzfQqP4t

— Trayce Jackson-Davis (@TrayceJackson) June 25, 2017
Not only is the team camp an excellent opportunity for the staff to evaluate players in a team setting at IU's facility, it's also a chance to showcase the campus, Cook Hall, Simon Skjodt Assembly Hall and get prospects and families on campus.
· Phinisee impressive on Saturday: One of IU's 2018 recruiting targets was impressive on Saturday afternoon under the bright lights in Assembly Hall.
McCutcheon's Robert Phinisee, a top 100 player nationally, went head-to-head with Musa Jallow and Bloomington North and won comfortably despite being down a couple of key players.
Phinisee can score in a variety of ways, can handle the ball and get to the basket effectively and is also a very solid passer. While his athleticism might not be elite, it's going to be good enough to make him a very good college player. On Saturday, Phinisee told Inside the Hall that IU, Purdue, Ohio State, Virginia and Butler are the main schools involved in his recruitment.
· A trimmed down De'Ron Davis: Miller talked about the transformation of Davis in his comments late last month at Huber Winery and after seeing Davis walking around Assembly Hall on Saturday, he wasn't exaggerating.
Davis looks noticeably lighter than he was at the end of last season for the Hoosiers, when he struggled at times to play 15 minutes a game.
Also of note: The weight room in Cook Hall will undergo some improvements that should be completed in August. Clif Marshall, IU's new director of athletic performance, was also in attendance at camp.
· A little more on the camp's format: We've had some questions on Twitter regarding the camp's format, so we'll do our best to answer them with our final takeaway.
The camp ran all day Saturday and Sunday with most teams attending one day and playing three games that day. Games were held in both gyms of Cook Hall, in Simon Skjodt Assembly Hall and also off site at Bloomington South.
The game format was two 20-minute halves with a running clock to keep the action moving and to accommodate games starting each hour. Hosting a camp like this is a terrific idea for all parties involved. The high school teams get the opportunity to play together in world class facilities in the offseason. And the coaching staff and program can show off the facilities and also meet and talk to coaches, prospects and parents who attend.
Filed to: Archie Miller, Jeremiah Francis, Jerome Hunter, Musa Jallow, Trayce Jackson-Davis