Toronto Raptors select OG Anunoby with 23rd pick in 2017 NBA draft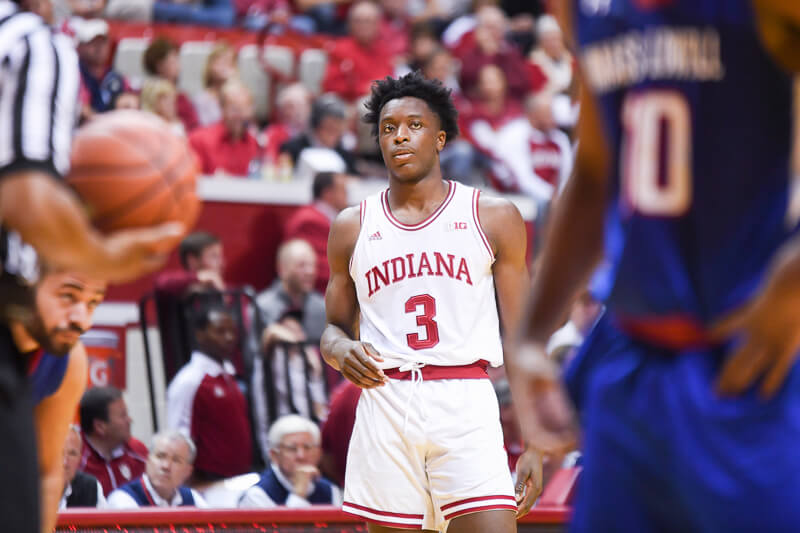 The Toronto Raptors selected Indiana sophomore forward OG Anunoby with the 23rd pick in the 2017 NBA draft this evening.
It was a longer wait than expected in the draft green room at the Barclays Center for Anunoby, who was projected to go as high as No. 13 in some mock drafts published early on Thursday.
Anunoby became the first Hoosier drafted since 2014, when freshman Noah Vonleh went No. 9 overall to the Charlotte Hornets.
"I think I'm a versatile wing defender that can defend multiple positions," Anunoby told reporters at the Barclays Center. "And on offense hit open shots, cut to the basket, and then just create havoc on defense."
His three-year rookie scale contract will be worth a projected total of $4.9 million, according to figures published by RealGM. He's projected to earn $1.37 million as a rookie.
The 6-foot-8 forward, who came to Indiana as an unheralded 3-star recruit, was the second Big Ten player selected. Michigan's D.J. Wilson went to Milwaukee with the 17th pick.
Anunoby, who suffered a season-ending knee injury in an overtime win at Penn State in January, played in just 16 games last season. He averaged 11.1 points, 5.4 rebounds, 1.4 assists, 1.3 steals, 1.3 blocks in 25.1 minutes per game.
Prior to his injury, Anunoby's sophomore campaign had its share of ups and downs, much like Indiana's season.
Anunoby looked terrific in early season scrimmages and IU's two exhibition games. He outplayed Josh Jackson in IU's season opening win over Kansas in Hawaii. He had 16 points in IU's win over North Carolina in late November and looked like a potential All-American.
But as expected from a player short on experience, there were moments where Anunoby showed that his game was still very much a work in progress. His 3-point shooting percentage was in the low 30s. His free throw percentage was below average at 56.2 percent. In IU's 3-game losing streak to Nebraska, Louisville and Wisconsin, he had 10 turnovers in three games.
When he was on, however, Anunoby was a challenge that few had answers for on either end of the floor. He was strong enough to guard post players, but athletic enough to stick with players on the perimeter.
Anunoby, who underwent knee surgery in January, said recently that he expects to be able to play this coming season.
"I'm two months ahead of schedule right now, I'm starting to do a lot more on the court, I started running," Anunoby said Thursday night. "I should be back full go October, November."
The Jefferson City (Mo.) product was the fourth first round NBA draft pick to play for Tom Crean, who was fired in March, during his nine seasons in Bloomington.
Filed to: O.G. Anunoby