Los Angeles Lakers select Thomas Bryant with 42nd pick in 2017 NBA draft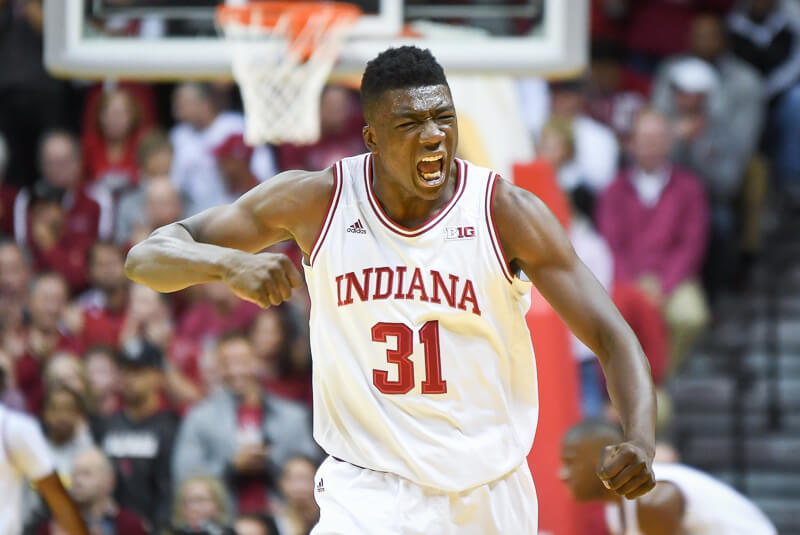 The Los Angeles Lakers selected Indiana sophomore forward Thomas Bryant with the 42nd pick in the 2017 NBA draft on Thursday evening.
The Lakers acquired the 30th and 42nd picks in a deal with Utah Jazz for the 28th pick.
He's the first IU player to be taken in the second round of the NBA draft since Bracey Wright in 2005.
Bryant was the second Indiana player selected on Thursday, joining OG Anunoby, who went in the first round at No. 23 overall to the Toronto Raptors.
As a second round pick, Bryant's selection by the Lakers doesn't come with a guaranteed contract. However, the addition of two-way contracts with the Development League (now called the G-League) should make Bryant a strong candidate to earn guaranteed money.
The 6-foot-10 big man was the fourth Big Ten player taken on Thursday. Michigan's D.J. Wilson, Anunoby and Purdue's Caleb Swanigan were all selected in the first round.
Bryant, who was named a preseason first team All-American by Blue Ribbon, averaged 12.6 points, 6.6 rebounds, 1.5 assists and 1.5 blocks in 28.1 minutes per game.
Projected as a first round pick following his freshman season, Bryant returned to Bloomington as a sophomore, but didn't improve his draft stock.
While he did average more minutes (22.6 vs. 28.1) and sported a higher usage rate (22.1 vs. 22.6) from his freshman to sophomore year which led to higher averages in points (11.9 vs. 12.6) and rebounds (5.8 vs. 6.6), his efficiency took a big hit.
As a freshman, Bryant's field goal percentage of 68.3 was best in school history. His effective field goal percentage of 69.3 would have ranked him third in the country per KenPom had he played the qualifying 60 percent of Indiana's minutes. Those numbers fell to 55.6 and 56.0 as a sophomore.
He did, however, prove he could knock down the 3-point shot with consistency as a sophomore. Bryant hit 23-of-60 from distance (38.3 percent).
Bryant joins Lonzo Ball, the No. 2 pick, Kyle Kuzma, the No. 27 pick, and Josh Hart, the No. 30 pick, in Los Angeles.
2017 NBA Draft: 42nd overall pick @nolimittb31 talks to @LakersReporter about joining the Lakers. https://t.co/dqNEHK1nzK

— LakersTV (@LakersTV) June 23, 2017
Filed to: Thomas Bryant