Draft Watch: Final projections for OG Anunoby and Thomas Bryant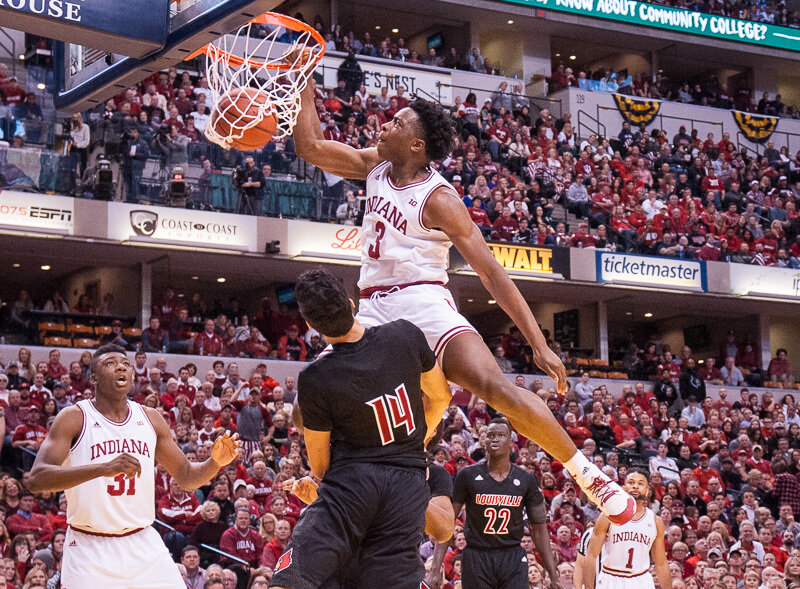 In our final "draft watch" before tonight's NBA draft at the Barclays Center in Brooklyn, we take a look at projections for OG Anunoby and Thomas Bryant along with some notes and analysis:
OG Anunoby mock draft projections:
· Draft Express: No. 23 – Toronto
· ESPN: No. 13 – Denver
· Sports Illustrated: No. 20 – Portland
· CBS Sports: No. 14 – Miami
· Sam Vecenie: No. 21 – Oklahoma City
· NBA.com: No. 21 – Oklahoma City
Notes: Anunoby received a green room invite, which means he will be in attendance tonight in Brooklyn. His range in mock drafts is currently as high as No. 13 to Denver and as low as No. 23 to Toronto. If he falls to 21, NBA.com believes he could be a steal for the Thunder:
It wouldn't be the first time Thunder GM Sam Presti went for a long-term investment in the first round. Anunoby would have been an easy call as one of the top defenders available and potential lottery pick until needing season-ending surgery on his right knee from an injury suffered Jan. 18 at Penn State. The health concern will obviously weigh heavily on the minds of front offices. But if the reports from team doctors are good, a front office in the late-teens or early-20s could consider Anunoby a steal, even with the uncertainty of when he will be back on the court.
As for the timetable for his recovery, Anunoby remains bullish that he'll be able to play next season. Here's what he told reporters on Wednesday in New York:
"I'm feeling great right now. No pain, doing a lot more. I think it should be October or November, back on the court. I can jump, shoot, work on ball handling stuff, passing."
Analysis: "Teams are a bit divided when it comes to Anunoby's recovery from a January ACL tear. Some see zero problems and feel he's well on his way to a full recovery some time this winter. Others feel it could be longer. Either way, the Nuggets can afford to be patient. Picking Anunoby isn't about the coming season, it's about the future, and he gives head coach Mike Malone the best 3-and-D player in the draft." – Chad Ford, ESPN.com.
Thomas Bryant mock draft projections:
· Draft Express: No. 39 – Philadelphia
· ESPN: No. 48 – Milwaukee
· CBS Sports: No. 37 – Boston
· Sam Vecenie: No. 52 – New Orleans
· NBA.com: No. 35 – Orlando
Notes: The projections for Bryant are more spread out given how unpredictable the second round can be. He's as high as No. 35 to Orlando on the NBA.com mock and as low as No. 52 on Sam Vecenie's mock. He's still only 19, but NBA.com notes that Bryant likely hurt his draft stock by coming back for his sophomore year:
The decision to return to school to build on a good freshman season rather than coming out as a possible first-round pick does not appear to be paying off. Bryant is now hoping to follow Cody Zeller (2013) and Noah Vonleh (2014) from Bloomington to the first round. The appeal is a big who won't need to grow into his body much more, plays hard and has a standing reach of 9-4, assets that add up to the possibility of rebounds and blocks as a pro.
As far as his plans for Thursday, Bryant told us late last week that he plans to be in attendance at the Barclays Center. Given the additions of two-way contracts that will allow NBA teams to carry two additional players and use them in the "G-League," it's hard to imagine a scenario where Bryant doesn't receive a guaranteed deal of some sort from an NBA team for next season.
Analysis: "Bryant is an interesting offensive big man who plays hard, can handle it a bit for his size at 6–10 with a 7–5 wingspan, and has potential to shoot it from distance. The problem is that he has remarkably low lateral quickness right now, and will need to hope the lower half of his body fills out." – Sam Vecenie for SethsDraftHouse.com.
Filed to: O.G. Anunoby, Thomas Bryant