Bryant ready for his dream to come true on Thursday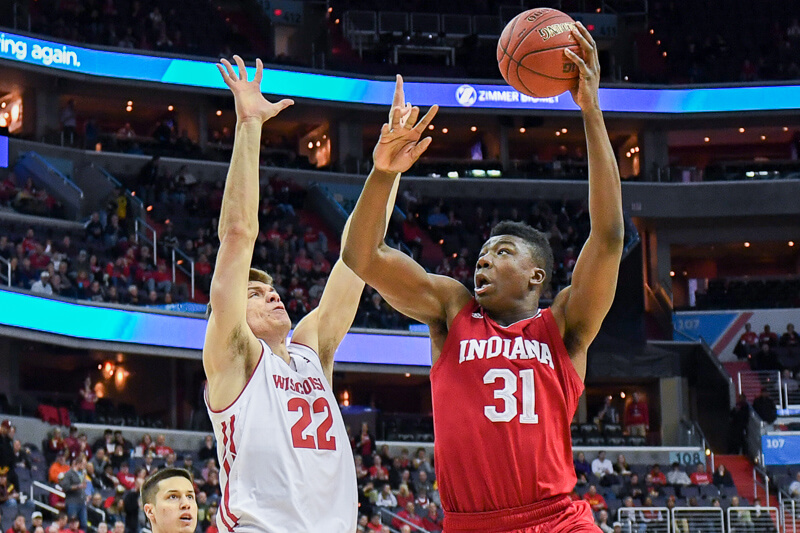 In less than a week, former Indiana forward Thomas Bryant will officially begin the next chapter of his basketball career.
The 2017 NBA draft takes places Thursday at 7 p.m. ET in New York and Bryant plans to be in attendance at the Barclays Center when his name is called.
"It's going to feel great, just being able to be on an NBA basketball team," Bryant told Inside the Hall in a one-on-one interview on Friday. "That's a dream come true."
Bryant, who played two seasons at Indiana and was instrumental in the program's run to a Big Ten regular season championship as a freshman, has been traveling across the country over the last month working out for teams.
Each workout is different, which has required Bryant to be ready to adjust to whatever is asked of him.
"The biggest thing I've learned is being ready at all times, you know," he explained. "You've got to be ready for change. Change can come in a blink of an eye. You've got to be ready to adjust yourself to it. Everybody wants to put their best foot forward and impress everybody out there. Just staying cool, calm and collected is the hardest thing."
Bryant, who measured in at 6'10.75″ and 247 pounds with a 7-foot-6 wingspan and a standing reach of 9'4.5″ at last month's draft combine in Chicago, won't turn 20 until later this summer.
Some of the teams he's worked out for leading up to the draft include the Los Angeles Lakers, Portland, Atlanta, Utah, Philadelphia, Sacramento, Miami and Brooklyn.
When he's not traveling or working out for a team, he's working out twice a day.
"I'm coming in early in the morning working on my skillset," Bryant said. "I play, get up and down the court. And then in the afternoon, I'm working out with my trainer, Rico Hines. We go through the skillset and game like activities as much as we can. And at the end of the workout, we have a two-minute run."
He said one of the most memorable parts of the predraft process has been meeting coaches and executives throughout the league.
"Some of the people that I thought was really cool meeting throughout this process are Pat Riley, Erik Spoelstra and Magic Johnson," he said. "Pat Riley coached Magic back in the day of the Showtime Lakers. And Spoelstra coached who I feel is the best player in the game today in LeBron James (in Miami)."
With both Bryant and OG Anunoby projected to be drafted on Thursday, Indiana will add further to its list of players in the NBA next fall.
This past season, the Hoosiers had six players in the league: Troy Williams, Noah Vonleh, Eric Gordon, Victor Oladipo, Cody Zeller and Yogi Ferrell.
Regardless of where he ends up at the next level, Bryant said he hopes Indiana fans remember his two years in Bloomington fondly.
"Just remember that I put in the hard work each and every day," he said. "I gave it my heart each and every day on the court. Playing against great players in front of a great crowd each home game and also just playing with guys like Yogi Ferrell and Troy Williams. That team that we had my freshman year and winning a Big Ten championship."
Filed to: Thomas Bryant