The Inside the Hall Mailbag: June 15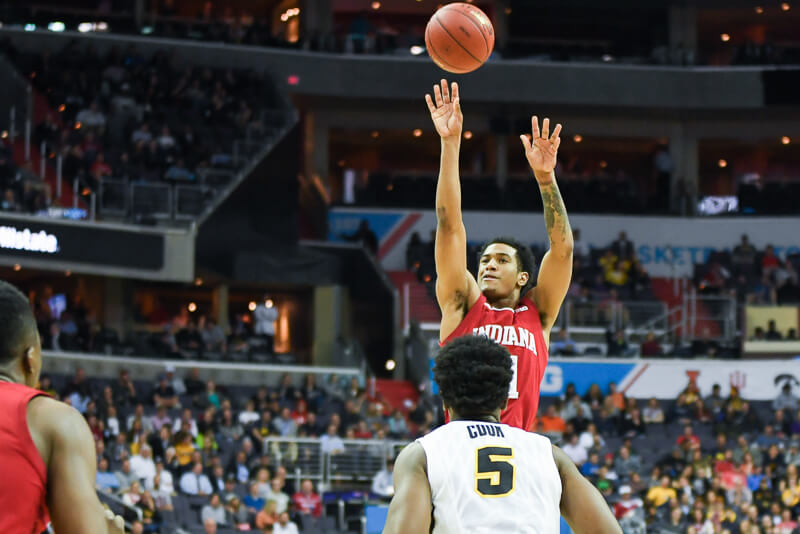 The Inside the Hall Mailbag is a collection of questions tweeted to us via Twitter (@insidethehall), via email, submitted on our premium forum and sent to us via our Facebook page. Submit your questions and we'll answer as many as we can.
We'reAllForYou82 on the premium forum writes: How do you see the PG position playing out next year?
I wouldn't assume anything when it comes to lineups, playing time or rotations for next season. It's a new regime at the helm, which means everybody starts with a fresh slate.
Specifically at point guard, the two most logical candidates to start are Josh Newkirk and Devonte Green. Much will depend on the offseason progress of both players. Newkirk has the ability to be a very good defender, which is going to be a necessity if he wants to remain the starter next year.
However, the upside of Green is hard to ignore. From listening to Archie Miller talk, it's clear that he likes the potential of Green. He needs to tighten some things up in terms of his decision making and ball handling, but he showed a fearlessness as a freshman that should have fans excited about his future.
ElBonko on Twitter writes: What's the likelihood that the 17-18 team has a better year than the 16-17 team?
If this group stays healthy, I see more than 18 wins, which would qualify as a better season. Does that mean a NCAA tournament berth? I think next season's team will be in the mix.
Last year's team was more talented, but it was broken in many ways. There were injuries, no plan to take care of the ball and a defense that never improved. By the end of the season, the wheels had basically come off, which is why a team that once beat Kansas and North Carolina lost to Georgia Tech in the NIT.
There are plenty of questions surrounding the 17-18 team, but there is young talent and also some experience. The first order of business will be protecting home court, which IU was unable to do consistently last season in conference play.
cdub76 on the premium forum writes: What is your take in regards to the other coaching changes in the B1G and how do the coaching staffs from each compare to Archie & Co?
My belief is that all three changes will be positive for the programs involved: Indiana, Illinois and Ohio State.
When evaluating a hire, it's important to consider this question: Was one of the best available candidates with interest in the position hired? In all three cases, I believe the answer is yes.
Underwood has been very good in stops at Stephen F. Austin and Oklahoma State. Holtmann took over a difficult situation from Brandon Miller at Butler and won at a very high level. And Miller is one of the best young coaches in college basketball and a potential star.
I'd suggest checking out Brendan Quinn's piece on this very topic recently over at MLive if you're interested in digging into this very topic even more.
PBzeer on the premium forum writes: Do you think that the probable increased focus on defense will have noticeable results this coming season? (I don't mean getting the pack line down pat, just better defense than we've seen.)
Better defense? Yes. Should the expectation be a top 15 KenPom defense? No.
Old habits die hard and Indiana was a poor defensive team last season. It's going to take some time for the improvement to happen.
If you look at Miller's Dayton teams, it wasn't until his fourth season there that the Flyers became a top 50 team defensively. In each of his last three seasons, Dayton ranked in the top 43 in KenPom in adjusted defensive efficiency.
The Hoosiers were 104 last season in adjusted defensive efficiency. If that number moves up into the top 75, I'd call it a success.
Douglas Foy on Facebook writes: Why can't we play a bunch of in state schools like Ball State, Evansville, IPFW, Valpo, Butler, Notre Dame, Indiana State. It's ridiculous to play these other wimps from wherever.
I addressed scheduling a little bit on yesterday's podcast, but this isn't a cut and dry situation. Indiana played IPFW last season and will play them again in 2018-19. The Hoosiers also play Butler and Notre Dame on a rotating basis each season in the Crossroads Classic in Bankers Life Fieldhouse.
That said, I agree that the schedule needs to improve and believe that will happen under the new coaching staff.
However, the focus should be on building a schedule that aids in an improved strength of schedule to aid NCAA tournament seeding and also improves the team in the process. If in-state schools can assist in that, perfect. But as long as the quality of opponents is improved, does it really matter where they're from? I would argue no.
Maedhros on the premium forum writes: In the offseason, the focus is often on recruiting. It's also one of my biggest question marks regarding Archie, as he has never landed a top 100 prospect, nor a player with the talent to get to the NBA. Obviously that's harder to accomplish at Dayton than it will be at Indiana, which is why I call it a question mark and not a weakness. We like what he achieved at Dayton with lightly recruited kids, but ultimately Archie will need to land those top-100 and top-50 kids to have the kind of success we want at Indiana. So, given that context, and given that he has a late start developing a relationship with a lot of these kids, what do you believe would qualify as a successful 2018 recruiting class?
I wouldn't get too caught up with rankings. Nor would I get too caught up with the past when it comes to recruiting for Miller. He's never been a head coach at a program with the resources at his disposal in Bloomington. He's assembled an all-star staff, he has a rabid fanbase and an administration that is behind him 100 percent. It's not fair to expect a 2018 class full of 5-star recruits, but I wouldn't rule out Indiana landing multiple top 50 players in this class, either.
You are correct that there is ground to make up, but everything I've heard suggests that this coaching staff is working tirelessly to bring in a very solid group in 2018. This question won't be able to be answered until we get into the fall and the signing period in November, but I think recruiting momentum will come quickly for Miller at Indiana.
IowaHoosier on the premium forum writes: With the 2018 class expected to be quite large (5-6), when do you anticipate some commitments? I know this is hard to predict, but are the kids we are currently recruiting wanting to sign this fall or is it becoming more common to wait until spring with the new draft process?
There are always going to be some recruits who wait until spring, but the majority of recruits still sign in the fall.
I also wouldn't assume that five or six recruits will be signed. Miller has already said that he isn't necessarily going to fill every scholarship each year and it's important to have some balance in each class.
In terms of timeline for commitments, that's impossible to predict. Many of the kids who are being recruited for 2018 haven't even visited campus yet. Official visits will begin to get set up after the July evaluation periods conclude and August, September, October and November are typically very busy months for commitments around the country.
HoosierBG on the premium forum writes: With brand new coaching staffs coming in at IU, OSU, U of I and Butler, all such a short distance from one another, how do you see recruiting in the midwest changing?
Strangely enough, I think the impact could be more on the programs who have been raiding Indiana, Ohio and Illinois for talent.
If Indiana is able to start landing some of the best kids from the state consistently and Ohio State can do similar things in Ohio, that is going to hurt the programs who have been coming into both of those states to get players. Illinois is more of a wild card because going into Chicago to get players comes with its own set of challenges.
Just looking at the last three recruiting classes, here are just some of the players from Indiana and Ohio who have left the state: Jalen Coleman, Kyle Guy, Jaren Jackson, Malik Williams, Kris Wilkes, Paul Scruggs, Carlton Bragg, Luke Kennard, Esa Ahmad, Dererk Pardon, Omari Spellman, Nick Ward, Xavier Simpson, Sterling Manley. Many of these are top 100 players.
There's a reason both Holtmann and Miller talked about in-state recruiting in their introductory press conferences. They know it's an important piece of restoring their programs back to the top of the sport.
"WILL" take charge on the premium forum writes: Will there still be a Hoosier Hysteria?
Absolutely. Look for it to go down as usual this fall and in the years to come. Hoosier Hysteria isn't going anywhere.
Filed to: