Offseason objective for Curtis Jones: Change his body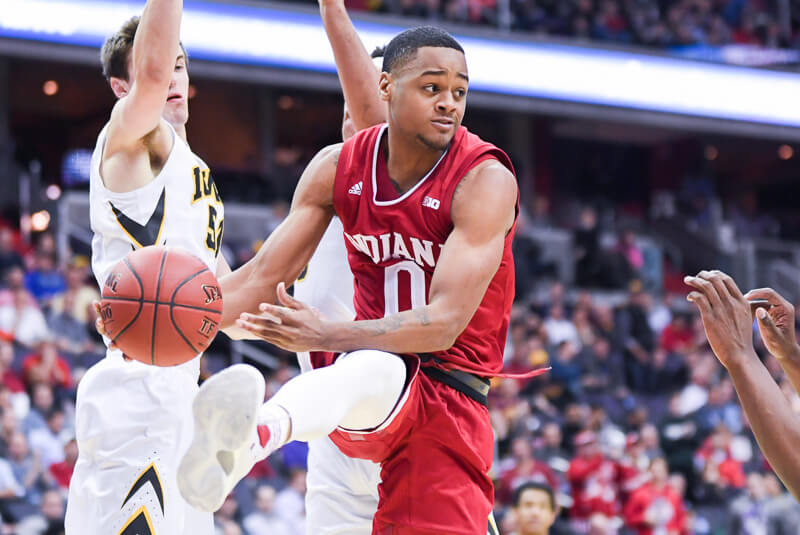 If all goes as planned this offseason for Curtis Jones, the rising sophomore will look totally different when he takes the court next fall in Bloomington.
The offseason objective laid out by Archie Miller recently in his comments at Huber's Winery was clear: For Jones to reach his potential, he has to change his body.
The work to begin the transformation is already underway as Jones remained on campus this spring with four other players.
As a freshman, Jones got off to a terrific start by scoring 15 points in Indiana's season-opening win over Kansas in Hawaii.
But that was one of just two games in which Jones scored in double figures all season. In four of IU's final six games, he played three minutes or less. With James Blackmon Jr. moving on to the NBA draft, there could be a major opportunity for Jones to increase his minutes.
"We have to change Curtis' body for his game to change," Miller said on May 31 at Huber's. "He's on that. When he goes out there, people should say, 'wow, he looks a lot different.' And that's going to give him a chance to be a better player. But he's working hard at it."
Jones, who arrived in Bloomington as the No. 40 player in the final ESPNU 100 for the class of 2016, was known primarily in high school for his ability to score.
That shooting ability was on display at times last season as Jones hit 35 percent of his shots from behind the 3-point line. Against Kansas, Jones hit a trio of 3-pointers in 16 minutes.
One key area where Jones needs to improve as a sophomore is in spot-up shooting situations. According to Synergy Sports, he scored just .87 points per possession in those situations as a freshman, which ranked in the 43rd percentile nationally.
Based on Miller's comments, Jones is embracing hard work this offseason to make himself a better and more impactful player.
"Curtis has been great. Curtis was going to go home for about a four-week period of time," Miller explained. "He changed his mind and now he's been back the whole time. Just getting a chance to get to know him a little bit better and being with him everyday, great kid, tremendous energy level, is working extremely hard."
If the transformation for Jones comes to fruition, he could be a major factor on Miller's first IU roster.
With Blackmon Jr. moving on along with Thomas Bryant and OG Anunoby, the Hoosiers are losing three of their four leading scorers. Reaching his potential begins with adding weight to his 175-pound frame.
"Curtis has to change his body for him to be a better player," Miller said. "And he knows that. He's aggressively going after that. I think he'll be a better player in his sophomore year than he ever imagined. I also think that if he's a better player than he ever imagined as a sophomore, we have a chance to be a better team."
Filed to: Curtis Jones