Draft watch: Most recent projections for Anunoby, Bryant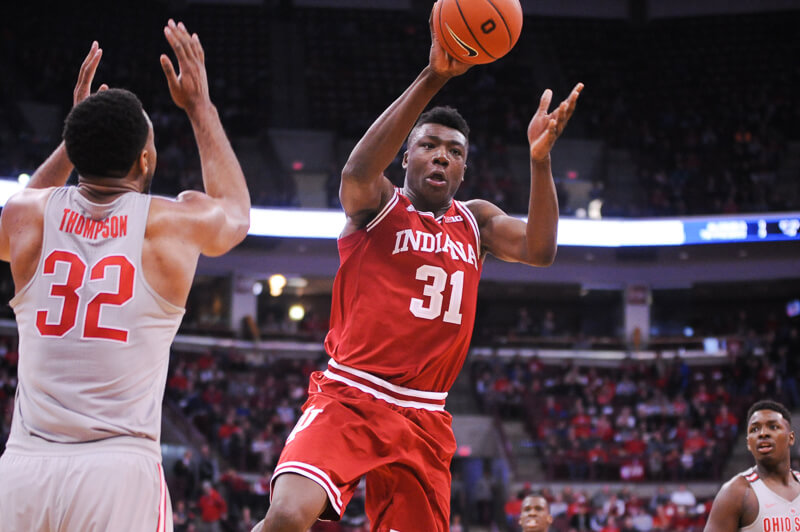 Indiana has three underclassmen who have declared for the 2017 NBA draft and signed with representation: OG Anunoby, James Blackmon Jr. and Thomas Bryant.
In our third draft watch since the end of the season, here's an updated look at projections for OG Anunoby, Thomas Bryant and James Blackmon Jr. along with some notes and analysis on their outlooks with just nine days until draft night:
OG Anunoby
ESPN: (13) Draft Express: (14) NBADraft.net (39) Davis/Vecenie: (13) SI: (14)
Notes: Anunoby is still considered almost universally a lottery pick, which is remarkable given where he was two years ago at this time. There's been some stories put out that he's hoping to be close to 100 percent by the end of the year, which could make even more attractive to teams if accurate. He will still be a long term play for the team that takes him as his defensive ability is much more advanced than his offensive skill set. His rise wasn't as incredible as Victor Oladipo's, but going from a sub-250 player in the country as a senior in high school to a lottery pick in two years is impressive.
Analysis: "Not a huge fan, period. Obviously the injury is the biggest negative thing, but everybody thinks he's going to be this big wing. He's not going to be a three man, he's a four man. I don't think he has a great feel. The whole question will be can he make enough perimeter shots. He's had some brilliant stretches on defense where he can defend multiple positions. He's a bright kid, but a little quiet." – Anonymous scout to Seth Davis.
Thomas Bryant
ESPN: (53) Draft Express: (37) NBADraft.net (63) Davis/Vecenie: (41) SI: (46)
Notes: Bryant has gone through a rigorous schedule of workouts and nearly every projection has him going in the second round. Given his youth (he's still just 19), size and the addition of two-way contracts in the new collective bargaining agreement, it seems likely he will be under contract with an NBA team next season. He measured a 7-foot-6 wingspan at the combine last month in Chicago.
Analysis: "I saw him in a group workout and his body looked better. Biggest thing with him is he's not overly athletic. But he can make shots. I'm not a huge believer. He's going to struggle defensively. There's some attractiveness in his standing reach and his competitiveness. I'm not sure he can rebound or defend pick and roll well enough to stay on the floor. Too perimeter oriented for a post guy. Not a great athlete, but he's a decent north-south runner. He can be a bit emotional." – Anonymous scout to Seth Davis.
James Blackmon Jr.
ESPN: (90) Draft Express: (83) NBADraft.net (NR) Davis/Vecenie: (NR) SI: (NR)
Notes: Blackmon Jr. moved into the top 100 of both the ESPN and Draft Express rankings, but still isn't showing up on any mock drafts. The assumption is that he will go undrafted, but will have an opportunity to catch on in the summer league and perhaps earn a training camp invite in the fall. He put his incredible shooting touch on display in a recent workout and like Bryant, has been on a rigorous schedule of workouts for teams in recent weeks.
Analysis: "He possesses a unique skill with his ability to stretch the defense and shoot from beyond the arc, but given his lack of ideal size at the shooting guard position, he will need to continue to show that he is more than just a shooter." – DraftExpress.com scouting report.
Filed to: James Blackmon Jr., O.G. Anunoby, Thomas Bryant