2017 recruiting class expected to arrive on campus this week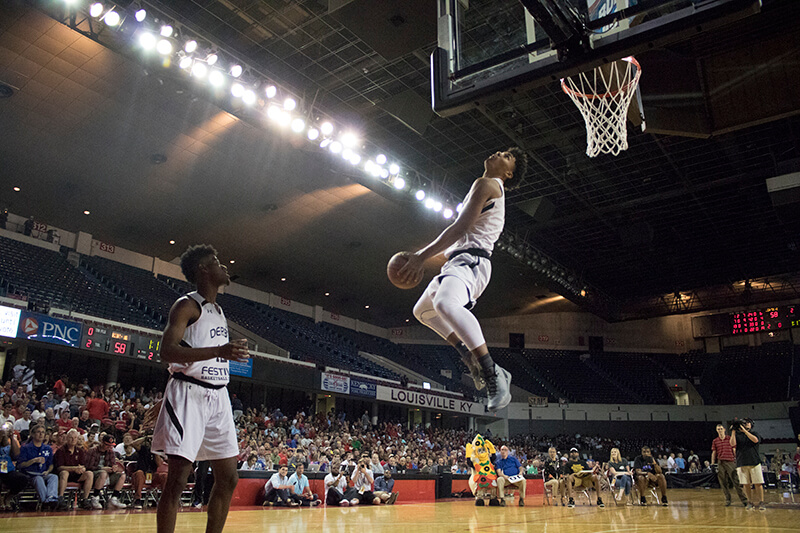 Indiana's three-man recruiting class is expected to arrive on campus this week, according to comments from Archie Miller recently at Huber's Winery in Borden.
Al Durham Jr., Clifton Moore and Justin Smith, who signed National Letters of Intent with IU under the previous coaching staff, all reaffirmed their commitments to the program earlier in the spring.
The arrival of the three freshman means all 12 players on scholarship for the 2017-18 season will be on campus together for the first time.
Smith, a 6-foot-7 forward from Adlai Stevenson (Ill.) is the highest ranked recruit in IU's class. He's a four-star prospect and the No. 76 player nationally in the 2017 class, according to the 247Composite.
"Justin Smith, from Illinois, is probably the guy I've seen the most," Miller said. "Probably comes in as an elite athlete, talent. About 6-foot-6. Can really play above the rim. Oozes with potential. I think the one thing is to redefine him, is to figure out how he impacts the game shooting the ball and doing some things as a freshman. From a talent perspective, he's one of the more talented guys entering the league."
Durham, a 6-foot-4 guard, was the first of the three recruits to commit to Indiana. The Berkmar (Ga.) product committed to the Hoosiers in October of 2015.
"I got a chance to see Al play," Miller said. "He's a long, slender, athletic guard who can score. He's got really good size. He's got a frame that I think is going to fill out. And I think he's a guy, with the skill set and how he plays, will fit in nicely with what we do."
Moore, a 6-foot-10 forward, was under the radar nationally, but drew rave reviews from the DraftExpress.com staff following his performance in April at the Jordan Brand Regional Game.
"We got a chance to see him play in the summertime and he is 6-10 and really skilled," Miller said. "And he's got a frame that is going to grow. He's going to be what I would call a true versatile forward, in time, with his size combined with being able to shoot the 3 and some of the things he can do. I think, down the road, you're going to see a guy kind of grow up right before your eyes."
Indiana's class is ranked No. 4 in the Big Ten and No. 37 nationally, according to the 247Composite.
The Hoosiers lost three players early to the NBA draft – OG Anunoby, Thomas Bryant and James Blackmon Jr. – which could present the opportunity for early minutes for the incoming class.
"All three of those guys could play an important role," Miller said. "To come to Indiana right now, you know, everybody is sort of on the same plain. No one has been given anything. Those three guys coming in, the hungrier they are, the better they are, the more they add, the better we're going to be. If you play as a freshman, if you earn it, in most cases that's a great springboard for your career."
Filed to: Aljami Durham, Clifton Moore, Justin Smith