Hartman continues to make progress in rehabilitation from knee surgery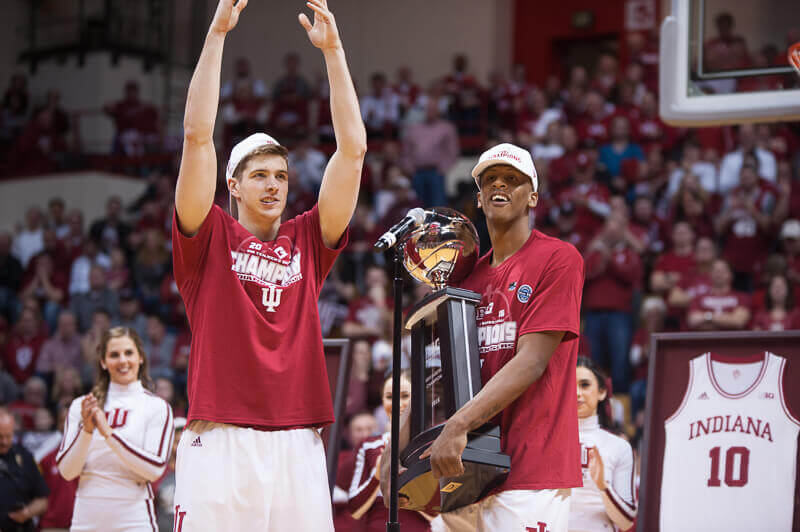 One of the most experienced players on Indiana's 2017-18 roster is continuing to make strides in his rehabilitation.
Redshirt senior Collin Hartman, who announced that he would return for a fifth season in Bloomington on March 30, missed the entire 2016-17 campaign after undergoing knee surgery. The surgery followed Hartman's second major knee injury of his college career.
Rather than take time off this summer, Hartman has been on campus with the new coaching staff and director of athletic performance Clif Marshall preparing for his final season at IU.
Hartman, along with Robert Johnson, De'Ron Davis, Curtis Jones and Juwan Morgan, were on campus for the first summer school session.
"Where he started at seven weeks ago, if it was at a level one, I thought when we finished the spring, he was probably at like a level three or four," Archie Miller said of Hartman last week. "And then as we started our summer, to see where he started at to see where he's at right now, he's starting to move in the direction where I can start to see the player that he once was."
The 6-foot-7 forward, who was a key piece of IU's 2015-16 Big Ten championship team, is a career 40 percent 3-point shooter and has started 36 games over his first three seasons.
He's also played and guarded multiple positions, but his most valuable contribution to the program might be his leadership on and off the court.
Along with Johnson, Hartman's presence will give Miller and the new coaching staff a reliable veteran who has been through the rigors of a Big Ten season.
"I think the great thing about him is, and it's what everybody told me about him, the confidence that he can give a locker room, the experience level that he has, what he's about personally in terms of his commitment to his teammates and what not, there's very few guys that can come off that way all the time," Miller explained. "He's like having another coach. He really is. He's like having another coach in the weight room, he's like having another coach in the locker room. He's got a great vibe about him as a competitor."
With more than three months to go before the official start of practice in September, Indiana is continuing to take things slow with Hartman.
Miller said that he doesn't envision him running full court or playing pickup soon, but added that he's on a "great path" to being ready to go when IU needs him to be.
"Everything's on track in terms of his rehabilitation," Miller said. "His training is great. He works extremely hard."
Filed to: Collin Hartman