Five-star guard Darius Garland talks recruitment, Peach Jam berth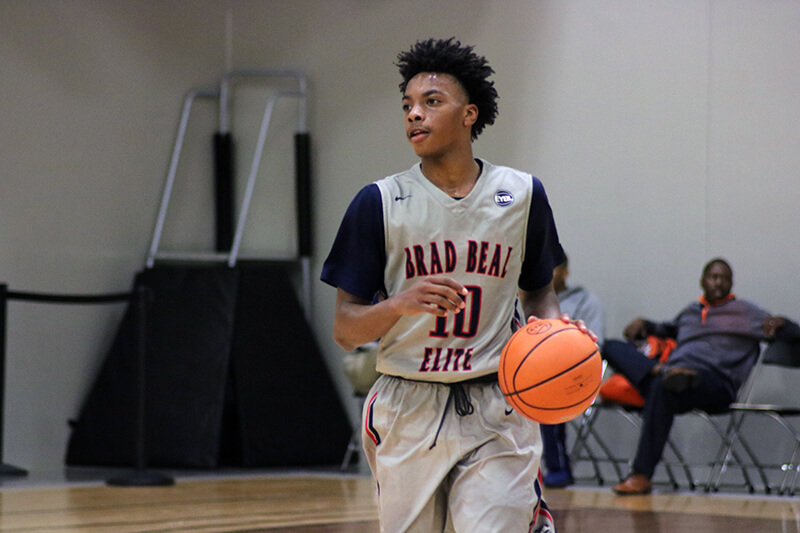 THOUSAND OAKS, Calif. – Five-star Darius Garland continues to showcase why he's the top-ranked point guard in the class of 2018.
The Brentwood Academy (Tenn.) floor general averaged 16.8 points, 3.1 rebounds, 4.8 assists, 1.1 steals per game on 53 percent shooting and 85 percent from the free throw line for Bradley Beal Elite, who endured a major shakeup in the middle of the Nike EYBL regular season. At the halfway point of the season, five-star 2019 forward James Wiseman left to join Team Penny.
"We still have to be aggressive, we just have to play our game," Garland said. "We get up and down a little bit quicker now and have been doing really well."
Bradley Beal Elite went a perfect 8-0 without Wiseman, ending the regular season with a 13-3 record, tied for the best on the Nike EYBL circuit. In the regular season finale, Bradley Beal Elite took down Team Penny, with Garland scoring 12 points and dishing six assists in the 71-60 victory.
It marked the conclusion of Garland's second regular season on the 17u circuit, with his squad advancing to Peach Jam both times.
"This year has been really great," Garland said. "Just having the knowledge of the game, the speed of the game. Being able to bring my team together, having played a 17u season before."
The top schools in the country are after Garland's talents. The lead guard has offers from Duke, Indiana, Louisville, Ohio State, Kansas and countless other major programs.
Garland visited Indiana while Tom Crean was the head coach, but hasn't been to campus since.
"I talk to coach (Archie) Miller all the time," Garland said. "He's on me too. They contact me a lot, actually. Almost every day."
Garland appears to be intrigued by the prospect of playing alongside four-star class of 2018 point guard Tre Jones at Duke under coach Mike Krzyzewski. The two were teammates in 2016 during Team USA U17 World Championship training camp, and Garland said they've been close "ever since."
"Coach K, he likes me and Tre (Jones)," Garland said. "He said that we're going to be really young if we come there our freshman year. He needs two good young guards that are really mature."
Garland isn't sure whether he will be a one-and-done player at the collegiate level.
"I haven't really decided yet," Garland said. "If I have the chance to go one-and-done, I'll take it. If it takes me two, I just want to get there. That's my ultimate goal."
Although Garland does not have a firm timeline on his recruitment, he said it's possible he cuts his list down to six or seven schools in the near future.
Filed to: Darius Garland