Class of 2019 forward Trendon Watford discusses IU offer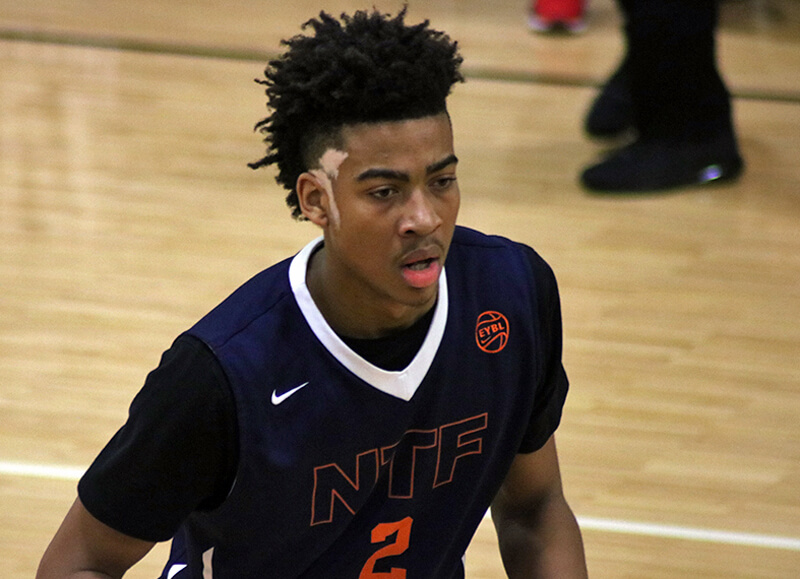 THOUSAND OAKS, Calif. – Five-star class of 2019 small forward Trendon Watford now has a 'Wat Shot' to call his own.
The 6-foot-8 Watford's Nike Team Florida squad entered session four of the Nike EYBL circuit with a 5-7 record. To qualify for Peach Jam, NTF would likely have to go 3-1 in session four.
On Saturday morning, NTF appeared to be on the ropes, down 67-65 to Team Melo with less than two seconds remaining.
Enter Trendon Watford.
Prior to the final seconds, Watford had scored just four points in the game on 1-for-5 shooting. He had sat for most of the second half, but when his name was called, he delivered.
"(I knew it was in) before I even shot it," Watford said. "I was calling it when we called the play. I just knew it. I was going to come off the bench and hit it."
"I guess it just runs in the blood," said Trendon's older brother Christian, who famously hit a buzzer-beater against No. 1 Kentucky in 2011.
It wasn't his first buzzer-beater, as Trendon said he has also made one in high school and while playing at the u16 level, but it was perhaps the biggest.
The thrilling victory helped propel NTF to a 3-1 record over the session, allowing the team to finish the regular season with an 8-8 record and earn an at-large spot in Peach Jam.
Playing a year up, Watford ended the regular season with averages of 13.1 points, 5.2 rebounds, 1.8 assists, 0.8 steals and 0.7 blocks on 50 percent shooting.
The Birmingham, Alabama native reached double-figures scoring in all but three games and accumulated double-doubles in each of the final two games, grabbing 14 rebounds against Portland BC and 10 against Seattle Rotary.
Still a sophomore in high school, Watford has been receiving interest from some of the biggest schools in college basketball.
The schools Watford said are most interested in his talents are Alabama, Indiana, Auburn, Louisiana State, Mississippi, Kentucky, Arizona and North Carolina.
"It was big," Watford said of receiving an offer from Indiana on May 18. "I basically grew up there, it was like my second home. I know Bloomington like the back of my hand."
Schools are not allowed to be in direct contact with class of 2019 recruits until June 15, but Watford said Indiana has been in contact with his brother and his dad over the past few weeks.
Indiana was not involved in Watford's recruitment when Tom Crean was at the head of the program, which his brother Christian said was not a surprise.
"He was a young kid so I didn't expect him to get an offer," Christian said. "There's no point in offering a kid in 7th, 8th, 9th grade. There's a lot of stuff that goes on between that time. I wasn't surprised by it."
Watford doesn't have a timeline yet but expects to possibly cut his list late in his junior year.
Filed to: Trendon Watford