Four-star guard Jalen Carey talks relationship with Archie Miller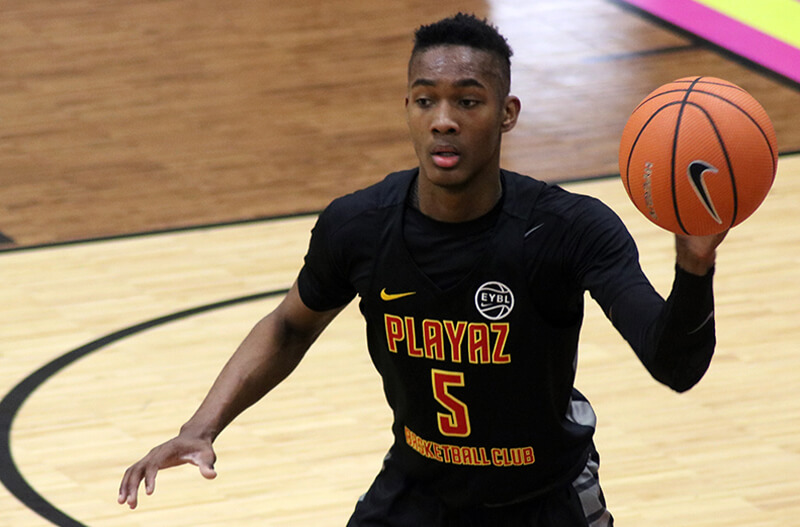 THOUSAND OAKS, Calif. – 6-foot-4 guard Jalen Carey was the leading scorer for the New Jersey Playaz during the EYBL regular season, helping lift them to a 10-6 record and a berth at Peach Jam.
The Harlem native attends Immaculate Conception High School in Montclair, New Jersey, and finished the Nike EYBL regular season with per game averages of 18.1 points 3.8 rebounds, 2.3 assists and 1.1 steals while shooting 46 percent from the floor and 44 percent from beyond the arc.
Carey sees himself as a lead guard and has been working on his ball handling. At session four, he spent significantly more time playing the role of the lead guard than earlier in the Nike EYBL regular season.
"I've been working with my coaches a lot on my ball handling," Carey said. "Just sharpening up my on-court decision making, my handles, my on-ball skills."
In the first two sessions, Carey averaged 1.3 assists per contest. Over the final two sessions, that number jumped to more than three per game, including an eight assist performance against Playground Elite in session three.
Carey has said he sees himself as a Russell Westbrook type of guard with the ability to work the open court and put the defense on their heels. So when Russell Westbrook sat courtside for Carey's game on Saturday afternoon, he took notice.
"That was big for me, that he was able to come out and watch me play," Carey said. "I tried to show my aggressiveness in how I play. To show him that I'm the next up."
Ranked as the No. 81 recruit in the class of 2018 by 247Sports, Carey's profile has grown nationally throughout the EYBL season. Previously, the majority of schools on his radar were local – Seton Hall, Connecticut and Rutgers.
Now, Carey is in contact with some of the titans of college basketball and has received offers from Kansas, Syracuse, Florida and Indiana, to name a few.
"Archie Miller has been calling me," Carey said of his contact with Indiana, who offered him in late April. "We were talking about the Cavaliers-Celtics series. We're both big LeBron fans. That's one thing we have in common. He's been telling me that I'm able to fit their guard play. The way he likes to play, he says I'm able to fit that perfectly. Just looking to take it from there, probably go on a visit next month or sometime during the summer and building a better relationship with the coaching staff."
Carey has already taken visits to Rutgers, UConn, Seton Hall. Besides Indiana, he said he is looking to visit Syracuse, Florida, and Miami in the near future. He recently released a list of the top 10 schools showing interest but said his recruitment is still open.
"I don't really have a timeline," Carey said. "I'm looking at probably cutting my list before the start of my high school season. But if it takes longer than that, I'll just have to wait. I don't want to rush anything."
As for a fit, Carey is looking for a program where he feels comfortable and that fits his style of play.
"I like schools that are able to let their guards play full court offense and work," Carey said. "Somewhere where I can feel like I'm home. Where it's my home away from home. Where my parents don't have to worry about me. Where I'm able to feel comfortable on and off the court."
Filed to: Jalen Carey