2018 forward Cole Swider talks recruitment, Indiana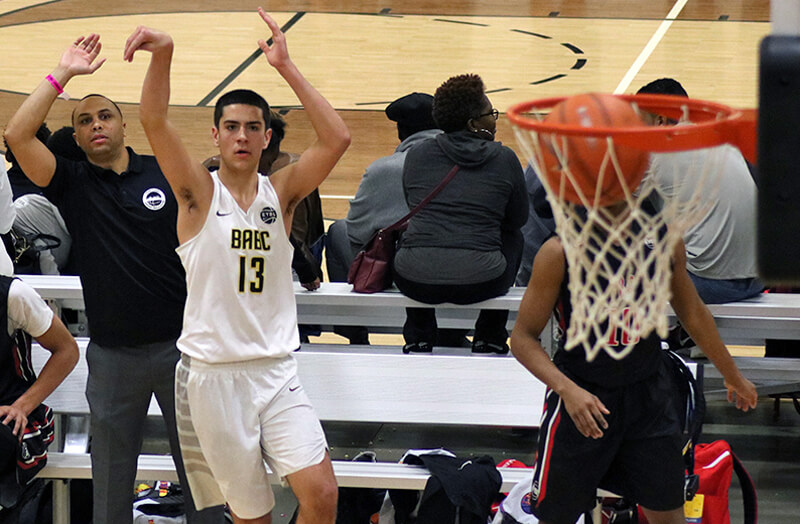 THOUSAND OAKS, Calif. – Three-star wing Cole Swider continued his strong play on the EYBL circuit over the weekend, continuing to show why he has the potential to be one of the best shooters of the 2018 class.
The 6-foot-7 Swider has emerged as one of the purest shooters in the class of 2018. At session four, he averaged 19.3 points per game, including single game outbursts of 28 and 30.
Swider finished the regular season with averages of 19.4 points, 6.3 rebounds, 0.7 assists, 1.6 steals and 0.6 blocks. He's helped propel Boston Amateur Athletic Club to a 10-6 record over the EYBL regular season, clinching a berth at Peach Jam this summer.
The Barrington, Rhode Island, native scored 30 or more points three times on the circuit and says his game is still a work in progress.
"I'm still improving," Swider said. "Every single game I just want to go out and win. I've been working on my ball handling, my athleticism, my ability to create space. Just everything."
Not only is Swider a shooter, hitting 42 threes at a 35 percent clip over 16 games of the EYBL circuit, but he's also willing to do the dirty work. In the session four opener against Georgia Stars, he grabbed a loose ball following a missed free throw and was able to maintain possession by calling for a timeout.
"I'm just a tough player," Swider said. "I like to get down and dirty. Do things others aren't willing to do, but then I'll score for my team, I'll rebound, do other things as well."
In early May, Swider trimmed his list to eight schools, with Indiana making the cut alongside Xavier, Creighton, Providence, Miami (FL), Michigan, Syracuse and Villanova. He's been in contact with both head coach Archie Miller and assistant Tom Ostrom.
"He asks me how I'm doing," Swider said of his contact with Miller, who he chats with every two to three days. "My Celtics got knocked out, but he was asking me about them. Just a bunch of things. He thinks I'd be a good fit for Indiana."
But Indiana seems to have significant ground to make up, as schools like Xavier have been recruiting Swider well before Archie Miller took over Indiana.
"(Xavier) texts me and call me every single night," Swider told Evan Daniels of Scout earlier this month. "They call my grandma. They call my grandfather. They make sure they know every single person in my family and everyone who will be involved in my decision. I feel like they care about me as a person."
Swider plans on taking visits in the fall, but for now, is focused on the AAU season.
Filed to: Cole Swider