Former Dayton commit Nahziah Carter receiving IU interest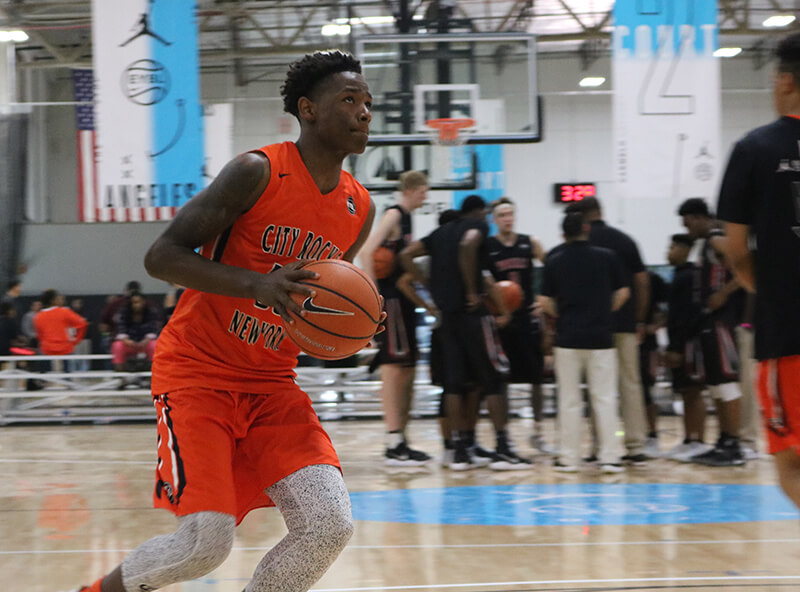 THOUSAND OAKS, Calif. – 6-foot-6 small forward Nahziah Carter turned quite a few heads at the Nike EYBL Circuit last weekend.
Ranked outside the top 300 of the class of 2017 by 247Sports, Carter has seen his profile rise considerably in recent months.
Carter played a central role in leading New York City Rocks to a 10-6 record on the EYBL Circuit and a spot at the Peach Jam this summer. In 16 games, Carter averaged 12.7 points, 4 rebounds and 1.7 assists on 58 percent shooting.
The Rochester, New York, native wowed crowds at session four of the EYBL with chase-down blocks and posterizing dunks.
But Carter also made many plays that although were just as important for his team, went without much fanfare. Carter had a habit of setting well-timed screens for teammates, taking charges and making the right pass in traffic.
Although currently on track to enroll in college this fall, Carter has discussed the possibility of heading to prep school and reclassifying to 2018.
"(To) get stronger, develop more aspects of my game," Carter said of the benefits of reclassifying. "I think I'm pretty solid all-around, but you can always work on your game."
Carter committed to Dayton back in November, but de-committed in April following the departure of coach Archie Miller. Last week, Indiana offered Carter a scholarship for 2018.
"I really like (Archie Miller). I like his coaching style, the way he gets on the players, his relationship with the players and their families, too. I believe he's a great coach.
"It fits me personally, his style of play. I watched him at Dayton. They play pack line, really defensive. They hold (opponents) to low shooting percentages and they get out and let the wings work (on offense). That's what I'm into."
With the departures of James Blackmon Jr., Thomas Bryant, OG Anunoby and Grant Gelon, the Hoosiers now find themselves with an open scholarship. Carter has yet to be offered by Indiana for 2017.
"We've been talking about 2017 because they just opened a scholarship up… They told me I definitely have a scholarship for 2018. We're going to talk about 2017 soon. Everything plays a big part in my decision to go in 2017 or 2018."
Besides Indiana, Carter says he's been in the most contact with Georgetown, Washington, Georgia Tech, UMass and Boston College.
Carter is also the nephew of rapper and media mogul Jay-Z, who made a surprise appearance at Carter's afternoon game on Saturday.
Nahziah Carter with his uncle Jay-Z after a 3 point win pic.twitter.com/MRrELCUYMs

— Josh Margolis (@MargolisNews) May 27, 2017
"It is what it is," Carter said of being relatives with an entertainment icon. "It's not going to go away anytime soon, so I've just got to bear with it and try to make a name for myself."
Filed to: Nahziah Carter