Notes and quotes from Collin Hartman's appearance on "Unscripted" podcast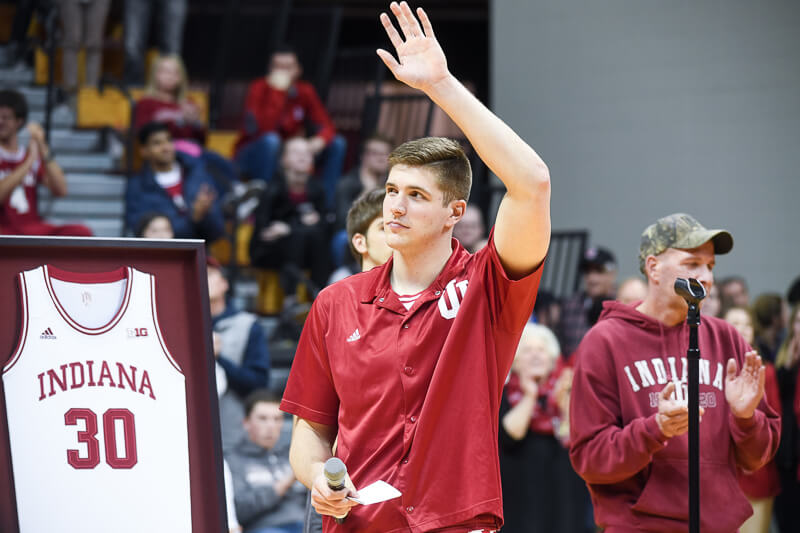 Indiana redshirt senior Collin Hartman was this week's guest on IU's "Unscripted" podcast, which is hosted by Jeremy Gray.
The full episode is available here, but we've also compiled some notes and quotes from Hartman's comments below:
· On his mom, who played basketball at Butler: "Needless to say she's been thrown out of a gym. She's a passionate mom. But she knows the game."
· On playing against his mom as a kid: "The thing is she's always had bad knees which is kind of ironic, but I started beating her at an early age in like one-on-one just because she wasn't as mobile. But she could still, maybe not to this day because she doesn't have the range, but in high school she could put up a little match for horse."
· Hartman said he played soccer as a kid and baseball, but quit both pretty early. He also played football through middle school.
· Hartman said his whole family were fans of Indiana growing up. "There was definitely a lot of energy around my family when I wanted to commit to IU."
· On playing center as a sophomore: "My freshman year, I was like 'Wow i'm so smaller than everybody.' I was a deer in the headlights, didn't play very much, but my sophomore year I started playing more. I ended up starting center several games at 6-6, 205 pounds and guarding A.J. Hammons, Frank Kaminsky and all these guys in the Big Ten. It was an extreme size disadvantage. That kind of instill in me a different way of thinking. Using my leverage, quickness, just trying to use my head more than my body size. Coming in junior year, I had a lot more confidence in my game, watched a lot more film and figured out what worked best for me. It really helped that we had a group of guys around me that we played so well together and everybody was covering everybody's back. It was a team."
· On playing hurt, with a broken wrist, in the Kentucky game: "I was nervous, I'm not going to lie to you."
· On deciding to come back for another season: "A lot of it was my rehab process coming along. I started shooting and started feeling better and started progressing a lot and really kept thinking about the possibilities I could have going in the future and thinking, 'do I really wanted to give this up?" I've been playing this game my whole life and I think that I thought I could do one year, one more year at least. I didn't want to go out like we did with not really winning anything. That's not really who I am. I texted the guys and I was like, 'look, I'm not coming back for a Big Ten championship, not coming back for anything less than to be playing in April.' That's what I want our mindset to be starting in May, right now."
· On the new staff: "They're great, everybody's real personable. Everybody has their own tangible skillsets that they bring to the table. And it's easy to do your research and find them. They're all very successful guys back in their pasts."
· On Archie Miller: "He's just straight forward. He's always even keel. He did very, very well at Dayton. His players loved him there. Doing my research on that, it really factored in also to coming back."
· On workouts so far: "Just getting your skillset right and working us into the system. When we work, we work hard. Do a lot of things that are low impact, especially with guys who have bad knees."
Filed to: Collin Hartman