Five-star forward Matthew Hurt talks injury, recruitment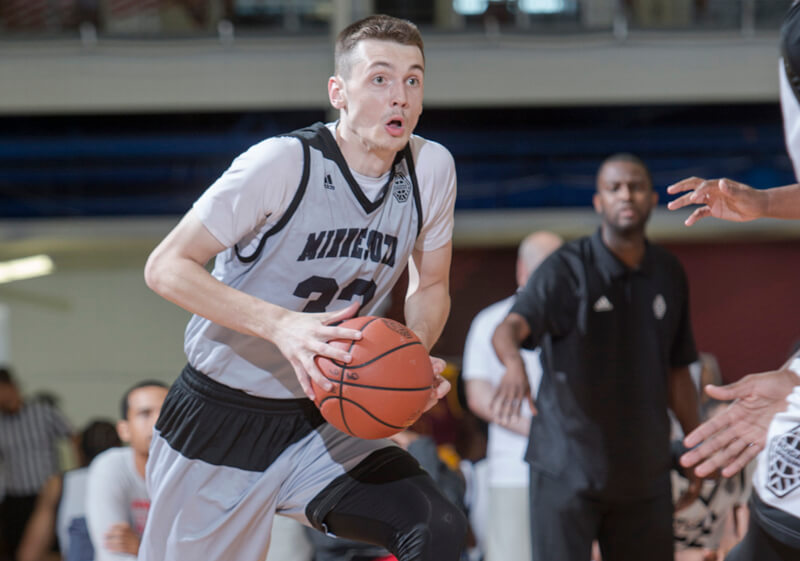 MINNEAPOLIS – Basketball is in five-star forward Matthew Hurt's blood.
His older brother, Michael, is a member of the University of Minnesota basketball team. Michael was the runner-up for Mr. Basketball Minnesota for his senior season at Rochester John Marshall High School, located about 85 miles south of downtown Minneapolis. His parents also played basketball at John Marshall.
Ranked by 247Sports as the seventh best player in the class of 2019, the 6-foot-8 Hurt, a high school sophomore, has been on the radar of college basketball coaches for years.
Before his freshman year of high school was over, North Carolina coach Roy Williams had already reached out to his family. He received his first scholarship offer from Iowa State when he was still in the eighth grade. He's already accumulated offers from many of the titans of college basketball including Kansas, North Carolina, Louisville and Arizona.
In late April, Indiana became the latest to offer Hurt. Archie Miller and his staff, assistant coach Tom Ostrom in particular, have been making a push to recruit Minnesota.
"It's a great experience," Hurt said of what it was like to receive the offer. "Indiana is really one of the top programs in the country. Culture-wise, player-wise, development. It felt good. I haven't been really playing recently, but to get an offer from Indiana is pretty cool."
The offer came at a time when Hurt was sidelined, as he still is, with a broken bone in his left hand. Hurt sustained the injury while playing in a tournament last month.
"I got caught in the net and then I got caught in the rim," Hurt said. "I played two more games with it and it felt a little off. I put a lot of tape over it and it still felt a little off, so I went to go check it in and they said I ended up breaking my hand."
Even with a broken hand, Hurt felt it was his duty play through the injury.
"Our team was going to be down a few more players that tournament," Hurt said. "I just couldn't let them down like that. I had to keep playing no matter what."
While recovering from the injury, Hurt has still been traveling with 17u D1 Minnesota, his AAU team, and is anxious to get back on the court. Last year, Hurt, then a freshman, led D1 Minnesota in scoring despite the fact that he was alongside five players that will be on Division 1 teams come this fall (McKinley Wright, Colorado; Goanar Mar, George Mason; Ishmael El-Amin, Ball State; Jericho Sims, Texas; Nathan Reuvers, Wisconsin).
On Saturday afternoon at the Battle at the Lakes, Hurt watched from the bench as an undermanned D1 Minnesota squad, with only seven players dressed, fell to Team Rose in the Round of 32.
Hurt expects to be out of his cast on Friday and to return to action the following weekend for the Adidas Gauntlet Regional Qualifier in Chicago.
Filed to: Matthew Hurt