Notes and quotes from OG Anunoby's media availability at the NBA draft combine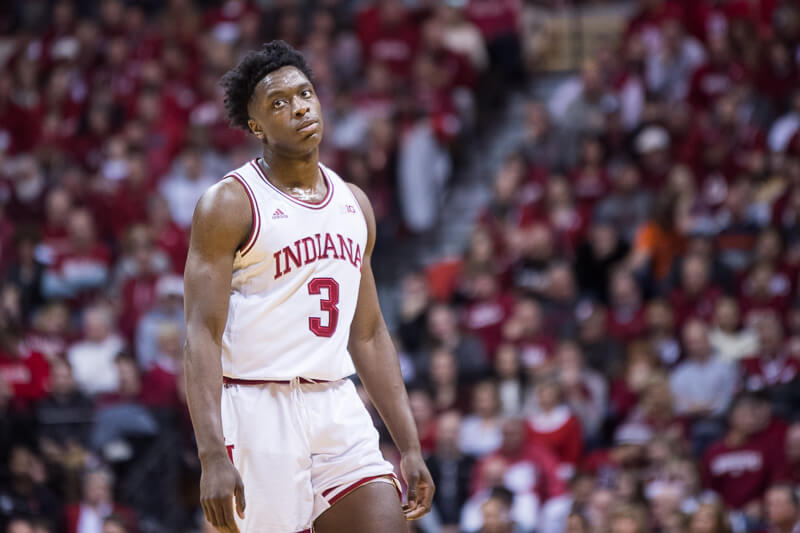 Indiana sophomore forward OG Anunoby signed with Chris Emens and Omar Wilkes of Octagon Basketball and is in Chicago this week at the NBA draft combine.
Anunoby, who measured at 6'7.75″ and232 pounds with a 7'2.25″ wingspan and a standing reach of 8'11.5″, met with the media on Friday. Here's a bulleted summary of his comments:
– Anunoby said he believes he can guard positions 1-5.
– Anunoby said he's back shooting and that his injury was an ACL tear. "That's it, nothing else."
– Anunoby on having the opportunity to leave and potentially be a lottery pick: "I know I worked hard for it. It's cool."
– There was no thought of returning to school following the injury, according to Anunoby, and he knew he was going to leave school coming into his sophomore season.
– Anunoby said one team that he met with was the Los Angeles Lakers and they talked about how he would potentially fit in with the franchise. "It's a young team. They're on the rise." In the meeting were Magic Johnson, Luke Walton and Rob Pelinka.
– In terms of growth offensively, Anunoby he said potential areas for growth are doing more with the ball in his hands. "Being a pick-and-roll ball handler, isolations and doing more with the ball, creating for others."
– The main questions Anunoby said he's getting from teams regarding his injury are what happened and a timetable for when he'll be able to come back. "No one knows a timetable yet."
– Anunoby said he talks regularly with Archie Miller and Tom Crean. "They're very supportive. They say they'll help me out in any way I can."
– He said Miller told him he would be welcome to return to school, but offered his support regardless of what he decided to do.
– Anunoby said he believes that he can become "the best defender in the league in a couple of years."
– During the rehab process, Anunoby said he's talked to both Derek Anderson and Alex Poythress, who both went through ACL injuries. "They just say to stay with it. There may be bumps. But just stay mentally strong and be focused."
– In terms of finishing his degree, Anunoby said he's going to finish in the "next couple of years." He did finish the semester and was on track to graduate next year.
– Anunoby's major is sports marketing with a business minor.
– On Lonzo Ball's shoe: "I think it's pretty cool, actually. He's using his brand to make money for himself."
– Anunoby said he "probably wouldn't" buy a $495 pair of shoes.
– On his parents: "They're supportive of me. They know I've been working for it. They're happy for me."
– On guys he admires in the NBA for their defense: "I really like Kahwi (Leonard) and Draymond Green. Versatile guys that can guard anyone."
– Anunoby said that when he was really young, he really liked to watch Allen Iverson. But as he got older, he wanted to become his own person.
– On watching the team after getting hurt: "It was hard to watch. I wish I could have been out there helping them. I know they worked hard. It was just difficult to see."
– Anunoby said he isn't sure when he'll be able to play. "I think I will be ready for next year, but not exactly sure when."
Filed to: O.G. Anunoby