Notes and quotes from Thomas Bryant's media availability at the NBA draft combine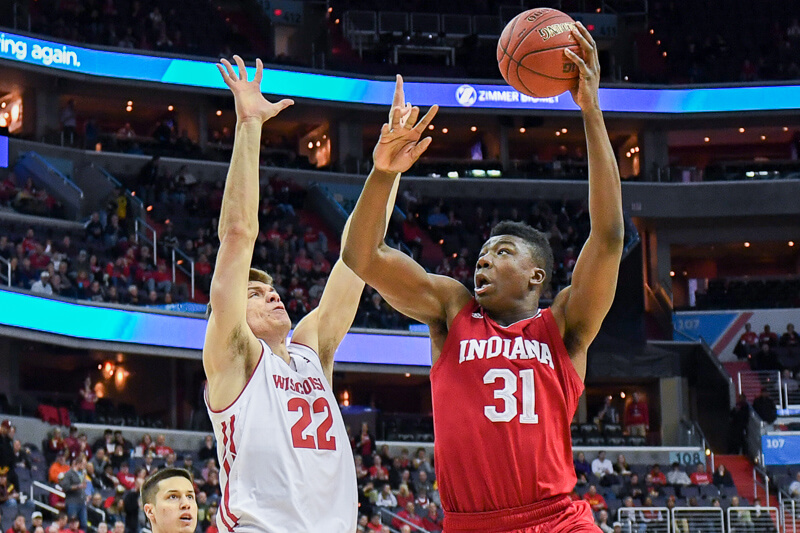 Indiana sophomore forward Thomas Bryant signed with Happy Walters and Catalyst Sports and is in Chicago this week at the NBA draft combine.
Bryant, who measured at 6'10.75″ and 247 pounds with a 7-foot-6 wingspan and a standing reach of 9'4.5″, met with the media on Thursday. Here's a bulleted summary of his comments:
– Bryant told reporters that he'd met with eight teams so far.
– The most memorable moment from an interview was "just walking into that first one." The New York Knicks were the first meeting Bryant had and he said Phil Jackson was there. Bryant also mentioned a meeting with the Miami Heat.
– Bryant said he has some workouts already planned with teams, but didn't elaborate further.
– On why he left Indiana: "I felt ready, physically and mentally for myself, so I felt it was the best decision for me going forward for my basketball career."
– Bryant said a big reason he came back for his sophomore was to mature. "I was very young and I felt like maturing more would help me a lot."
– Among the improvements Bryant felt he made as a sophomore in Bloomington were his shooting and reading the game more on the offensive and defensive end.
– Bryant said he wants to show teams that he has an "all-around game" and that the "full talent that I have that might have not all been out there during the season."
– On mock drafts: "I don't listen to all of that stock stuff. I just go out there and work. It's ultimately up to you, you've got to put that work in."
– On why it's important to attend the combine: "There's a lot of teams, there are a lot of people out here that talk a lot and when you go out here and show your stuff a little bit, a lot of people talk and it gets your name out there."
– Bryant said he didn't play in the 5-on-5 because of a sore groin.
– Bryant on his decision to leave school after two seasons: "I knew from the start that I didn't want to go back to school. No disrespect to our new coach at all or coach Crean."
– Bryant said that even if Crean would have been retained, he would "still feel the same way" about leaving.
– Bryant said he plans on graduating in the future and would have been on track to graduate in three years.
– Bryant said he views IU's struggles this past season and the adversity he went through as a "blessing in disguise because it made us mentally tough."
– Knicks, Celtics, Heat, Hornets, Clippers, Jazz and Pistons among the teams Bryant said he's met with so far at the combine.
– Bryant on Archie Miller: "I talked to Archie as soon as he got on campus. He's a great guy. And I feel like he's going to help Indiana University a lot with the basketball program. He's got a real good philosophy. He's been working hard. I worked out in a few of his workouts. I liked him."
– On coming into the NBA: "It's a whole different mindset. This is a business. It's grown men. The NBA stands for the No Boys League."
– Bryant said he wants to do as many workouts as he can and is excited to show off his passion.
– On teams using the Development League: "It's a great idea. Just go in there and develop your game. There's nothing wrong with that."
– Bryant said he still talks to Tom Crean on a daily basis.
– Bryant said he wasn't surprised by James Blackmon Jr.'s decision to hire an agent and remain in the draft.
Filed to: Thomas Bryant