Fraschilla, Goodman discuss draft prospects of Anunoby, Bryant and Blackmon Jr.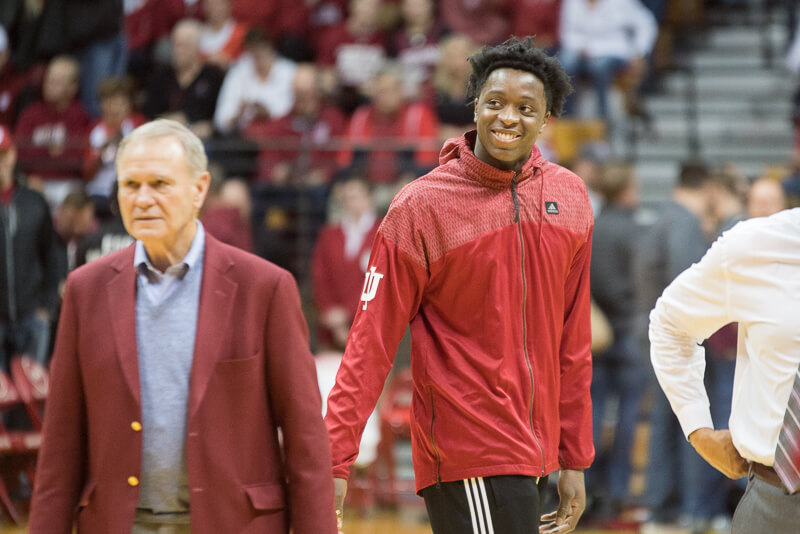 Ahead of this week's NBA draft combine in Chicago, ESPN hosted a conference call earlier today for media with Fran Fraschilla and Jeff Goodman.
Here's a transcript of comments from Fraschilla and Goodman on the draft prospects of Thomas Bryant and OG Anunoby, who both will attend the combine, as well as James Blackmon Jr., who was not invited:
Fraschilla: In OG's case, obviously, he won't get much out of it (the combine) other than the interviews and he's a relatively quiet kid. Where OG is going to have the most value to an NBA team, assuming that his surgery is coming along well, is he is an elite defensive player. He'll be capable, in a league that covets versatility right now both offensively and defensively, of probably being able to guard four positions. He's strong enough to guard a small ball five man. So he's going to hang his hat initially on this elite defensive ability. Teams know he's an elite defensive prospect. He looks to be able to someday become a good NBA 3-point shooter, although his consistency wanes. The other skills are below average. What makes him a guy that is going to be drafted in the first round is just the athleticism, the rawness of his game because he came out of nowhere and the fact that he could be the ultimate '3-and-D' guy. He doesn't have the ball handling ability of a Kahwi Leonard yet, but that's the comparison. But '3-and-D' for sure.
With Thomas, he's going to have to show that he's an athlete. I don't know what he's going to do at the combine that can show people that, but he's going to have to show that he's athletic enough to guard on the perimeter, as all big guys have to do in the league right now. It helps that he shot the ball well. He didn't have a good year scoring inside in my opinion. Didn't play with the kind of toughness that I think Indiana expected from him. He's a young kid and he's big kid who is reasonably mobile and from all indications, he's got high character and is a worker so that bodes well for him.
Goodman: I think OG, as Fran said, is firmly entrenched in the first round somewhere. He's probably going to be out through maybe training camp next year. I don't know when he'll be back and I think teams are going to take him for the future.
Thomas, I was surprised that he's decided to sign with an agent, to be honest. I'm never going to say whether a kid should or shouldn't do something because we don't know their individual circumstances. So to me, somebody who says 'hey, everybody should do this if they don't get invited to the combine or everybody should do that,' I'm not buying that. But I do think that, to me, Thomas Bryant's stock was high going into this year. And because of what Indiana did or didn't do and because of what Thomas Bryant did or didn't do, it's fallen a bit. And this is a very strong and deeper draft than next year. So I was a little bit surprised that he didn't come back and play a year under Archie Miller. I think he could have benefited from it. I think his NBA stock could have benefited from it. And right now, almost every NBA guy that I've talked to says that he will not go in the first round, that he'll go somewhere in the second round.
But second rounders, now, get guaranteed contracts, a lot of them. So that's the difference these days. Some kids feel if they're going to go from 30 to 40, they'll get a guaranteed deal and that's good enough for me.
Fraschilla: James is stuck as a 6-foot-2 scoring guard. I understand the decision. He's got his degree, he wants to move on. He's a guy you could see in the D-League. You could even see him as a two-way player. Someone might be willing to take a chance on having him under contract because let's face it, he can really shoot it. There's some things that he has to show teams that he can do. One of them would be guarding and staying in front of athletic players. But in a league that really, really is valuing shooting, that's going to be his calling card. Bryn Forbes played in the NBA this year and had 29 in a game and he's 6-foot-2. I get James leaving and he can shoot the cover off the ball.
Goodman: With him I think it was more that he graduated, or is graduating and maybe he felt like his stock is what it is at this point. And that may be the case. From people that I've talked to, he probably doesn't improve his stock all of that much because like Fran said, it's not like he's growing overnight from this year to next year. I would anticipate he'll be on somebody's summer league roster and maybe he can catch on as one of those two additional two-way players that they've added this year for the NBA. That's certainly going to help a lot of these kids that some people are criticizing for making these decisions. They'll be making more money in the D-League this year, which is good. That's how it should be. They shouldn't be making $20,000, which is what a lot of them were making over the last few years. Now they can make $75,000 or $100,000.
Filed to: James Blackmon Jr., O.G. Anunoby, Thomas Bryant