Four-star guard Jalen Carey breaking out on EYBL circuit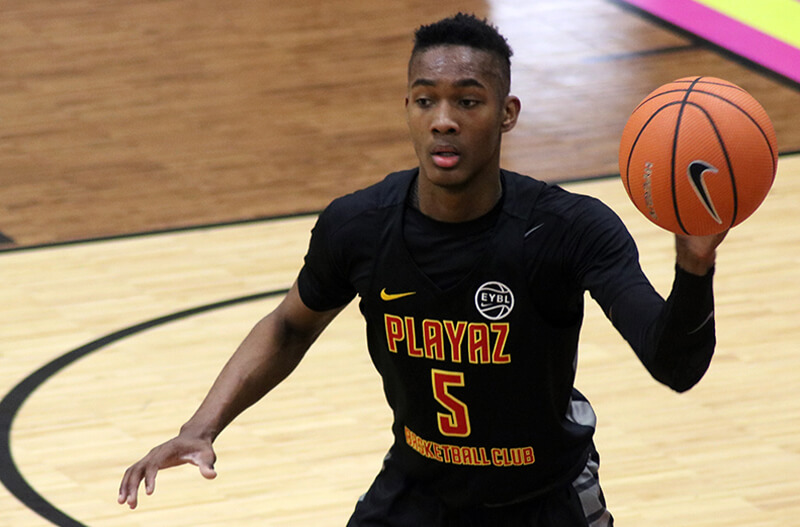 WESTFIELD, Ind. – New York scoring point guard Jalen Carey has been the driving force of the New Jersey Playaz over the first two sessions of the Nike EYBL Circuit.
With Carey at the helm, the New Jersey Playaz are in solid position to qualify for Peach Jam with a record of 5-3 at the halfway point of the EYBL regular season.
Carey, the 82nd ranked player in the class of 2018, per 247Sports, is in the top 20 in the EYBL in scoring, averaging 17.9 points per contest, all while hitting on 44.4 percent of the threes he's attempted.
The 6-foot-3 guard from Harlem attends Immaculate Conception High School in Montclair, New Jersey. Since April 20th, he's received offers from Indiana, Texas, Miami, Florida, Temple, Iowa State, Notre Dame and Syracuse.
"They like the way I play my pick and roll game, the way I'm aggressive on the ball," Carey said. "The way I'm shooting. They just want me to come in as a point guard and be able to lead the team."
Carey's rise continued at session two of the EYBL, where he was named to second team All-Session after averaging 22.5 points over four games. His best game came in the session opener Friday evening when he scored 36 points on 13-of-19 shooting, including 6-of-8 from beyond the arc in a 108-83 win over The Family.
Although he often split ball-handling duties during session two, Carey wants to develop into a pure point, with a style of play similar to Russell Westbrook.
"I want to look like a true point guard," Carey said. "Russell Westbrook is my favorite point guard in the NBA, and I want to be able to model my game after him. That's what I've been working on a lot with my coaches and my dad."
Prior to the beginning of the summer circuit, Carey had visited three schools: Connecticut, Seton Hall and Rutgers. He said those three have been in contact with him practically daily, and that Pirates assistant coach Shaheen Holloway has been "phenomenal."
But Carey said he's still in the beginning stages of his recruitment and is looking for a school that will fit what he's looking for.
"Knowing I will be able to come in and play right away," Carey said. "Distance doesn't really matter to me as long as the college makes sure I'm good and my family doesn't have to worry about me. Just a brotherhood throughout the school. My goal is to play at the next level so the school has to be able to prepare me for that level."
As for Indiana, Carey said he hasn't had much contact with Archie Miller and his staff. After the beginning of session two on Friday, he said he expected the Indiana staff at some of his games over the final two days of the session. By the end of the early session Saturday, both Miller and assistant Ed Schilling were seen in attendance for portions of his games.
"Indiana is a great program," Carey said. "They have a great lineage of players and a great history. I know Victor Oladipo came out of there and they always produce great guards. Hopefully, I can build a better relationship and get out to the campus and learn more about the program and staff."
Carey said he's going to work on scheduling visits and cutting his list in the near future, but doesn't currently have a timetable.
"I haven't really planned any more visits yet," Carey said. "I'll probably do that after the AAU season, trying to get our team to Peach Jam and take it from there."
Filed to: Jalen Carey