Team Final forward Louis King talks Indiana scholarship offer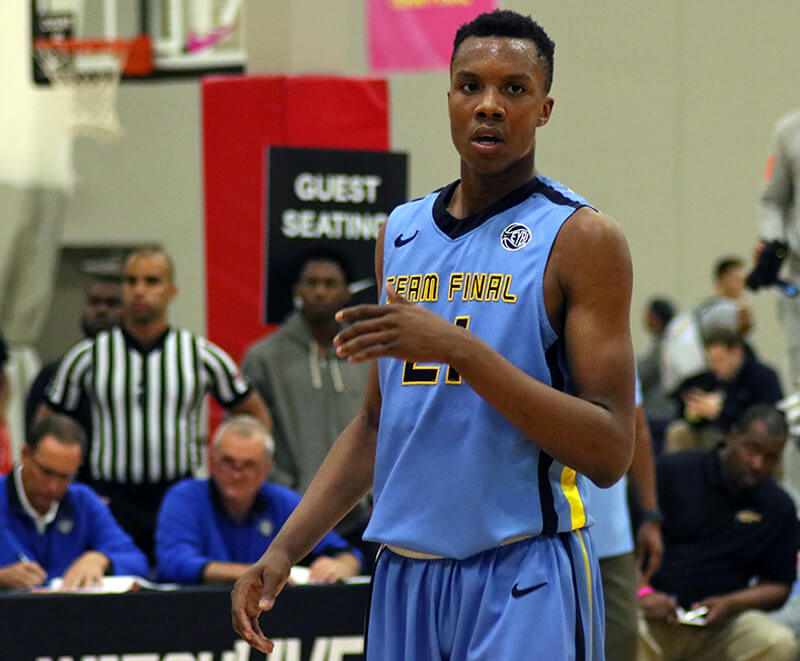 WESTFIELD, Ind. – Indiana's recruitment of one of the top forwards in the class of 2018 is heating back up after the recent coaching change in Bloomington.
The previous coaching staff offered a scholarship to Hudson Catholic (N.J.) and Team Final forward Louis King and that offer was reaffirmed following the first Nike Elite Youth Basketball League (EYBL) session in Hampton, Virginia.
King, a four-star prospect and the No. 26 player nationally according to the 247Composite, said on Saturday that the new coaching staff is making him a priority.
"Their message to me was that I could really fit into their program and that it's a great fit for me," King said. "And that I would be capable of getting to the NBA."
Through seven games on the EYBL circuit, King is averaging 17.7 points, 6.3 rebounds and 2.2 assists per game. It's his first time playing in the EYBL after competing previously on the Under Armour Association circuit.
When discussing his recruitment and what he's looking for in a school, King doesn't try to hide what's important: He wants to play in the NBA.
Getting him to the next level is a part of the new coaching staff's recruiting pitch.
"Basically he (Archie Miller) said it's a good fit," King explained. "I can just come in right away and start, get shots up and be able to get to the NBA."
The 6-foot-8, 205 pound forward has a close mentor who will be able to tell him plenty about life in the NBA and what it takes to get there in just a couple of months.
Josh Jackson, who played last season at Kansas and is expected to be a top five pick in June's NBA draft, is someone King speaks with regularly.
"I'm in contact with him almost every day," King said. "I've had a relationship with him since freshman year when we were on the Under Armour circuit. And ever since then, we've been close. His advice to me is to not give up. Just keep pushing."
Beyond the Indiana interest, King mentioned Seton Hall, UCLA, Duke, Kentucky, Oregon and Syracuse as just a few of the schools coming hard in his recruitment.
Three schools that haven't offered – Kentucky, Duke and North Carolina – are all waiting to evaluate him this spring and summer as he navigates the EYBL circuit for the first time.
King, who said he works out at least three times a week when he's not playing in an event and also lifts twice a week, has a few things he's focusing on developing before he arrives in college.
"The thing I've got to work on is my physicality," he said. "And then my handle. Because it's starting to get to the point where I'm having to push the ball, get guys open and get shots off the dribble."
Filed to: Louis King