2019 forward Isaiah Stewart excited by Indiana offer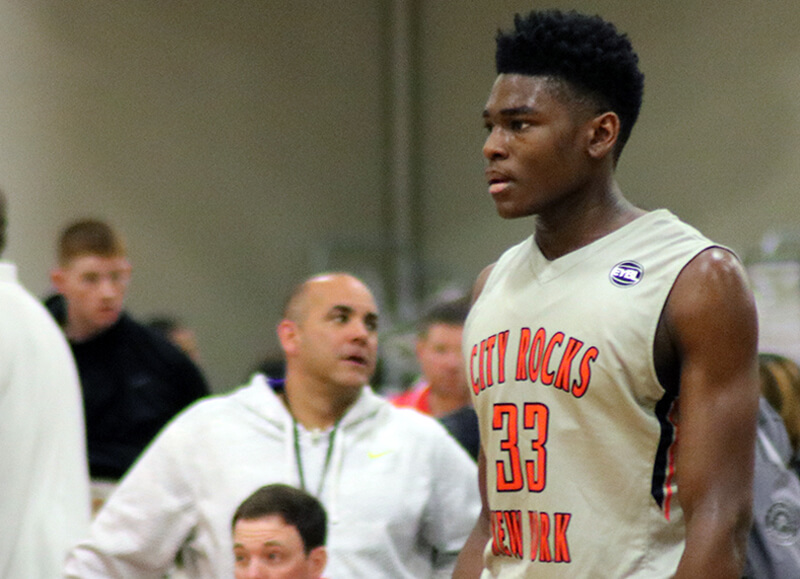 WESTFIELD, Ind. – One of the top post players in the class of 2019 was excited about his most recent scholarship offer.
Mc Quaid Jesuit (N.Y.) and City Rocks forward Isaiah Stewart earned a scholarship offer from Indiana following the first Nike Elite Youth Basketball League (EYBL) session.
Stewart's conversation with Archie Miller, which he described as "great", along with his relationship with Thomas Bryant have given him a strong first impression of the program.
"It means a lot because I look up to him (Thomas Bryant) as a big brother," Stewart said over the weekend. "We always keep in contact. He's there and that's somebody that I always look up to. It looks like things have worked out fine for him (at Indiana), so that sounds great. I'd love to get a chance to visit campus, meet the coaching staff and go from there."
Like Bryant, Stewart is from Rochester, New York. He also plays the game with a strong passion, which is something Bryant was known for over his two seasons in Bloomington.
"It just comes from the passion that I have for basketball," Stewart explained. "I just look at basketball as my escape from everything. So when I'm out on the floor, I'm going to give my 100 percent every time I'm out there."
He mentioned Georgia Tech, UMass, Georgetown and Notre Dame as four schools coming hard in his recruitment and added that one of his coaches heard from Duke, Kansas and North Carolina following the first EYBL session.
The 6-foot-9, 240 pound forward is playing up a year and is averaging 11.8 and 9.5 rebounds through seven EYBL games.
"It's pretty fun. It's very challenging out there," he said. "I play hard, I run the floor, I'm very aggressive. I'm still working on my face up game, midrange game. That's something that Thomas is really good at: His 3-point ball, the midrange, his jump shot."
Stewart is currently ranked the No. 42 prospect nationally in the 2019 class by the 247Composite.
While he doesn't have any firm plans for a visit to Bloomington, he said he would like to set up an unofficial visit "really soon."
"(The offer) feels great because I know it's a big place, basketball school with a lot of great fans," Stewart said. "And I know it's a great atmosphere. He (Archie Miller) seems like a really good guy, great personality. And I would definitely like to visit that school."
Filed to: Isaiah Stewart