Darius Garland dominating his second year on EYBL circuit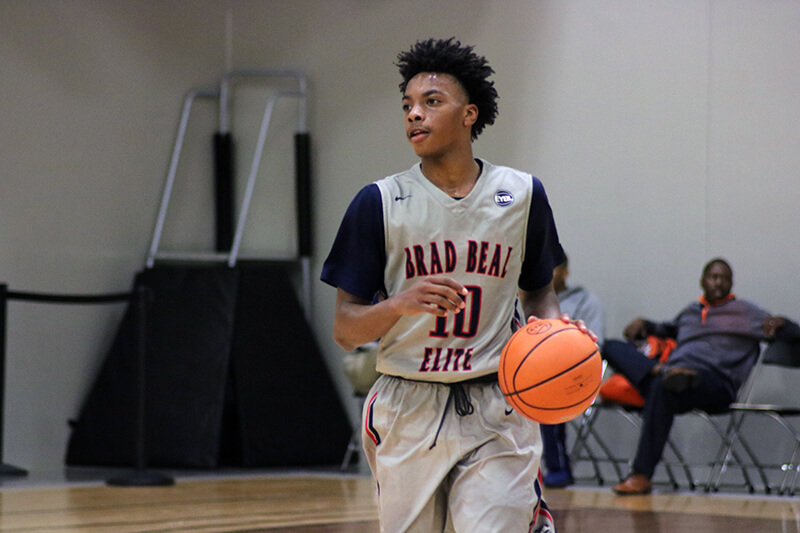 WESTFIELD, Ind. — Born and raised in Gary before moving to Nashville, five-star, 6-foot-1 guard Darius Garland is no stranger to life on the Nike EYBL circuit.
Ranked as the top point guard in the 2018 class and No. 7 overall, according to 247Sports, Garland is now in his second go-round playing in the Elite Youth Basketball League. In 2016, Garland helped lead the St. Louis Eagles (now Bradley Beal Elite) to Peach Jam, where the Eagles finished with a 1-4 record.
With a year of experience under his belt since the 2016 trip to South Carolina, Garland is hungry for more.
"Playing with a lot of 2017 kids last year, that was amazing," Garland said Saturday. "I'm a veteran now. So I have a big role to play. I'm a leader, a floor general. I have to be more aggressive this year, just trying to go to Peach Jam and win some more games."
Through seven EYBL games, Garland ranks 17th in scoring (18.6 ppg), fifth in assists (6.0 apg) while shooting 57 percent from the floor and 89 percent from the line.
That includes the Session Two opener on Friday night, when Garland poured in 32 points, five assists and two steals in an 86-81 victory over Nike Team Florida. Garland hit all nine free throws he attempted in that contest, with many coming in the final minutes, allowing Brad Beal Elite to secure the win.
Garland has been on Indiana's radar long before the hiring of Archie Miller. In fact, he was offered by IU back in early March of 2016.
Now, Miller is picking up right where the previous coaching staff left off, attempting to beat out the likes of Duke, Kansas, Vanderbilt and others and ink the floor general to the class of 2018.
Friday night, IU assistant Ed Schilling was on hand for Garland's game versus Nike Team Florida. On Saturday morning, Archie Miller was there along with Duke's Mike Krzyzewski, for Brad Beal Elite's game against Team CP3.
"Coach Archie is really aggressive, that's what I like about him," Garland said. "He's really forceful, he's on me really hard. I've been talking to him every day now and we're starting to grow a relationship."
Garland isn't the only player on Brad Beal Elite attracting the attention of Indiana. James Wiseman, a 6-foot-10 power forward in the class of 2019 and a top 10 ranked player himself, earned an offer from the Hoosiers last week.
"We haven't talked about IU yet, but me and James have a great relationship," Garland said. "We're rivals in Nashville."
As for his expectations at the collegiate level, Garland is looking for a landing spot that provides a good mix of academics, winning and playing time.
"I want to get my degree," Garland said. "That's a big thing for me. Just how much I'll play as a freshman. I want to have the ball as a freshman, just play my game, be a leader. I want to help my team wherever I choose to go."
Filed to: Darius Garland