Ranking the importance of Big Ten NBA draft decisions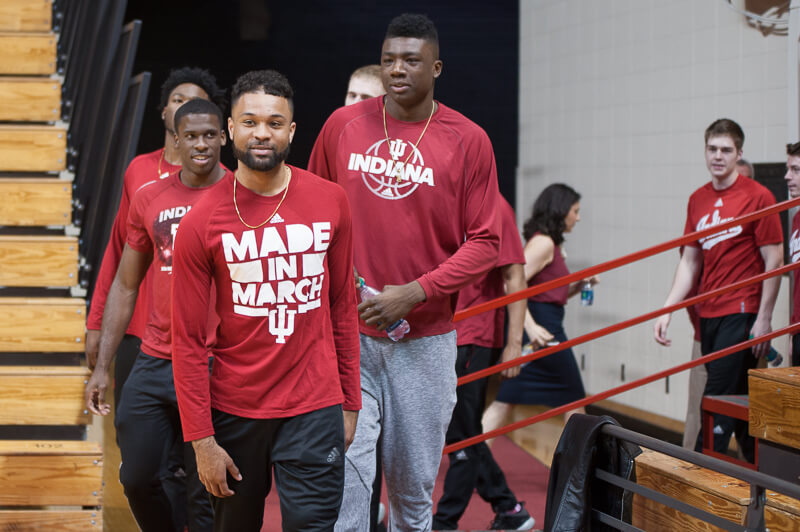 The NBA draft combine takes place next month in Chicago and the deadline for players who haven't hired an agent to withdraw from school is less than a month away. Eleven Big Ten underclassmen have opted to test the draft waters without hiring an agent and each decision will have an impact on shaping next season's conference race.
(Note: Three underclassmen have hired agents and will not be returning to school: Maryland's Melo Trimble, Ohio State's Trevor Thompson and Indiana's OG Anunoby.)
Here's our look at each decision and a 11-1 ranking of each in terms of importance to next season's Big Ten hierarchy.
11. Kam Williams, Ohio State – Williams has no shot of being drafted, so consider his inclusion into the draft waters an instructive experience for him. He's the least impactful player of the eleven Big Ten players who have entered the draft as he averaged just 9.4 points per game as a junior. His return would certainly help the Buckeyes next season, but Ohio State is unlikely to be a factor in the conference race next season.
10. Corey Sanders, Rutgers – Sanders is again testing the waters following his sophomore season after not receiving a draft combine invite last season. The Scarlet Knights were improved last season, but are nowhere close to actually contending in the Big Ten. The numbers for Sanders as a sophomore were actually worse overall than his freshman season, so he would once again be wise to return to Piscataway.
9. Robert Johnson, Indiana – Quietly, Johnson put together a very solid season as a junior in Bloomington. He averaged 12.5 points, 4.4 rebounds and 2.5 assists per game despite the fact that his shooting percentages dipped. Like Williams, he's not listed on any draft boards at this point and the assumption is that he will return to school for his senior season.
8. Isaac Haas, Purdue – The market for Haas five or ten years ago would have been much different, but today's NBA is moving away from traditional back to basket centers. And that's exactly what Haas is. He's not listed in the top 100 on the Draft Express rankings after averaging 12.6 points per game last season in West Lafayette. If he returns, he'll likely be Purdue's first option in the post as Caleb Swanigan appears to be leaning toward staying in the draft.
7. James Blackmon Jr., Indiana – This is the third time Blackmon Jr. has tested the NBA draft process and like all of the others guys mentioned so far on this list, it doesn't appear that he'll be drafted. His decision is an important one for Indiana as the Hoosiers would get a major boost having his scoring (17 points per game last season) on the perimeter.
6. Vincent Edwards, Purdue – Edwards is ranked No. 76 on the DraftExpress top 100, which indicates he's at least on the radar. He's one of the Big Ten's most versatile players and was a major reason the Boilermakers won an outright conference championship last season. It's possible he could sneak into the second round. From the Purdue perspective, his return is pivotal as there is no piece on the roster ready to step in and replace him.
5. Justin Jackson, Maryland – Jackson somehow didn't make the All-Big Ten freshman team last season after a terrific first season in College Park. He's ranked the No. 45 prospect on the latest DraftExpress top 100, so he could have a tough decision to make. Looking ahead, DraftExpress has him slotted as a first round pick in 2018. If he returns, Mark Turgeon will have a very solid sophomore nucleus to build around with Jackson, Kevin Huerter and Anthony Cowan.
4. Thomas Bryant, Indiana – The 6-foot-10 center is currently projected as a second round pick by just about everyone that covers the draft, but a strong showing at the combine could perhaps help him move up. Bryant still has time on his side as he doesn't turn 20 until later this summer. From Indiana's perspective, having the duo of Bryant and De'Ron Davis both on next year's roster would really help the frontcourt depth.
3. D.J. Wilson, Michigan – Wilson was one of college basketball's breakout stars the second half of the season and is currently projected as a fringe first round pick by DraftExpress. For a player who barely saw the floor in his previous season in Ann Arbor, it was a meteoric rise. He still has a lot of work to do with his game, but he's already 20 and the chance at a guaranteed contract could be tough to pass up. If he opts to return, the Wolverines are welcoming back the most versatile forward in the league not named Miles Bridges.
2. Moritz Wagner, Michigan – Opinions are split on Wagner. Chad Ford ranks him No. 24 in his top 100 and DraftExpress has him at No. 86. Much like Wilson, he was one of the breakout stars during the second half of the college basketball season. He's unique because of his size and versatility and important for the Wolverines because there's no clear cut replacement on the roster.
1. Caleb Swanigan, Purdue – Swanigan is a no-brainer for the top spot on this list. He was the Big Ten player of the year as a sophomore and a legitimate national player of the year candidate. He's also unlikely to return to school as several projections have him at the back end of the first round. If he does come back, Purdue could challenge Michigan State next winter.
Filed to: James Blackmon Jr., Robert Johnson, Thomas Bryant