By retaining all three 2017 signees, Miller aces first recruiting test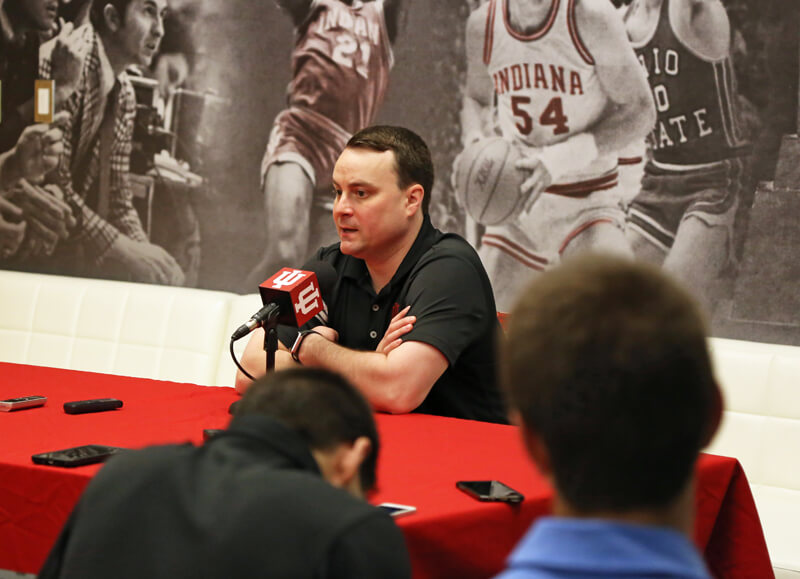 Archie Miller and the new Indiana coaching staff aced their first recruiting test in Bloomington.
After last month's coaching change, class of 2017 signees Al Durham Jr. and Clifton Moore asked to be released from their National Letters of Intent. And Justin Smith wasn't talking publicly about his future.
But by April 16, Miller and the coaching staff got all three signees to reaffirm their commitments to Indiana. On Tuesday, Indiana's head coach spoke publicly for the first time on the 2017 class.
"We're very pleased about the three guys that have accepted to stay," he said. "Like I said, one of the things in recruiting is you work so hard to get a kid to say yes, that when something like this goes down, you're reluctant. You're reluctant to trust again. You're reluctant to do certain things as a family, and those guys welcomed us with an open door."
In his introductory press conference, Miller said that his first job was to recruit the current roster, including the signees.
Meetings with all three took place over a four day period from April 6-9. Durham reaffirmed his commitment just hours after the meeting, Smith reaffirmed less than a week later and Moore informed the staff that he was sticking with the Hoosiers on April 16.
"We sat down. We talked about a number of things," Miller said. "I think the one good thing, the one common thing that everyone should feel good about here is I think all three families and all three kids in general love Indiana. They love Indiana basketball. They love the passion of the fan base.
"The university clearly stood out in their mind with the education that those guys were excited and didn't want to relinquish that. I think they just needed some confidence in what was coming, sort of some of the same things that they sort of signed up for on the first go round."
Edward Smith, the father of Justin Smith, told Inside the Hall recently that the straight forward approach from Miller and assistant coach Bruiser Flint really resonated with the Smith family.
"Archie Miller looked each of us in the eye and he didn't sugarcoat anything," Edward Smith said. "He said it's going to be tough, it's going to be hard, but with hard work, the rewards will be there. And he said it with conviction and honesty. That's what you look for in a guy. And he's prepared. My gosh is he prepared."
Keeping the entire class intact will help Miller and the staff balance scholarship numbers in the first couple of recruiting classes.
Unbalanced numbers and subsequent transfers are a frequent issue at schools with coaching changes. Indiana's first two recruiting classes under Tom Crean brought 13 players to Bloomington.
"When you're building a program and you're trying to do it your way, the one thing that really can get tricky is when you have to add mass numbers and the class, so to speak, isn't broken down as it normally would be year over year," Miller explained. "In many ways, that class (2017), if it didn't show up, would really end up being about a nine-person overhaul in about a two-year period of time.
"How that tiers down and how you get better with freshmen going to sophomores and sophomores to juniors, that improvement is really important in the development of a program. Not that guys can't leave early shall or whatever, but the rock, the foundation of what you're doing is a core group of guys getting better and getting older. You have experience in front of young people that are coming in. Those three guys not coming would really put us in a situation, in my opinion, where we're really looking at heavy, heavy turnover with young people in the near future."
Filed to: Aljami Durham, Archie Miller, Clifton Moore, Justin Smith