Notes and quotes from Tuesday's availability with Archie Miller and IU's assistant coaches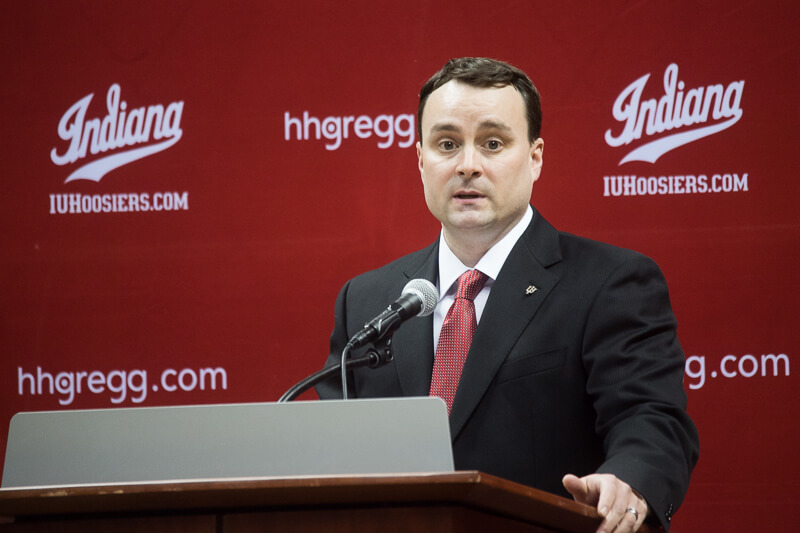 Archie Miller, Tom Ostrom, Ed Schilling and Bruiser Flint met with the media on Tuesday afternoon in the Spirit of '76 room at Simon Skjodt Assembly Hall.
Here are notes and quotes from what Miller and all three assistants had to say in their first extensive sit down with the media:
· Miller said the staff's first interactions with prospects and coaches around the state were all positive. Although he can't speak in specifics about recruiting, Miller acknowledged that the new coaching staff has spent a lot of time around the state in the last month.
· Miller said he was very pleased that the entire 2017 recruiting class opted to stay with the Hoosiers. "All the kids and the families love Indiana," he said.
· He mentioned keeping that class intact as being important for a variety of reasons, but did talk at length about getting balance with each recruiting class in terms of numbers as a major reason keeping all three in the fold was important.
· Miller said that Collin Hartman wants to have a "better finish" in his IU career and has committed to staying in Bloomington all summer. So far, Hartman has been in workouts but isn't getting any contact. Miller said there's no rush to bring Hartman back as "the goal is November."
· Miller said all three guys who have declared for the NBA draft without an agent have received feedback and are ready to dive into the process. All three guys should learn soon whether they'll be invited to next month's NBA draft combine in Chicago.
· Miller said it's time for De'Ron Davis to get aggressive about getting better. He said Davis could be one of the most improved players in college basketball next season. Davis will be on campus all summer.
· Miller said Devonte Green reminds him of some players he coached at Dayton in that he's physical and can get the ball to the rim.
· Miller called James Blackmon Jr. the "best shooter I've been around."
· Miller said Robert Johnson has shot the ball well in workouts this spring.
· Miller said Josh Newkirk has a "great character level" and is a "tremendous worker."
· Miller on Juwan Morgan: "He has a chance to be a special player." Also referred to Morgan as a breakout candidate and said that he "fits how we play."
· Keys for De'Ron Davis: Getting his body and motor ready to go. He needs to be able to play 25 minutes or more without fouling. "When you guys see him in Oct, Nov., you're gonna say, 'Wow what happened to him?'"
· Miller isn't anticipating that the scholarship situation – the Hoosiers are currently oversigned – being a major problem. "We'll sort it out. We inherited it and we'll fix it."
· Miller on building a schedule" "This year we'll take on a certain level of what we can pull off. Down the line, I think you'll see a different model. You have to put yourself on a marquee stage as much as you can… Everyone we bring in here has to have great purpose."
· Associate head coach Tom Ostrom says Miller is "unapologetic in who he is every day." He also said Miller is "as genuine and real as it gets."
· Ostrom said one valuable thing he learned from working under Billy Donovan is that nothing replaces hard work. He said a similarity between Donovan and Miller is that both are deep thinkers.
· Ostrom said a key to recruiting and building relationships is treating people right and with respect. In meeting coaches and people around the state so far, Ostrom said he believes that most people want Indiana to do well.
· Assistant coach Ed Schilling on being back in Indiana: "It's been terrific. This is home for me."
· Schilling on Miller: "He's the finest young coach in the game."
· Schilling said that in Indiana, high school coaches still have a big impact in recruiting and decisions that are made. It's not like that everywhere, according to Schilling.
· Schilling said Arizona coach Sean Miller, from whom he was a best man, reached out to him to gauge interest in coming to work with Archie and things went from there.
· Schilling on John Calipari, who he worked for three different times: "There's not a more loyal guy in the business than Cal."
· Schilling said he remembers working with both Hartman and Zach McRoberts when they were younger guys.
· Assistant coach Brusier Flint said he came to Indiana because he believes in Archie and that he "can get it done."
· Keys to winning, according to Flint: "Defense, rebound and take care of the ball."
· Flint says his relationship with Calipari is "more than just basketball."
· One thing Flint and Calipari agree on when it comes to building a team: If you don't have a post presence, you're a little bit of a fraud.
· Flint said one of the main reasons he wanted to get back into coaching is that the kids give him energy. "I missed that last year."
Filed to: Archie Miller, Bruiser Flint, Ed Schilling, Tom Ostrom