Bloomington North's Musa Jallow recaps unofficial visit to Indiana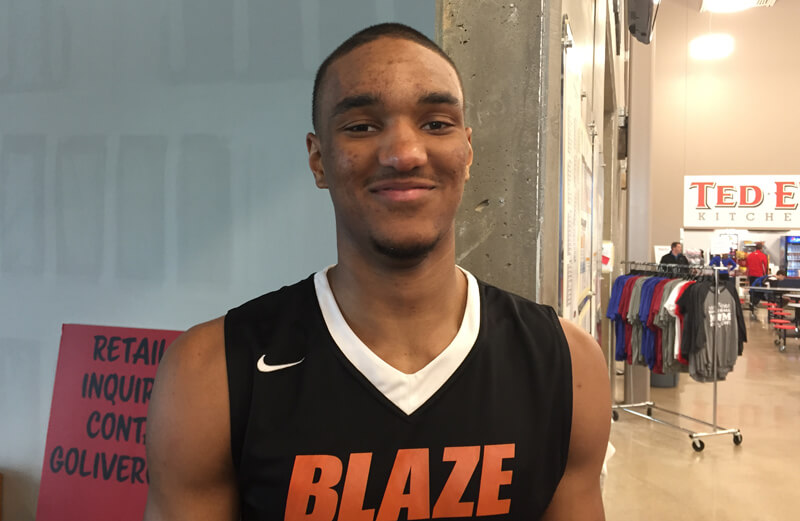 MANSFIELD, Texas – Class of 2018 Bloomington North wing Musa Jallow has been a frequent visitor to Indiana games in recent seasons.
But his short drive to visit the Indiana campus on Thursday was a new experience. It was the first opportunity for Jallow to meet with the new coaching staff at IU.
"It was good. It was kind of weird seeing all of the new coaches," Jallow told Inside the Hall on Saturday afternoon at the NY2LA Sports Lone Star Invitational. "I knew how to get down to the gym (in Cook Hall) and they didn't even know how to do it. I had to lead the way. They're all good people. I really enjoyed being there."
It was a quick stop for Jallow before he headed north to Indianapolis to catch a flight to Texas for the first April evaluation period.
"When we first got there he (Archie Miller) introduced all of the coaches, told us their backgrounds and then we watched some film on Dayton and how he wanted to play and showed how I would fit in his system," Jallow said. "And then I was able to watch one of the guard workouts."
Jallow said the skill development was an aspect that really stood out from the workout.
"Coach (Ed) Schilling, he's a great skill development guy," Jallow explained. "He was out there showing the guys up with his handles. It was pretty cool to watch."
On Friday, Schilling was in Texas to watch Jallow and Team Blaze Select in their first game of the NY2LA Sports Invitational. Virginia also had an assistant coach on Friday to watch Jallow.
On Saturday afternoon, Michigan and Stanford had assistant coaches in attendance to watch Jallow, who is rated the No. 58 player nationally in his class by 247Sports.
Jallow, who was recently named to the Indiana Junior All-Stars south team, has already taken unofficial visits to Stanford and Virginia.
"I went on a visit to Stanford," Jallow said. "That place is just amazing. Going that far to that type of school would be pretty easy.
"And coach (Tony) Bennett, he's just a great coach. I talk to him a lot and I really like what he's about. I like their defensive intensity and I just like the atmosphere there."
But even as the interest in Jallow continues to pick up and prospects around the country begin to mention timetables for cutting their list of schools, the 6-foot-5 wing is in no rush as he navigates the recruiting process.
"I'm just trying to focus on AAU right now," he said. "That's the most important thing."
Filed to: Musa Jallow