Langford scores 28 on opening night of adidas Gauntlet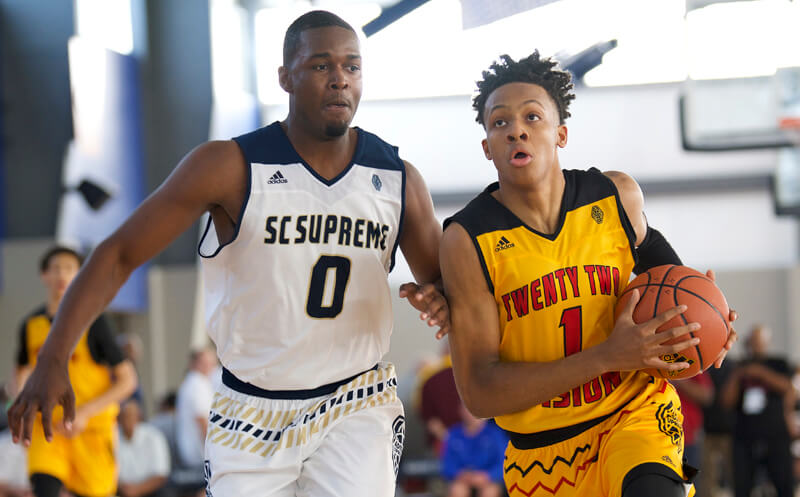 FORT WORTH, Texas – Romeo Langford drew a crowd on the first night of the April evaluation period at the adidas Gauntlet.
Playing for the first time with Twenty Two Vision, a new grassroots program, Langford scored 28 points on 9-of-15 shooting in a 66-62 win over SC Supreme.
It was a matchup between the No. 2 player in the country in Zion Williamson (SC Supreme) and the No. 3 player in Langford. Archie Miller, Bill Self and Mike Krzyzewski were among the head coaches in attendance as well as assistants from Kentucky, North Carolina and Louisville.
Langford not only led all scorers, but he also guarded Williamson the majority of the game despite giving up 35 to 40 pounds.
"I feel like I can do anything I want if I put my mind to it," Langford said following the victory. "Just knowing that he had a little bit of weight on me, I had to use my speed to get past him. And give him a little bump in the post before he bumps me."
In recent weeks, the New Albany star has been visited by several schools, including Indiana. Miller and assistant coach Ed Schilling made the trip south on Tuesday to meet with Langford and his family.
"It was good. Just getting to know him because he's a new coach (at IU) and I really didn't know too much about him," Langford explained. "It was really just to get to know him, the coaching staff and how they like to play. He likes to get up and down, use ball screens, which I like to do."
With offers from every blueblood program in the country, Langford has no shortage of options for where he'll play at the next level.
But he's in no rush to narrow his list or set a timetable for his decision. Langford said ideally he would like to trim to a list of five by the end of the summer.
"You have to take as long as you need because this is a decision that can change your entire life," he said. "However long it takes, it takes."
As far as the factors that will matter most in his decision, Langford said that location could be somewhat of a factor because it would allow his family to watch him play more regularly.
But ultimately, a few other key factors will guide his decision making process.
"The first thing I look at is the education aspect," Langford said. "And then the coaching staff, if I can trust them and my mom can trust them. And if they can treat me as they would treat their own child. And the roster."
Langford and Twenty Two Vision will resume play in the first adidas Gauntlet session on Saturday.
Filed to: Romeo Langford