Durham Jr., Smith help lead Lightning to win in Derby Festival Basketball Classic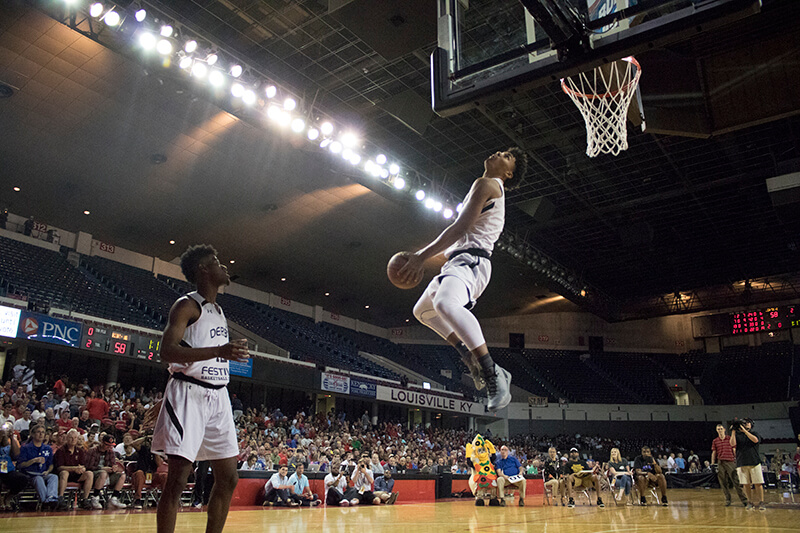 LOUISVILLE, Ky. – It's been a busy couple of weeks for Al Durham Jr. and Justin Smith following the coaching change in Bloomington.
But after both players reaffirmed their commitments to the Hoosiers following meetings with Archie Miller, Saturday's Derby Festival Basketball Classic at Freedom Hall was a chance to have fun.
And that's exactly what happened.
"It's always good to get head start in getting to know your future teammates," Durham Jr. said. "Justin and I connected very well. We had fun this weekend. I think we're going to do great things at Indiana."
Smith scored 15 points and Durham Jr. added 10 as the Lightning team beat Thunder, 122-109, in front of 4,812 fans.
Playing together as teammates for the first time, the pair of IU signees both played 20 minutes and were on the court together the entire time.
Smith was 7-of-13 from the field, including a 1-of-4 performance from behind the 3-point line, and added four rebounds and three assists. He was one of six Lightning players to finish in double figures.
"I had a good time," Smith said postgame. "It allowed me to show my athleticism a little bit. And it's always fun to get up and down and dunk all of the time. So I had a good time."
Smith finished as the runner-up in the dunk contest, which Texas A & M signee Savion Flagg won. The preliminary round was held Friday night at Indiana University Southeast and the finals were held at halftime on Saturday.
Durham Jr., meanwhile, shot 5-of-11 from the field and had six rebounds, three assists and two steals.
"I showed that I can compete with the best," Durham Jr. said. "It will help me get a head start on who I'll be playing against next year and basically just getting a head start in upgrading my game."
With Saturday's exhibition acting as one of the final events for both players as high school players, the trip to Louisville to compete against some of the nation's best was a rewarding experience.
Both players said they plan to arrive in Bloomington in June for summer school and offseason workouts. Smith said he's looking forward to beginning the next chapter of his career.
"I've been working at this for a long, long time," Smith said. "And just to have it finally have it pay off and have it actually be put into motion, it will be very fulfilling."
Filed to: Aljami Durham, Justin Smith