Indiana announces six additions to basketball coaching staff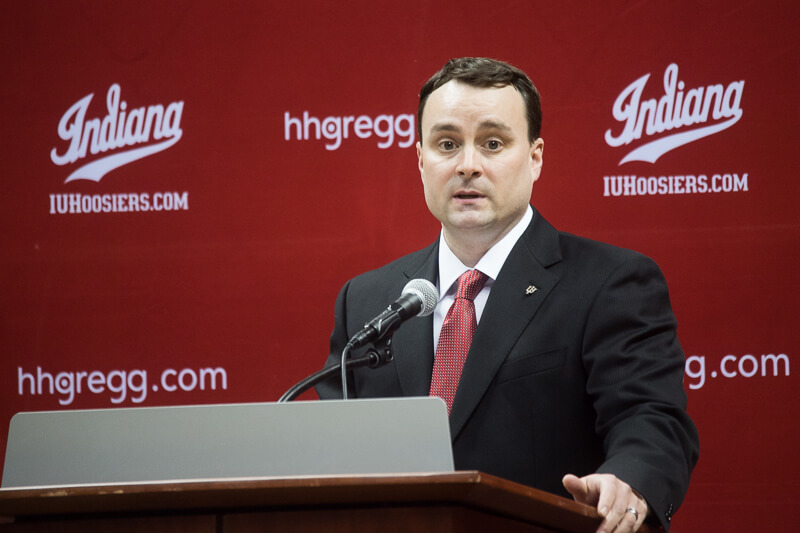 Indiana made official the hiring of three assistant coaches to Archie Miller's staff on Thursday afternoon: Bruiser Flint, Ed Schilling and Tom Ostrom.
Additionally, Derek Elston is staying in Bloomington as the director of player development, Bill Comar will be Miller's Assistant Athletic Director for Basketball Administration and Dayton graduate assistant Ben Sander will join the program in an administrative capacity.
Here's the full release from IU, with details on each addition:
BLOOMINGTON, Indiana – Indiana University men's basketball coach Archie Miller has announced the addition of three assistant coaches, an Assistant Athletic Director for Basketball Administration and other support personnel to the program. All totaled, the group boasts more than 80 years of experience, coached multiple NCAA Tournament games and worked with a number of players who have gone on to enjoy tremendous success on the professional level.

"I'm very excited to be able to put together what I think will be one of the hardest working and gifted staffs in the country that will recruit, teach, mentor and develop the next generation of Indiana Hoosiers," said Miller. "This group brings a wealth of experience in every facet of coaching and I can't wait to work with them on a daily basis."

Miller will bring Tom Ostrom with him from the University of Dayton, former Drexel and UMass head coach Bruiser Flint and UCLA assistant and former Wright State head coach Ed Schilling to serve as assistant coaches. In addition, former Dayton Director of Basketball Operations Bill Comar will be Miller's Assistant Athletic Director for Basketball Administration and Dayton Graduate Assistant Ben Sander will join the program in an administrative capacity. In addition to the new staff members, former Hoosier Derek Elston will return for his third year as the Director of Player Development.

"I think the first step in establishing excellence is to surround yourself with people who have the ability to make everyone they work with better," added Miller. "We have a group that offers our young men in the program expertise that is second to none and should help them have the best experience possible as a student-athlete."

BRUISER FLINT, ASSISTANT COACH
• James "Bruiser" Flint brings 29 years of coaching experience to Coach Archie Miller's staff. The Philadelphia native spent 20 years as a Division I head coach and won 331 games while leading Drexel (2001-16) and UMass (1996-01). Four times he was named Colonial Athletic Association Coach of the Year (2002, 2004, 2009 and 2012) and NABC District Coach of the Year (1998, 2007, 2009 and 2012).

• Flint is the all-time winningest coach at Drexel with 245 victories and led the Dragons to 20 or more wins three times and had at least 10 CAA wins in nine of his seasons at the school. Flint picked up his 300th career win in November of 2013 when the Dragons defeated Elon, 71-64, in the NIT Season Tip-Off. During his tenure, the Dragons had the CAA Defensive Player of the Year on four occasions, 23 All-CAA selections, 12 members of the conference's All-Defensive team, six players named to the league's All-Rookie team and two CAA Rookies of the Year.

• Flint's Dragons had a record-breaking season in 2011-12. His squad set a school record with 29 wins and won the CAA regular-season title, going 16-2. The Dragons won a program-best 19 straight games and advanced to the CAA title game for the second time ever. Drexel came up just three points short against VCU in front of a sellout crowd in Richmond. Drexel then appeared for the fifth time under Flint in the NIT.

• His teams were an unfriendly foe for some of the nation's top teams. In 2010-11, Drexel stunned No. 20 Louisville, handing the Cardinals their first-ever loss in the new Yum Center. The Dragons also defeated NCAA teams Old Dominion and VCU. In 2006-07, on its way to a 23-9 overall record, Drexel won 13 road games (tied for most in Division I). The Dragons won at Syracuse, Villanova and Creighton. Flint became the first coach in Drexel history ever to beat three Philadelphia Big 5 teams in one season. Flint returned home to his native Philadelphia when he took over as Drexel's head coach on April 5, 2001.

• After serving as an assistant at UMass for seven seasons under John Calipari, Flint took over the leadership of the Minutemen and spent five seasons in Amherst where he guided them to two NCAA Tournaments and a NIT berth. He also posted the best record of any first-year coach UMass has ever had. As an assistant he was part of five NCAA Tournament teams and saw the 1996 squad advance to the Final Four.

• He has had three stints with coaching with USA Basketball. Flint was an assistant in 2007 for the USA U-19 National Team in Serbia. In 2005, Flint was an assistant coach for the USA U-21 World Championship Team that went 7-1 in Argentina. His first stint came as a court coach prior to the Global Games.

• He began his coaching career as an assistant at Coppin State from 1987-89. A 1987 Saint Joseph's graduate, Flint, 51, was a four-year letterwinner with the Hawks. He earned All-Atlantic 10 honors as a senior and led the Hawks to the 1986 A-10 championship and a berth in the NCAA Tournament as a junior. He was inducted into the Saint Joseph's Athletic Hall of Fame in 1998. Flint has a 21-year old daughter, Jada, who resides in Philadelphia.

TOM OSTROM, ASSISTANT COACH
• Tom Ostrom joins the Hoosiers after spending six years with Coach Miller at Dayton. He has served on the NCAA Division I level as an assistant coach at Arkansas (2007-11), South Alabama (2004-07) and Florida (2002-04).

• Ostrom was a big reason why the Flyers went to the NCAA Tournament in each of the last four years of his time at Dayton, seeing them advance to the Elite Eight and Sweet Sixteen and winning Atlantic-10 regular season championships in 2016 and 2017.

• Ostrom spent four seasons at Arkansas on John Pelphrey's staff, making one NCAA appearance and attracting the No. 7 recruiting class in the country in 2008. The Razorbacks were 69- 59 in those years with one NCAA appearance.

• Ostrom was also Pelphrey's right hand man at South Alabama from 2004-2007. USA played in the NCAA and NIT after enjoying the largest turnaround in college basketball in 2006, going from 10 wins in 2004-05 to 24 wins and the Sun Belt title in 2005-06.

• Prior to joining the USA staff, he spent seven seasons under Billy Donovan at Florida, the first five as administrative assistant/video coordinator (1998- 2002) and the final two as an assistant coach (2003-04). While he was at Florida, the Gators played in the NCAA Tournament the last six years, advanced to the Sweet 16 twice and reached the NCAA championship game in 2000.

• A 1997 University of Minnesota graduate with a degree in Sports Management and Human Development, Ostrom worked in the Golden Gopher men's basketball program as an undergrad under Clem Haskins. He prepped at Bethlehem Academy in Faribault, Minn.

ED SCHILLING, ASSISTANT COACH
• Ed Schilling, a native of Lebanon, Indiana, joins the IU staff after spending the last four years as an assistant coach at UCLA.

• In four years on the coaching staff at UCLA, Schilling helped the Bruins compile a 96-45 overall record, including Sweet 16 appearances in 2014, 2015 and 2017. Additionally, his work on the recruiting helped UCLA secure three incoming classes that have been ranked in the top four nationally during his tenure.

• At UCLA, Schilling helped the Bruins' program send seven players to the NBA. In the summer of 2015, Kevon Looney and Norman Powell were selected in the NBA Draft. Five players from UCLA's team in 2013-14 ended up competing in the NBA – Jordan Adams, Kyle Anderson, Zach LaVine, David Wear and Travis Wear. In 2017, All-American guard Lonzo Ball and forward T.J. Leaf are projected to be first round picks.

• This past year, the Bruins finished 31-5 and led the nation in field goal percentage, assists and assist/turnover ratio. They were second in the country in scoring, fourth in three-point field goal percentage, sixth in scoring margin and eighth in three-point fields made. In 2014, UCLA won the Pac-12 Tournament Championship.

•Schilling arrived at UCLA in April 2013 after having spent the previous four seasons as head coach at Park Tudor High School in Indianapolis. He guided the Panthers to an 87-18 record in four years, securing two IHSAA Class 2A state titles and a runner-up finish.

• In 2012-13, Park Tudor won the Marion Court championship and broke the regular-season win record. In 2010-11 and 2011-12, Park Tudor made historic runs to win back-to-back IHSAA Class 2A state championship after having finished as runner-up in 2009-10. During that time, he coached and developed future Hoosier All-American Yogi Ferrell.

• In addition, Schilling spent time from May through September preparing athletes each year for professional basketball with St. Vincent's Sports Performance and its NBA readiness program. His pre-draft preparation included working with over 60 high-profile young players, including No. 1 NBA Draft selection Greg Oden, Mike Conley, Mario Chalmers, Gordon Hayward, Carl Landry, Jeff Teague, Marquis Teague, Cody Zeller and many others.

• From 2007 to 2013, Schilling served as a head coach for Adidas Nations, coaching and training the Adidas High School All-American Team in national and international competition. In addition, he has served as executive director and trainer at Champions Academy, a not-for-profit basketball organization for youth and college-aged athletes in Indianapolis.

• Prior to his work with Adidas Nations and Champions Academy, Schilling had served as an assistant coach at Memphis for two seasons (2003-04, 2004-05) after having been the head coach at Wright State for six years (1998-2003). In his two seasons on staff at Memphis, the Tigers compiled a 44-24 record.

• In his first season (2003-04) as an assistant coach at Memphis working alongside head coach John Calipari, Schilling helped the Tigers to their first conference championship since 1995-96 and an NCAA Tournament appearance.

• Schilling arrived at Memphis after a six-year run as the head coach at Wright State. Among the biggest wins in program history occurred Dec. 30, 1999, when Wright State defeated then-No. 6 and future national champion Michigan State, 53-49.

• In his fourth season at Wright State the Raiders opened the season with a 9-1 record, their best Division I start in school history. Wright State closed the season with an 18-11. That season, Schilling was named 2001 MCC Coach of the Year by CollegeInsider.com. In 2001-02, the Raiders defeated No. 20 Butler in double overtime on the road in Hinkle Fieldhouse, 90-87.

• Schilling was a member of Calipari's coaching staff at UMass along with fellow Hoosier assistant Bruiser Flint during the 1995-96 season. That year, the Minutemen advanced to the Final Four and posted a 35-2 overall record.

• When Calipari was named the vice president of basketball operations and basketball coach with the New Jersey Nets, Schilling joined him as an assistant coach (1996-97). His rise in the coaching profession was chronicled in Sports Illustrated, as he became the only coach to advance from the high school coaching ranks to the Final Four and then to the bench of an NBA team in a period of 310 days. At that time, Schilling was the youngest assistant coach on the bench in the NBA.

• After graduating from Miami (Ohio) in the spring of 1988, Schilling served as a high school head coach for the next seven years – three years (1989-91) at Western Boone High School in Thorntown, Ind., and four years (1992-95) as head coach at Logansport High School in Logansport, Ind.

• Schilling was a four-year starting point guard at Miami from 1985-88. He was a two-time captain and, playing alongside Ron Harper, helped lead the school to a pair of NCAA Tournament berths. He was a three-time academic all-conference selection and is still the single-game assist record holder in the Mid-American Conference. He also established single-game, season and career assist records at Miami, all of which are still standing.

• Schilling, 51, has also co-authored two books – Guard Play, co-authored by Steve Alford, and Five Star Basketball, which was written with Howard Garfinkel. Schilling has four daughters, Christiana, Natalie, Ava and Callie, and one son, Edmund Cross (Eddie). Schilling and his wife, April, have two daughters – Ava and Callie.
Filed to: Bruiser Flint, Ed Schilling, Tom Ostrom