Draft Watch: Anunoby still a consensus first rounder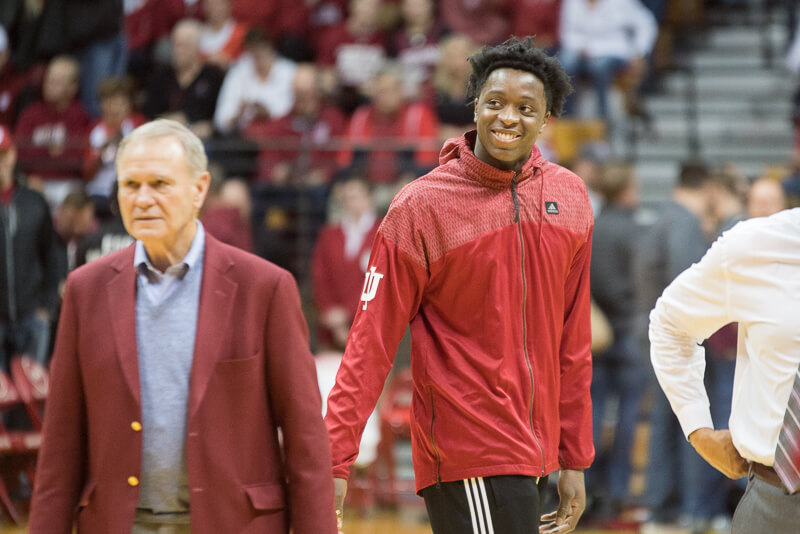 Indiana could have several early entry departures for the NBA draft, including OG Anunoby, Thomas Bryant and James Blackmon Jr.
Others could also test the waters thanks to new rules instituted last year that allow players to workout for NBA teams and attend the draft combine (if invited) while retaining their eligibility.
In our first updated draft watch since the end of the season, here's an updated look at projections for Anunoby, Bryant and Blackmon Jr. as well as some notes and analysis about their draft outlooks:
OG Anunoby
ESPN: (15) Draft Express: (14) NBADraft.net (44)
Notes and Analysis: The ranking on NBADraft.net is the outlier here as both Chad Ford and the Draft Express team have Anunoby going in the top 20 of their most recent mock drafts. Anunoby's season ending injury in IU's win at Penn State in January didn't do much to hurt his draft stock. Given the fact that he won't be able to work out due to injury, testing the waters isn't going to do much for NBA teams other than give them a chance to get to know him in interviews and learn the details of his injury and a recovery timetable.
He was making a ridiculous 70 percent of his 2-point field goal attempts before the injury, but was struggling from the perimeter (31.1 percent on 3s). If he's really going to go in the first round, it would make sense for Anunoby to forgo his final two seasons of eligibility and capitalize now on a guaranteed contract.
Update: According to multiple reports on Monday morning, Anunoby will enter the draft and sign with an agent.
Thomas Bryant
ESPN: (57) Draft Express: (44) NBADraft.net (84)
Notes and Analysis: Bryant's rankings have fallen significantly since our last update in February. He's now listed as a second rounder/undrafted by Chad Ford. Draft Express has him going No. 39 in a mock draft for 2017, but has him five spots lower in its top 100 rankings. And he fell 31 spots in the most recent rankings on NBADraft.net.
After not even testing the process last spring, it would make a lot of sense for Bryant to go to the combine and workout for teams this year. But is he going to be able to secure a first round guarantee or a guarantee from a team that they will draft him in the second round with a clear path to a multi-year deal? His ultimate decision could come down to whether Bryant is ready to bet on himself or if he wants to come back and try to boost his stock with a strong junior season. He doesn't turn 20 until late this summer, so his age is still on his side.
James Blackmon Jr.
ESPN: (134) Draft Express: (NR) NBADraft.net (NR)
Notes: Blackmon Jr. tested the waters last spring, but opted to come back for his junior season. The Marion product averaged 17 points and 4.8 rebounds this season, but did miss a few games with a knee injury. He said during the season that he plans to graduate in May, so if he is ready to pursue a professional career, he could do so with a degree in hand.
As it stands, Blackmon Jr. isn't on any mock draft boards for 2017. The fact that Yogi Ferrell and Troy Williams both went undrafted and found their way into the NBA this season shows that it can be done, but the road for undrafted rookies is a difficult one.
Filed to: James Blackmon Jr., O.G. Anunoby, Thomas Bryant