IU legend Bill Garrett honored with historical marker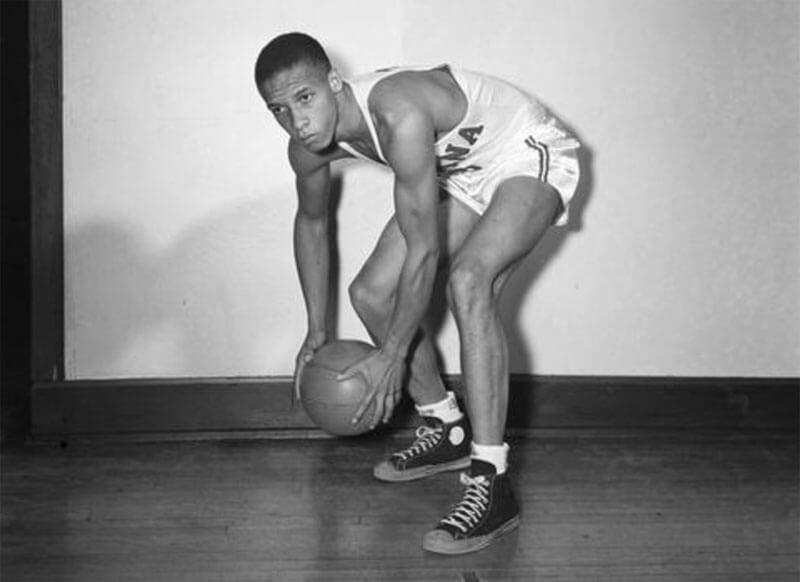 BLOOMINGTON – Bill Garrett, the first African-American basketball player in the Big Ten, was honored Saturday with the dedication of an Indiana historical marker.
By suiting up for Branch McCracken's Hoosiers in 1948, Garrett broke an unwritten rule known as the 'gentlemen's agreement,' which barred Big Ten schools from rostering black players.
"This was a great occasion that should have been done long before (today)," said Marvin Christie, who played with Garrett during the 1949-50 season. "I'm glad they finally recognized what a wonderful guy he was."
The unveiling of the historical marker was preceded by a ceremony in the Indiana Memorial Union. Speakers included Casey Pfeiffer of the Indiana Historical Bureau, former Herald-Times writer Bob Hammel, trustee Bart Kaufman, provost Lauren Robel, author Tom Graham and Billy Garrett Jr.
"We're really proud to be here, and that IU honored (Bill) in that way," Garrett Jr. said. "Our father's legacy gets to live on forever."
There were also two pre-recorded video messages, one from former IU guard Quinn Buckner and another from Big Ten Commissioner Jim Delany.
"Jim Delany speaking by video was very important to the ceremony," said Tom Graham, co-author of Getting Open: The Unknown Story of Bill Garrett and the Integration of College Basketball. "It was an acknowledgment by the Big Ten of Garrett's importance. It wasn't just an IU breakthrough, it was a Big Ten breakthrough. Implicitly, it's an acknowledgment of a Big Ten 'gentlemen's agreement' that Garrett broke."
Those in attendance included Garrett's family and several of his former teammates, former IU running back George Taliaferro, former assistant coach Tim Buckley, and IU players Freddie McSwain, Juwan Morgan, Zach McRoberts, Tim Priller and Josh Newkirk.
"The fact that the IU basketball players turned out, several of them, was quite touching," Graham said.
Following the ceremony and luncheon, the historical marker was unveiled in front of the building previously known as The Fieldhouse, which hosted IU men's basketball home games from 1928-1960.
A state historical marker was unveiled to honor IU's Bill Garrett, the first African American to play ? in the B1G. https://t.co/QRK9hHb3xx

— Indiana Basketball (@IndianaMBB) April 8, 2017
The building was renamed the Wildermuth Intramural Center in 1971 after former IU board president Ora Wildermuth. Wildermuth was an opponent of integrating IU.
In 2008, IU planned to rename the building once again, this time as the Garrett-Wildermuth Fieldhouse. That plan was quickly scrapped.
"The problem is not the marker," Graham said. "The marker is for a very good thing, a breakthrough for integration. The problem is with the name of the building."
Garrett led IU in scoring and rebounding in each of his three seasons on the IU varsity team (players were required to be on the freshmen team their first year), and was named an All-American as a senior.
"If basketball is in our heart, then it's no exaggeration to say that Bill Garrett fundamentally changed the heart of IU," Provost Lauren Robel said at the ceremony. "Because of him, we are a more open, more inclusive and more accepting community."
Prior to joining IU, Garrett was named Indiana's 'Mr. Basketball' after leading Shelbyville to the state title in 1947. Following his playing career, Garrett coached Crispus Attucks to a state title in 1959.
Garrett died in 1974 as the result of a heart attack. He was inducted into the Indiana Basketball Hall of Fame the same year.
For more on Bill Garrett and his legacy, listen to Jerod Morris' interview with Tom Graham and read Casey Pfeiffer's two-part series.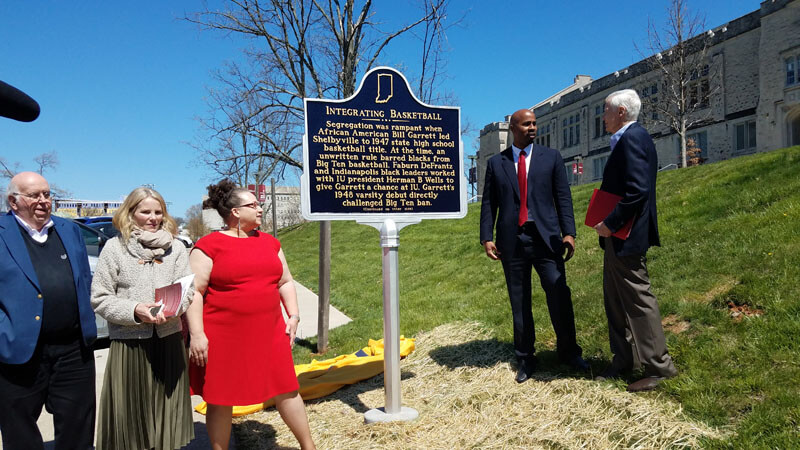 Filed to: Bill Garrett