Wednesday roundup: Offseason workout video, preseason top 25s, more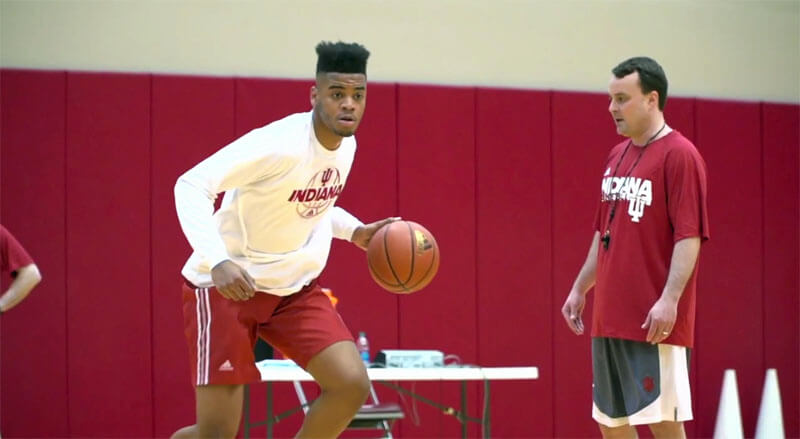 Offseason workouts are underway in Bloomington and Indiana's new head coach Archie Miller is getting his first chance for court time with his players.
The official IU basketball Twitter account posted the following video late Tuesday showing Miller working out a group of frontcourt players, including Thomas Bryant, Juwan Morgan, De'Ron Davis, Freddie McSwain and Tim Priller:
· Indiana is mentioned in two preseason top 25s for the 2017-18 season published this week:
USA Today 2017-18 preseason top 25:
15. Indiana

New coach Archie Miller is inheriting a talented roster that underachieved last season, starting with explosive scorer James Blackmon Jr. (17.0 ppg, 4.8 rpg), who will try for the NBA but not hire an agent. Preseason All-American big man Thomas Bryant was unimpressive in 2016-17 and might hold off on the NBA again to boost his stock. OG Anunoby is most likely to leave for the NBA. That leaves a cast of veterans behind Robert Johnson (12.8 ppg), Josh Newkirk (9.0 ppg) and Juwan Morgan (7.7 ppg). Miller was known at Dayton for getting the most out of his players and having them ready to peak in March. The Hoosiers' best recruit is four-star forward Justin Smith, who will likely see time right away.

Recruiting class: B
Associated Press 2017-18 preseason top 25:
18. Indiana. New coach Archie Miller inherits a talented roster that underachieved last season. Don't expect that to happen again with Arch in charge.
· Cindy Simon Skjodt is supportive of the hiring of Archie Miller, according to The Indiana Daily Student:
Skjodt donated $40 million to help with the renovation but said she likes to stay out of those types of decisions because she doesn't have the basketball knowledge or experience.

"When we donated the money, it's about the University, not necessarily which coach we have or which players are here today or ever," Skjodt said. "It's to go on for a long time. There's going to be change. That's the way it is."

Nevertheless, Skjodt said she was excited about the hiring of Archie Miller and said she felt IU Athletic Director Fred Glass chose the best candidate available.

"I'm always up for allowing a new coach to do what he needs to do," Skjodt said. "He has a very good track record. I think he'll be great for the students."
· The first Joe Lunardi bracket for 2017-18 is out and it includes seven Big Ten teams, including Indiana as a No. 10 seed in Pittsburgh.
· A state historical marker honoring Indiana University's first black basketball player will be unveiled on Saturday (Associated Press):
The marker honoring Bill Garrett will be placed in a grassy area southwest of the Ora L. Wildermuth Intramural Center, The Herald-Times reported.

Garrett's children and the two men who submitted the application for the marker feel it should be placed at the center, which is the old fieldhouse where Garrett played from 1948 through 1951. The cast-aluminum sign will be unveiled Saturday after a public ceremony.

"I think it's the right thing that's happening," said Laurie Garrett-Cobbina, Garrett's daughter.
· Dallas Mavericks owner Mark Cuban says he wants to acquire a pass-first point guard (Dallas Morning News):
Yes, rookie Yogi Ferrell is an intriguing talent. And Curry will continue to improve.

Devin Harris and J.J. Barea aren't expected to be going anywhere, either.

That said, …

"We got to get better at point, there's no question," Cuban said. "If we can't do it in the draft, we'll look at free agency and see what we can do. Yogi is going to get better. Seth will continue to get better. I'd love to see Nico [Brussino] play some point forward and see how that works. He's probably one of our best passers.

"We'll have depth, but we have to get that one pass-first point guard. That's what we don't have."
Filed to: Archie Miller, Cindy Simon Skjodt