Fred Glass on NIT: "men's basketball wanted it to be on the road"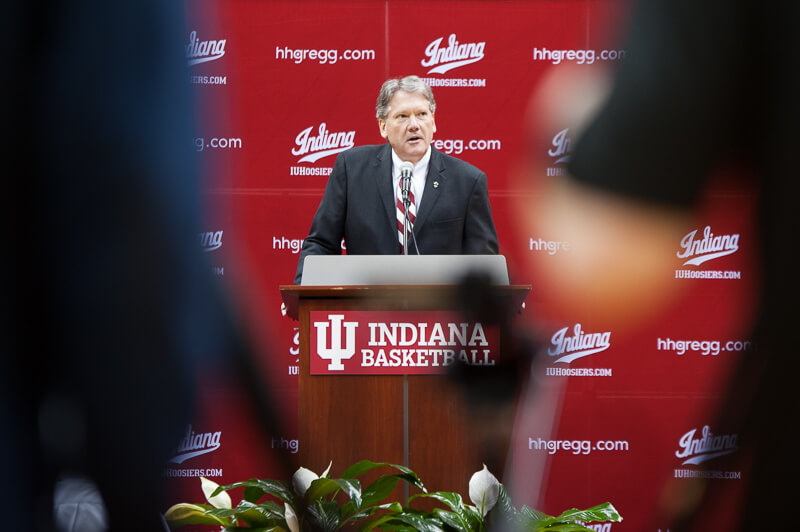 Indiana's decision to turn down a home game in the National Invitation Tournament more than two weeks ago was met with confusion and disappointment by many fans when it was announced on Selection Sunday.
The Hoosiers, who earned a No. 3 seed in the NIT, opted to play Georgia Tech at McCamish Pavilion in Atlanta rather than at Simon Skjodt Assembly Hall. In the NIT, the higher seeded team typically hosts unless it has a facility conflict. Instead, Indiana cited students being away on spring break as the reason it declined to host.
Indiana lost the game, 75-63, and less than 48 hours after the loss, athletic director Fred Glass fired Tom Crean after nine seasons. Georgia Tech, meanwhile, will play on Thursday night for the NIT championship at Madison Square Garden.
But even as Indiana basketball enters a new era under new leadership, the decision to turn down a postseason opportunity in Assembly Hall remains a topic of conversation.
Glass was a guest on the Grady and Big Joe Show on 1070 The Fan AM in Indianapolis on Wednesday and near the conclusion of the interview, he was asked if he regretted the decision to play the NIT loss away from Simon Skjodt Assembly Hall.
"That was one of those decisions that was going to be kind of tough either way it went," Glass told Grady and Big Joe. "That was my decision. I own that decision, even though men's basketball wanted it to be on the road, that was their preference and stated desire to me that they wanted to play that game on the road. But that was my decision, so I'm not hiding behind that."
It's not newsworthy that Glass owns the decision as that is the expectation as the leader of the athletic department.
What is newsworthy, however, is his declaration that it was the preference of the basketball program to play away from home. In recent weeks, some national media has tried to advance a narrative that Tom Crean was not given proper support from the athletic department.
The fact that Glass revealed publicly that it was the preference of the program – a preference he went along with as the ultimate decision maker in athletics – shows he supported Crean, even in the midst of a tough decision.
"In retrospect, I think it was a mistake," Glass said. "And I make mistakes and I think that was probably a mistake by me."
Filed to: Fred Glass