The Archie Miller era is underway at Indiana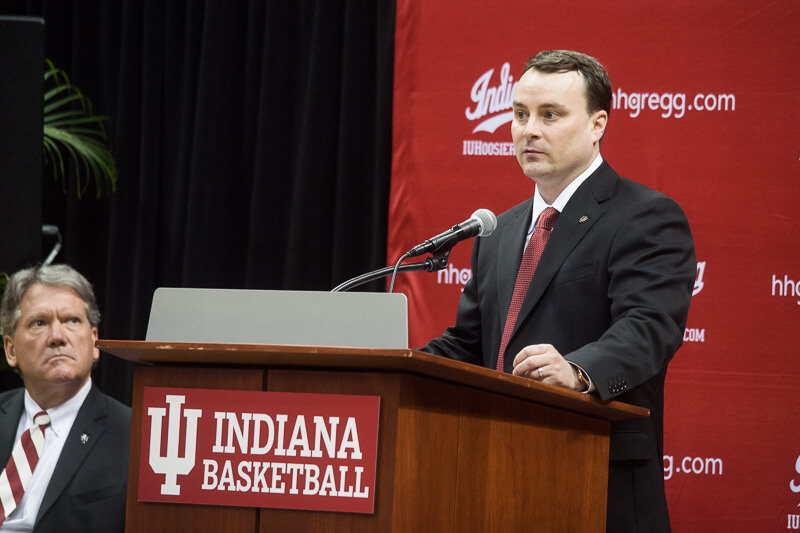 Archie Miller made his first impression to the Hoosier fanbase when he was introduced on Branch McCracken court Monday afternoon.
There was no pizazz, streamers or balloons. Just Archie Miller and Athletic Director Fred Glass at a podium situated around the free throw line.
Here's what we learned about Miller, and what fans should expect moving forward:
The three levels of the program
During his opening statement, Miller stated that his approach to the program will be three-leveled: with a focus on the past, the current and the future.
On the past:
"Every player, every former coach, every former manager that laid the groundwork for this place to be what it is today, we owe them a lot. Our effort level and our give-back have to be really unmatched, and they have to feel that they're a part of everything that we do, and our players have to feel that power. That's something we are going to really fight hard for."
On the current:
"They're our players. I didn't recruit them, and as I told them, they are my players. We invest in everything, and they all matter right now, and I think that there is value to every single individual on our team."
On the future:
"We have to dedicate ourselves to the high school coaches in this state, the high school talent in this state, the grass-roots programs in this state, and they must feel like they're being dominated by Indiana University. You're not going to get every player; you understand that. But if we want them, we should have a great chance of getting them because of the commitment level that we're putting forth 24 hours a day at home."
Staff and player decisions
One of the first steps Miller has to take as the head coach of IU will be to compile a coaching staff. Without going into too much detail, Miller lined up what fans should expect to see out of the new staff.
"They're going to be diverse, versatile, completely eyes wide open at the level, and at the end of the day, they're going to be able to totally develop our guys. It'll go day by day, and as things happen, they'll be announced."
As for the current players, they all have decisions to make over the coming weeks.
Thomas Bryant and OG Anunoby could elect to enter the NBA draft. Other players could transfer, some as graduates.
During the press conference, Miller reiterated the pitch he has already made to the current players.
"Like I told them, I didn't recruit you, but you're mine. So at that point, if you're mine, then you have to do everything in my power to make sure that you understand there is a great belief and value in you here. There's a clean slate. It's going to take time. I think every coach goes through that when they show up at a place. It's an awkward moment not only for them but for me, as well, but I think we're off to a good start."
Ramping up the non-conference scheduling
Indiana's non-conference strength of schedule was consistently in the bottom half of the NCAA during Crean's tenure.
Without delving into specifics, Miller appeared to set the tone for a more rigorous schedule.
"The non-conference scheduling component is probably the second most important thing you do as a coach other than recruit," Miller said. "Here at Indiana University, non-conference scheduling is about finding a way to put yourself in a great position in terms of seeding. You know, you have to be the master of creating a non-conference schedule that, one, creates great excitement with your fans; two, challenges you at the highest level as you enter the Big Ten; and three, puts you in a non-conference résumé that stacks up with the best teams in college basketball. That's what will be our goal."
As for the possibility of renewing the Kentucky series, Miller stated that it may come sometime down the line.
"I know it's an important piece to the puzzle here with our tradition," Miller said. "But right now we'll just focus on the day at hand."
Miller was later asked if there would be a home-and-home series with Arizona (where brother Sean coaches).
"That's something that down the line would be really cool," Miller said. "(Athletic Director Fred Glass) actually mentioned it to me; we can do that. It's just got to be right for both places."
Future scholarship situation
Crean often over signed recruits, and the roster he left Miller is a reflection of that.
The 2017-18 Indiana roster is set to have 13 players on scholarship (15 if you include Clifton Moore and Al Durham, who have requested a release from their National Letter of Intent).
In future seasons, Miller brought up the idea of leaving a scholarship or two open.
"I don't think we want to be a team that straps ourselves and limits options," Miller said. "That would be what I would tell you. We're always going to be comfortable playing between nine and ten guys, and if you have 12 or 13 on scholarship, you're probably going to see some unhappy guys, and sometimes less is more in that."
Lofty expectations
After Tom Crean was fired, Glass laid out the lofty expectations the next coach would face. Miller, when asked about those expectations, seemed to understand the burden that he'll soon face.
"I don't think you come to Indiana if you don't want to live in the neighborhood," Miller said. "If you don't want to move into that neighborhood, then you shouldn't be here. If you like the neighborhood, then you come, and I think, like I've been at a high level at a lot of different spots. I've been with great people. I think I'm very confident that what we do works, and I'd like for the opportunity to try and make it work here."
Filed to: Archie Miller