Coaching search profile: Mike White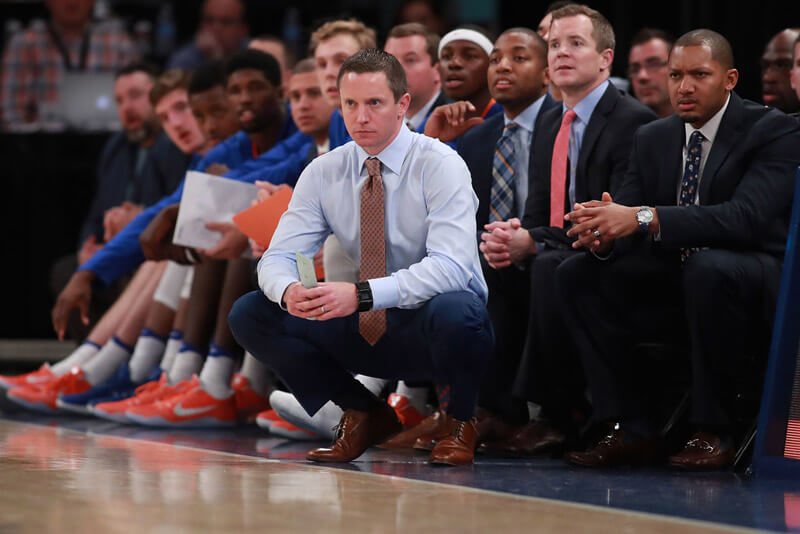 After nine seasons in Bloomington, Tom Crean is out as Indiana's head coach and the search for his replacement is underway.
Inside the Hall will profile some of the candidates who are being discussed for the job over the coming days. Our tenth profile takes a closer look at Florida coach Mike White.
As we continue to move through potential candidates for the Indiana vacancy, one thing has become clear: There's no shortage of intriguing young coaches.
Florida coach Mike White, the son of Duke Athletic Director Kevin White, is a rising star in the business. The 40-year old is in his second season in Gainesville, where he took over for a future Hall of Fame coach in Billy Donovan.
The Gators are still standing in this year's NCAA tournament after beating Virginia, 65-39, on Saturday night.
White is a native of Dunedin, Florida, and played at Ole Miss from 1995-1999. He played briefly professionally, but moved into coaching in 2000 at Jacksonville State as an assistant. From there, White was an assistant coach at Ole Miss from 2004-2011 and accepted his first head coaching job at Louisiana Tech in the spring of 2011.
In four seasons at Louisiana Tech, White compiled a 101-40 record and went to the NIT three times. At Louisiana Tech, he won various awards including USWBA (District VII) and NABC (District 6) coach of the year in 2013.
After Donovan's move to Oklahoma City in late April of 2015, Florida landed White and the move has worked out well through two seasons. The Gators won 21 games last season and were in the NIT, which was an improvement over Donovan's last season in Gainesville when Florida finished 16-17.
Florida is 26-8 this season. White won SEC coach of the year and the Gators will play Wisconsin late Friday night at Madison Square Garden.
White's teams are built with a defense first mentality.
He had a top 35 defense nationally twice at Louisiana Tech and his first two Florida teams rank in the top 14 in adjusted defensive efficiency, according to Ken Pomeroy. Given the fact that Villanova and Duke have already been eliminated from the East Region bracket, Florida might be the remaining favorite from that region to reach the Final Four in Phoenix. That would be a significant accomplishment for White in year two after inheriting a 16-17 team.
Like many of the other candidates we've profiled, White could be a long term solution and his deal at Florida is for a reported six years and $12 million, so Indiana could offer him a significant raise.
But is White willing to move on from Florida after just two seasons?
He's always coached in the southeast and that's where his recruiting base is. Would his lack of ties to Indiana and the midwest be difficult to overcome?
Final Analysis: White could be on his way to the Final Four in his first NCAA tournament appearance, which will only boost his profile nationally. He's already regarded as one of the top young coaches in America and his career winning percentage sits at 70.1. He'd be an under the radar selection, but his upside suggests he deserves a serious look.
Filed to: Mike White