Coaching search profile: Archie Miller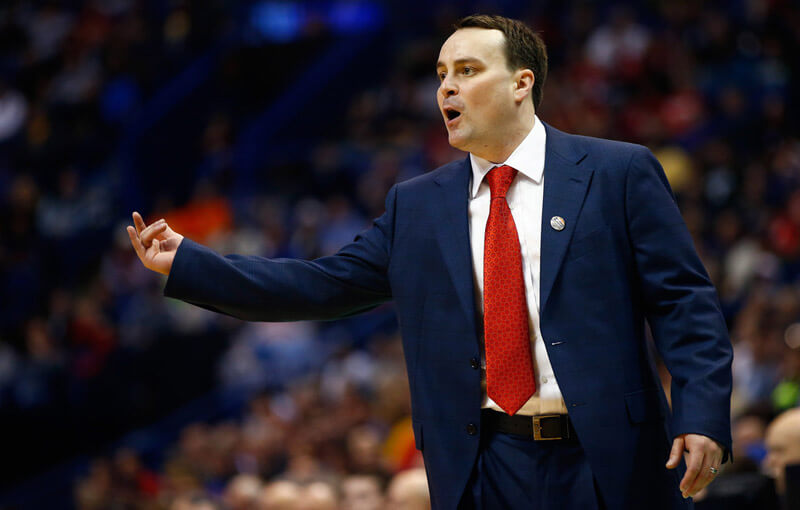 After nine seasons in Bloomington, Tom Crean is out as Indiana's head coach and the search for his replacement is underway.
Inside the Hall will profile some of the candidates who are being discussed for the job over the coming days. Our third profile takes a closer look at Dayton coach Archie Miller.
If you're making a list of the best young coaches in America, your list includes Archie Miller.
Miller, who played point guard at North Carolina State, began his coaching career as an assistant coach under Darrin Horn at Western Kentucky. The 38-year old had stints as an assistant at NC State, Arizona State, Ohio State and Arizona before landing the Dayton job in 2011.
Under Miller's guidance, Dayton has flourished. The Flyers have reached the NCAA tournament four consecutive seasons, including a trip to the Elite Eight in 2014.
This season, Dayton won the outright regular season Atlantic 10 championship and earned a No. 7 seed in the South region. Miller was named the league's coach of the year. His reward for a great regular season? A first round matchup with Wichita State. The Flyers lost 64-58.
There's no questioning Miller knows how to build a winning program. In six seasons at Dayton, his winning percentage is 68.8 percent. In conference games, he's won at a 66.7 percent clip.
So what's next for Miller? A bigger stage.
He had a chance to jump to his alma mater this spring, but didn't take it. That suggests he's waiting for the right opportunity to come along. One of those jobs could be Ohio State, which would be a natural fit for Miller because he spent time there under Thad Matta and already recruits in Ohio.
Another job that could interest Miller, of course, is Indiana. He was asked about the opening following his team's loss to Wichita State and had no comment.
With his age, familiarity with the Midwest and ability to build strong defensive teams, Miller will be a great long term solution for the program that eventually pries him away from Dayton. While Dayton is a private school, it's believed that he earns in the $2 million range annually, which is an elite salary at the Atlantic 10 level.
What Dayton can't offer that Indiana can, however, is the opportunity to build a national powerhouse with elite resources. As Fred Glass said in his press conference on Thursday, the school is hungry to win at an elite level and is willing to commit the resources to doing so.
Final Analysis: Miller might be young, but he's a proven commodity. He's been an assistant under several elite head coaches (Thad Matta, Sean Miller) across the country and has coached in the USA Basketball system as well. Dayton has finished in the top 40 nationally in adjusted defensive efficiency the last three seasons, according to Ken Pomeroy. And that's with talent that is a step below what Miller would have access to at the high major level.
The son of a coach and the brother of Arizona's head coach (Sean), it's only a matter of time before Archie's time to move up to the next level in the profession comes. Will Indiana be that opportunity?
Filed to: Archie Miller